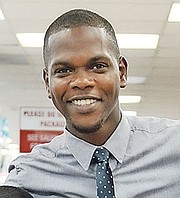 By RASHAD ROLLE
Tribune Staff Reporter
rrolle@tribunemedia.net
BAIN and Grants Town MP Travis Robinson, the youngest parliamentarian in the House of Assembly, said he cannot entirely support his party's 2018-2019 budget, rejecting the 60 percent increase in value added tax.
"My people have grave concerns about their livelihoods, wellbeing and purchasing power," he said in the House last night during the budget debate.
Throughout the speech he echoed many of the Free National Movement's talking points about the budget, praising scholarships for the Bahamas Technical & Vocational Institute (BTVI), highlighting exemptions from VAT on bread-basket items and electricity bills up to $200 and emphasizing the need to correct the fiscal management the administration inherited.
But a 12 percent rate of VAT, he said, is too much for people in one of New Providence's poorest constituencies to bear.
He also called for the Freedom of Information Act to come into force and for the Fiscal Responsibility Act to be enacted before any tax is increased.
"While a number of items highlighted in the budget communication are advantageous to the people of Bain and Grants Town, they were greatly overshadowed, and may even become completely unnoticeable, by the steep increase in Value Added Tax," he said. "In the words of my constituents, the 60 percent increase in Value Added Tax was unexpected and certainly not a preference. None are as greatly affected as those living below the poverty line, many of whom reside in Bain and Grants Town. Too many people are struggling, today, to make ends meet, and too many have put their trust in this administration to ease the financial burden they endure, particularly after the introduction of Value Added Tax, to allow for their representative to accept the increase from 7.5 percent to 12 percent."
With his statements, Mr Robinson joined parliamentarians for the Centerville, Pineridge and Golden Isles constituencies in breaking with his party to oppose the tax increase.
"While it is important for us to pay our debts to creditors, we must remember who we work for, and who is forced to foot the bill," he said.