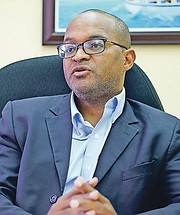 By RASHAD ROLLE
Tribune Staff Reporter
rrolle@tribunemedia.net
CENTERVILLE MP Reece Chipman tore into his party's budget yesterday evening, fretting about the impact various fee increases will have on his constituents.
He said he does not support the planned value added tax increase to 12 percent and lamented not being consulted on the budget while touting his qualifications as a certified public accountant.
"A photo-op or a text looking like we're working together won't cut it," he said in the House of Assembly. "Too much is at stake."
Mr Chipman said the intended VAT hike will cause hardship for Bahamians. He also said the significant increase in taxes for web shops must now pay is "discriminatory".
"Centreville is not in support of the 12 percent VAT increase as we believe it will be channelled to additional bureaucracy leading to a tougher business model and more hardship on the people of Centreville and the entire Bahamas."
Although he said he supports the government's overall fiscal consolidation goals, he added: "Centreville would like to make it clear to my constituents that their member of Parliament had no input in this particular budget, any analysis or participation and it is only now I'm offering my comments, concerns, references and statements."
Mr Chipman read a letter sent to him by an angry resident of his constituency about the budget.
The letter read: "Dear Mr Chipman, I am a single mother and was just laid off from the 52-week programme after being on contract for quite a number of years. I was making minimum wage. Now that VAT is 12 percent the exemption on breadbasket items will be saving me $12 per week. I understand there will be VAT exemption on utilities; however, reconnections and late fees are killing me. Cable Bahamas charges $43 to reconnect, BEC $25 and water 10 percent of the bill. I'm usually having to pay reconnection fees because of the government's untimely payroll systems. I am paying those, sir, almost on a monthly bases. We cannot afford to travel so there is no benefit to us to have customs exemptions. Y'all have put up the police records fee so even the cost of Roger looking for a job has gone up and I trying to get him off the streets. The shops around here said governments can't tell them what to charge so that budget thing ain' got nothing to do with me. I really ain' know what this government wants me to do."
Mr Chipman, a backbencher, was particularly peeved at being left out of major policy decisions by the administration.
He said: "Whole qualified CPA sitting in this House at the highest of levels I presume and not consulted on a budget, not consulted on a reclassification of an accounting entry, not consulted on revenue enhancements or even fiscal responsibility legislation; come on Bahamas, we cannot continue this way. We have to do better. Even at our levels parliamentarians, we must be seen to be inclusive. We must be seen to be using Bahamian talent.
"I cannot sell a story I do not know. What I do know is the people of Centreville expects me, yeah, CPA me, 20 years of business management me, 20 years of training professional Bahamians in financial services me, East Street me, Centreville me, to be able to help them understand this government's agenda."
As for web shops, Mr Chipman said although he supports increased taxation on the businesses, the country's "gaming laws are discriminatory and our policies can appear to be anti-Bahamian and that needs to end." He said: "We need to stop discriminating against ourselves and Bahamian businesses and look at other propositions."
For reasons never disclosed, Prime Minister Dr Hubert Minnis fired Mr Chipman from the Antiquities Monuments and Museum Corporation (AMMC) earlier this year. He drew Mr Chipman's ire when he suggested the Centreville MP had engaged in misconduct. Since the dust-up, Mr Chipman has made several public appearances with Dr Minnis, particularly at events related to the Over-the-Hill initiative. After Mr Chipman spoke yesterday in the House, Tall Pines MP Don Saunders followed him and expressed unequivocal support for the government's budget. National Security Minister Marvin Dames also delivered his contribution yesterday.