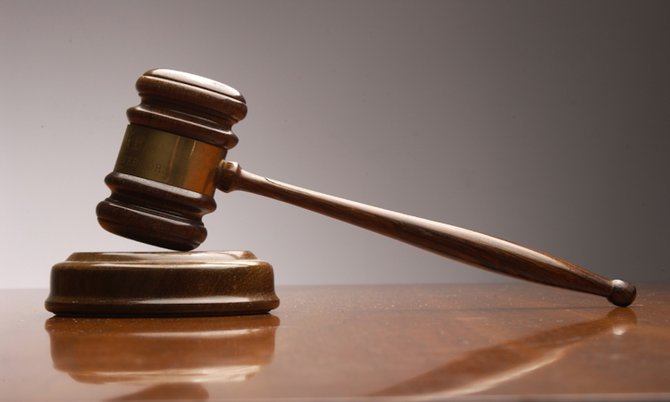 By NICO SCAVELLA
Tribune Staff Reporter
nscavella@tribunemedia.net
A BARTENDER mistaking a wheel wrench for a firearm ultimately led to a police officer fatally shooting the man wielding it inside of a nightclub three years ago, a jury heard yesterday.
Ramaeo Andrews, a Jet Ski operator, said one of the G-Spot's bartenders mistakenly thought Gary Moss was holding a firearm when he came to the nightclub aggressively seeking payment for transporting his Jet Skis, prompting the bartender to inform the office, Corporal George Anthony Ward, who shot and ultimately killed him.
However, Mr Andrews told the court that the "weapon," which was wrapped in Moss' white t-shirt ultimately turned out to be a wrench. This was revealed when the 36-year-old dropped it after being shot twice in the lower body at the Faith Avenue north bar and nightclub on July 14, 2015.
The circumstances were revealed in an inquest before the coroner, Magistrate Jeanine Weech-Gomez.
According to a statement given by Jet Ski operator Makiko Patrick Holmes, which was read into evidence by officer Lynden Seymour, sometime around 6pm on the date in question, Moss picked up both himself and Devon Rolle from a ramp at Arawak Cay.
There were a total of seven watercraft attached to Moss' vehicle, five of which belonged to Mr Holmes' Jet Ski rental company, Jac-Den-Jon Buck Water Sports, and two that were owned by Mr Andrews.
According to Mr Holmes' statement, Mr Andrews had hired Moss to transport his watercraft because the former's car was having mechanical problems.
After leaving the beach, Moss drove to the G-Spot bar and nightclub to drop off Mr Andrews' jet skis, something he did every evening.
When they arrived at the bar, Mr Holmes' statement said Moss parked in front of the building and used a tyre wrench (breaker bar) to unhook the trailer that Mr Andrews' jet skis were on.
Mr Holmes, Moss and Mr Rolle then pushed the trailer to the back of the building where the Jet Skis are normally kept. After they were secured, Moss took off his white t-shirt and used it to wipe the rust from his hands that came from the trailer, and the wrench he was using.
Now bare-back, Moss said he was going inside to collect his money from Mr Andrews for transporting his Jet Skis. He subsequently used the t-shirt to pick up the wrench from off the ground so the rust would not get back on his hands.
Moss then proceeded into the G-Spot, while Mr Holmes followed. They made their way to the bar and Moss asked the bartender for Mr Andrews. The bartender then walked to a back room and came back out shortly thereafter, indicating to Moss that Mr Andrews said to come to the back and see him.
According to Mr Holmes' statement, Moss did as he was told, and as he was walking to the room Mr Andrews was in, shouted out "Bring my money so I could go home." Mr Holmes said in his statement that Moss was talking in a "loud tone" as he normally does.
While Moss was walking, Mr Holmes said he saw the bartender looking at Moss' hand with a surprised look on her face. He said she said something to the other bartender and then walked over to the area where the music speakers were.
The bartender went to a police officer known as "Tupac", whose surname is Ward, who was sitting at a table by himself. Mr Holmes said she said something to the officer and he heard him say "you serious," to which she responded by saying "yeah". Mr Holmes said he further heard Ward asking "you sure he have a gun?" to which she again replied "yeah".
Mr Holmes' statement said the officer then got up from the table and walked towards the room where Moss and Mr Andrews were. About 20 to 30 seconds later he said he heard two gun shots coming from the area of the room.
When he ran to the room to see what had happened, Mr Holmes said Moss was on the floor with blood coming from his lower back.
Mr Holmes said he heard Ward say "Nellie tell me you had a gun." Mr Holmes also said he saw the white t-shirt and the wrench on the ground next to Moss.
Mr Andrews, when called to the stand, said he got to the G-Spot around two to three hours before Moss came, as he had to open the building for a bartender known as "Nellie".
Later that day, he said he and another individual named "Quan" were both in the nightclub's office area in the back when a bartender came and told him Moss had arrived. Mr Andrews said he told the bartender to tell Moss to come inside.
Mr Andrews said based on his business relationship with Moss, he knew him to be an individual who speaks in a very loud tone, and is very aggressive. However, he said the bartender was not aware of that fact.
Mr Andrews said when Moss walked into the office, he had an object in his hand wrapped in a cloth, which he personally thought was a gun based on how Moss was holding it.
Mr Andrews also said Moss said to him "bey give me my f*ing money" while pointing the object at him with his right hand. Mr Andrews said he wasn't too bothered by Moss' tone of voice, but was thrown off by the unknown object he was holding.
Mr Andrews said he was telling Moss to relax, and was reaching into his pocket to retrieve the money for Moss. Around that time, Ward made his way to the office, walked in and told Moss, "Drop it, police!" However, Mr Andrews said Moss merely looked in Ward's direction and continued "making noise," after which he heard two loud shots.
Mr Andrews said he subsequently heard Moss saying to take him to the hospital. He said he and Ward lifted Moss to Ward's vehicle and placed him in it, and the officer drove him to the hospital.
Mr Andrews said himself, Mr Holmes and another individual drove behind them in Moss' car.
While on the way to the hospital in Moss' vehicle, Mr Andrews said Mr Holmes told him that Nellie, whom he said Holmes was dating at the time, was the one who went to Ward and told him that Moss came into the nightclub with a gun.
Moss ultimately died.
When she took the stand, Merlene Stubbs, Moss's mother, said the last time she saw her son was on the night of July 13, a Monday.
"It's a huge loss for me," Ms Stubbs said of her last-born. "He was my strength and my baby."
The case continues.