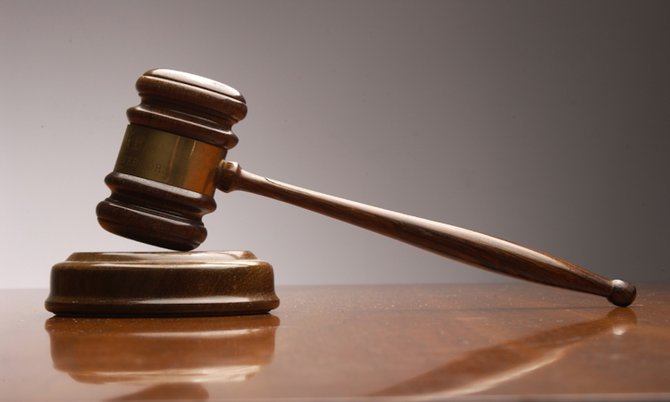 By NICO SCAVELLA
Tribune Staff Reporter
nscavella@tribunemedia.net
A SENIOR police officer yesterday expressed his remorse to a woman for having to kill her teenage grandson in Yellow Elder Gardens five years ago, although he added: "It was either my life or his."
Sergeant Antoine Hamilton made the statements before briefly questioning Theresa Duncanson on her testimony concerning what she remembered about the October 15, 2013, death of 18-year-old Antonio Duncanson.
Sgt Hamilton, out of respect to her being the grandmother, suggested to Ms Duncanson that it was unfortunate that he was forced to fatally shoot her grandson, but stressed that hopefully the evidence led in Coroner's Court would reveal why he did what he did.
According to the evidence led before Deputy Coroner Carolyn Vogt-Evans, Sgt Hamilton was one of two officers, the other being Reserve Superintendent Christopher Pennerman, who was asked to assist in the apprehension of an "individual of interest" who was suspected of being in possession of a firearm.
Around 1.50pm on the date in question, the three officers of "Charlie Delta 10," one of whom was former Police Constable Carey, received certain information about two males suspected of being in possession of a firearm.
As a result of the information they received, the former officer said his unit went to Yellow Elder Gardens and conducted a mobile surveillance of the area in an unmarked police vehicle.
While doing so, former P/C Carey said he observed the man dressed in orange brandishing a chrome handgun, which he subsequently placed in his waistband.
Upon seeing this, former P/C Carey said he contacted police control room for backup.
The crew of "Alpha Echo 3," led by Sgt Hamilton and Reserve Supt Pennerman arrived in the area a short while later, after which former P/C Carey said he guided them towards where the two suspects were.
When Reserve Supt Pennerman took the witness stand, he said both he and Sgt Hamilton were led to the intersection of Seymour Street and Lightbourne Avenue, where the crew of Charlie Delta 10 pointed out two men walking north along Seymour Street.
One of them wore an orange shirt and dark-coloured pants and orange and blue Nike sneakers, he said. The other wore a green Heineken shirt, black pants and sneakers.
As he and Sgt Hamilton approached the two men in their police vehicle, Reserve Supt Pennerman said both fled in separate directions; the man in the orange shirt ran past the car and north along Seymour Street and onto Old Cedar Street while the other one, whom former P/C Carey said was Jaquan Rolle, ran south.
Reserve Supt Pennerman said Sgt Hamilton, who was driving, got out of the car and immediately gave chase. Reserve Supt Pennerman said he then hopped in the driver's seat and moved the car to a secure location before also giving chase.
Upon reaching Old Cedar Street, Reserve Supt Pennerman said the man in the orange shirt turned left onto a dirt road and pulled a handgun from his waist.
In fear of their lives, Res Supt Pennerman said Sgt Hamilton drew his service weapon and fired three shots at the suspect, who subsequently fell back on the ground. Upon checking the individual, Reserve Supt Pennerman found that he had sustained three gunshot wounds.
Former P/C Carey, who said he observed Sgt Hamilton initially giving chase to the man in orange, said a short while after the senior officer took off in hot pursuit, he heard what sounded like gunshots.
Former PC Carey said he went to the source of the sounds, which brought him onto a dirt road south of Old Cedar Street. He said he ultimately found the suspect, suffering from what appeared to be a gunshot wound to the head, and laying on the ground in a "swampy, grassy area."
A firearm was nearby his body, former P/C Carey said.
Emergency Medical Services personnel arrived a short time later and took the suspect to the hospital, where he later died.
During reexamination, former P/C Carey said the primary reason why he did not arrest the two suspects was because he was doing a covert operation at the time.
Nonetheless, Constable Carey said he was familiar with Duncanson because a week before the incident in question, a feud was being waged between the "Rolle brothers" in the area—one of whom he said was Jaquan–and that he had previously profiled both Duncanson and Rolle, as the two were associates.
The court also heard police recovered a weapon from the crime scene, a silver .40mm pistol.
The weapon and its components were later processed for fingerprints, which yielded negative results.
However, swabs were collected from the gun's tiger, slide, and grip.
Ms Duncanson, when she gave her evidence, said on the morning her grandson died, she did not go to work as she was feeling unwell. She said she had taken a bath and was laying down when she got a call sometime around 1pm that something had transpired in Yellow Elder.
Ms Duncanson said she wasn't able to go anywhere, and ended up staying home all day. However, someone later came to her and told her that Antonio was the person who was killed in the incident she had heard about earlier.
The case continues today.