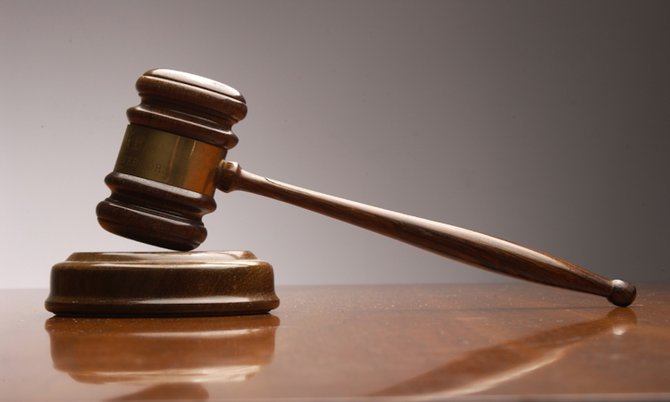 A CONVICTED murderer has been denied permission to allow extra time to have his appeal heard against his life sentence.
Angelo Rahming was found guilty of the 2006 murder of Anthony Seymour - known as Troy - after a jury heard how he had shot and stabbed his victim during a robbery.
Seymour, a local pastor and employee of Kentucky Fried Chicken, had been collecting monies from the fast food outlet's stores in Grand Bahama when Rahming flagged down his truck and jumped inside.
A ruling from Bahamas Court of Appeal recounts what happened next.
"Once in the vehicle (Rahming) produced a firearm and began firing at Troy; he was struck in his face. Nevertheless, he was able to pull the truck to the side of the road, get out and flee.
"(Rahming) pursued Troy and continued firing shots at him. Troy sought refuge in a house but (Rahming) followed him inside. Once inside (Rahming) stabbed Troy 30 times; he died as a result of... severe blood loss.
"(Rahming) then exited the house leaving a fatally injured Troy and returned to the vehicle where he retrieved the cash that Troy was transporting on behalf of KFC. He was picked up by one Cruz Kemp who drove him from the scene. (Rahming) went to a hotel room where he counted the monies and then telephoned Cruz and told him how much he had taken.
"(Rahming) subsequently travelled to New Providence under an assumed name and it was there that he was eventually arrested. During his arrest he gave an oral confession to police officer Kendal Strachan."
Rahming spent six years on remand before coming to trial in November 2013 at which he had dismissed his own defence counsel and insisted on presenting his own case.
He had sought now to be allowed permission to appeal his conviction for murder and robbery, first requesting permission from the court to exercise its right to hear his appeal even though he had missed the deadline to lodge his case.
The convict had notified the Court of Appeal of the grounds for which he believed the conviction should be overturned, which included: the trial judge should not have allowed him to represent himself as it was a capital case; the judge failed to properly direct the jury on the credibility of a witness who gave evidence inconsistent with a previous statement; the sentence of life in prison was unduly harsh and severe and the conviction is unsafe and unsatisfactory.
The Appeal Court, however, ruled the conviction and sentence were fair and no extension of time would be allowed to go ahead with a full appeal, especially as they considered the evidence against Rahming offered him little chance of overturning the verdict.
The court's judgment read: "Relative to the extension of time application, the intended appellant is 42 days out of time and cites the lag in time before receiving the appeal forms as the reason for his delay. In any event, the real concern for the court in this case was (Rahming's) prospects of success.
"From the reading of the transcripts, it is plain the appellant was severely handicapped in representing himself. Consequently, the court cannot say the appellant suffered no undue prejudice due to the judge's decision to continue with the trial notwithstanding that (he) was unrepresented. However, the significant issue for an appellate court is whether there was a miscarriage of justice arising from an appellant's lack of legal representation. Based on the evidence there was devastating identification evidence against the appellant; the fingerprints recovered from the deposit bag and three witnesses gave evidence identifying (Rahming) as the assailant."
Among the witnesses at Rahming's trial was Sherona Bain.
The Court of Appeal noted: "She was at her grandmother's house when she saw Troy being pursued by (Rahming) and Troy ran into the house. He leaned on her grandmother and said, 'Someone trying to kill me, could y'all please help me.' She heard a gunshot come through the wall of the house which caused her to run out of the house and go by her Aunt Otterin's house and told Otterin what had happened. Her aunt went up to the house while she remained for a few seconds before herself going back to the house. She said (Rahming) was coming outside the front door but before he got outside, she got a good look at his face. He then took his shirt from the back and pulled it over his head and he ran the way he came.
"She stated that it was a nice and sunny day. There were no clouds. The house had windows. It was bright in the house. She was able to see (Rahming). She identified (Rahming) in court. She also knew him by the name 'Bookie'. She also testified that she know Troy Seymour.
"Under cross-examination by (Rahming), she testified that she knew him from school; they went to school together on Hanna Hill. She further testified that she did not tell the police that it was (Rahming) who had committed the offence because she was afraid of (him).
"Otterin Jones: She testified that on November 13, 2006 Sherona Bain ran to her residence screaming and telling her certain things. She left her home and ran to the house (which was in the same vicinity) where the incident happened. Once there she entered the kitchen area and she saw (Rahming) kneeling over Troy who was on his back, stabbing Troy with a knife. She saw his face for about ten seconds from about one to two feet away with bright lighting conditions. She said as he walked out of the door he took his shirt and put it over his head.
"Jermaine Wilson: He gave evidence that he was driving on Frobisher Drive when (Rahming) flagged him down. He took (Rahming) to Victoria Inn and rented room 111 for the appellant. As they got in the room he saw (the convict) take out money from his Jabo pants that he was wearing at the time. They had small white plastics and elastic bands on them and white paper attached. He saw (Rahming) taking the rubber band and staples out of the money which he later threw in a garbage can. He took (Rahming) to buy new clothes by a shop called 'The Haitian Man'.
"In addition to the above evidence there was the fingerprint evidence adduced through retired superintendent of police, Welbourne Bootle, which suggested (Rahming) had come into contact with the purple Bank of The Bahamas International deposit bag... found on the passenger side of the truck Troy had been driving at the material time.
"The Crown had presented a compelling case against (Rahming) which, in our view, no level of advocacy on his behalf would have been able to resist successfully.
"In the premises, we are not satisfied that (Rahming) has a good prospect of success as we have no lurking doubts as to the safety of (Rahming's) conviction. We are satisfied that his trial was not perfect but it was fair and that (Rahming) was rightly convicted and sentenced...
"In the circumstances, we dismiss (Rahming's) application for an extension of time within which to appeal and we affirm his convictions and sentence."