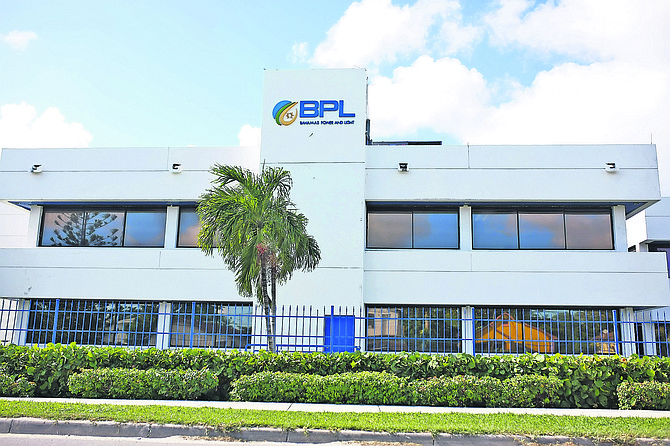 By KHRISNA RUSSELL
Deputy Chief Reporter
krussell@tribunemedia.net 
WITH 314 Bahamas Power and Light employees opting to receive voluntary separation packages which will result in more than $70m paid out over a period of time, Works Minister Desmond Bannister said employee departures have been staggered to ensure that the efficiency of Bahamas Power and Light is not negatively affected.
Mr Bannister, who has responsibility for the "debt-ridden" electricity provider, explained the exercise will improve BPL's financial viability by making it leaner and more competitive.
Although he told House of Assembly members BPL could not be permitted to balloon out of control to "unmanageable" proportions, the minister said offering the VSEPs (Voluntary Separations Packages) will also make way for the company to recruit and hire qualified young people within "tightly controlled" limits.
In total, the voluntary packages will cost $70,403,315, but so far only $56,008,991 has been paid out as of June 30. Each payout would fluctuate based on years of service and other elements.
The money was partially funded from the pension fund administrator. The remaining portion was financed through money secured by BPL on July 2, 2017 through a resolution in the House of Assembly, Mr Bannister said.
A total of $75m was received in two tranches less bank fees, legal costs and stamp tax. He said this leaves the current loan balances at $211m and $35m respectively.
Officials expect an annual salary reduction of $13.6m annually over the next five years. He said this total is an estimate and includes new hires to be added to the payroll.
And as some employees depart, there also will be a change to BPL's executive team. Bahamian Patrick Rollins has now been appointed to fill the post of executive director, a position that was previously held by Deepak Bhattnaggar.
"It has long been recognised that Bahamas Power and Light has been overstaffed by hundreds of employees," Mr Bannister told House members.
"The government took the position that the company had to become leaner and more competitive. A debt-ridden utility that relies on government for its continued existence is a drain on the Bahamian taxpayer. Hence, the board initiated a financially attractive voluntary separation exercise, which had the full support of both of BPL's unions."
He also said: "It must be emphasised that the entire exercise was voluntary. No employee was separated against their will."
The VSEP exercise opened to all employees of BPL on May 18 and closed on June 8, promptly at 4.30 pm. Of BLP's 1,038 employees, 314 applications were received.
"BPL made a determination that everyone who wanted to leave should have the opportunity to do so; hence, many senior employees decided to accept the VSEP. It is, therefore, expected that 60 of the positions will need to be replaced as contracted and delayed applicants exit the organisation over the next two years.
"Among these positions will be posts for senior leadership in many departments.
"There is no question that this exercise will improve the financial viability of the company, making it leaner and more competitive, and permitting it to recruit and hire qualified young people within tightly controlled limits. BPL cannot be permitted to balloon out of control to an unmanageable size ever again," he further said.
Efficiency
The dates when employees are slated to voluntarily leave BPL have been spread out over two years, Mr Bannister said, so as not to affect the company's efficiency.
As of June 30, he said 219 applicants were approved for departure, followed by the approval of eight applicants who are due to leave in July.
Four applicants were approved for departure in August; nine applicants were approved for departure in September; four in October; seven in November; and 39 applicants were approved for departure in December.
In March 2019, one applicant will be leaving; 12 applicants were approved for departure in June 2019 and four applicants will depart in December 2019.
Seven others will leave BPL in 2020.
The 314 employees come from several of BPL's departments, which will see reductions over the next two years.
In Abaco there is a headcount of 99. Twenty-four of the employees there were approved, with two of the applications deferred six months.
BPL's customer service department, with 139 workers, will be reduced by 33. There are 202 workers in the energy supply department; 61 opted to receive the VSEP. The Family Island department's 224 workers will be reduced by 63.
In the following departments, various numbers of workers have opted to leave: in field operations, 75 of 224; in finance four of 26; health, safety and environment four of 11; human resources seven of 16; human resource training four of six; IT, six of eight; planning 10 of 20; supply chain 12 of 35; administration two of four; engineering six of 16; legal one of four; and in support services two of four employees.