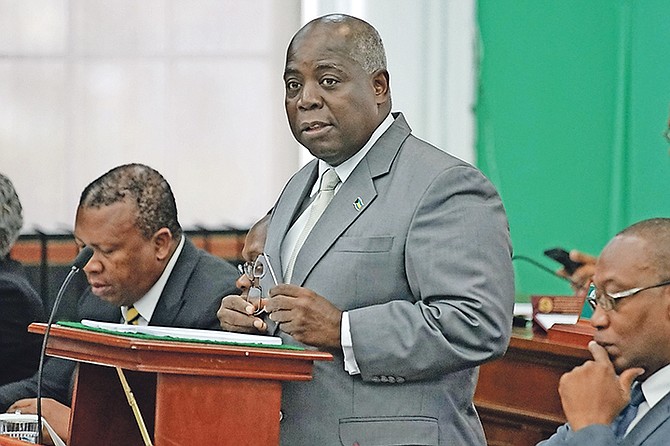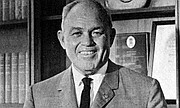 Reader poll
541 total votes.
By RASHAD ROLLE
Tribune Staff Reporter
rrolle@tribunemedia.net
THE Progressive Liberal Party would not reverse Sir Roland Symonette's National Hero honour if elected to govern the country, because doing so would establish an undesirable precedent, PLP Leader Philip "Brave" Davis said yesterday.
He was addressing for the first time the controversial decision to award Sir Roland the top honour of Order of National Hero, alongside the country's first Prime Minister Sir Lynden Pindling, former Governor General Sir Milo Butler and Free National Movement founding father Sir Cecil Wallace-Whitfield.
"You don't want to set a precedent for reversing decisions taken for whatever reason they may have unless you deem it of an order that creates a manifest injustice to others," he said.

PLP Chairman Fred Mitchell later added: "We don't want to do anything which will actually sully this anymore. We want to protect the integrity of the awards. We understand the prime minister has the power to make the appointment but the point we are making is that the prime minister at some point in his life has to rise to statesmanship, which goes above partisan concerns."
Mr Davis nonetheless said procedural flaws in how the award has been granted has opened the door for a legal challenge and he described Prime Minister Dr Hubert Minnis' reaction to criticism of the award as not serious and a demonstration of his "usual anti-intellectual fashion."
"The debate over Sir Roland Symonette is not about whether he was a good man," Mr Davis said, "or whether he helped people through his personal philanthropy. No, the debate is about whether Sir Roland deserves to be honoured as a national hero. We say that he does not. We say that the historical evidence is overwhelmingly against it."
Mr Davis gave three reasons why Sir Roland should not be honoured with the award. He said in 1956, Sir Roland "voted to deny black people the right to go to racially segregated movie theatres, hotels, restaurants, and other public venues" and also voted against Sir Etienne Dupuch's "resolution to break down racial discrimination." He said Sir Roland "was against majority rule," leading a party that "fought tooth and nail to suppress black political aspirations and to keep the power structure under the domination of a small white oligarchy," adding Sir Roland also fought against independence.
"If they were determined to recognise Sir Roland," he said, "the prime minister and his Cabinet could have included him in the category of former prime ministers. But they had absolutely no basis whatsoever for including him as a national hero. Indeed, the prime minister's own advisory committee did not recommend Sir Roland to be honoured as a national hero. On the contrary, the advisory committee had unanimously agreed that only Sir Lynden Pindling should be awarded the honour of national hero in this inaugural year of National Honours. They chose that historically correct position because of the singular role that Sir Lynden played in Bahamian history both as the leader of the struggle for majority rule and as the father of the nation. However, the prime minister and his Cabinet rejected the advice of their own advisory committee, headed by the FNM's own Mark Humes, the MP for Fort Charlotte."
Minister of Immigration Brent Symonette is Sir Roland's son.
The row over the award has been fought mostly by PLP and FNM politicians. Mr Davis said it is unfortunate historians and other social scientists are averse to controversy and unlikely to engage the public on such matters.
"I think historians and other persons of historical significance who are interested in our history have been speaking privately to us and myself in particular," he said. "FNMs have spoken to it. But here again, we are publicity averse in engaging on what we perceive to be a controversial matter. That has been the unfortunate DNA of many of our persons of whom you speak of."
Civil society had been pining for a national award system for years. Because of this, Mr Mitchell said the last thing the PLP wanted was for the awards to disintegrate into partisan bickering like it has.
"The PLP is a responsible organisation," he said. "We built this nation. We fought for these national honours. We don't want and we were seeking to avoid, in this inaugural phase, to disintegrate into partisan warfare over these awards because they are national awards and we want these awards to be accepted by people as such. When you, these days you're all in your twenties so it probably matters not to you whether your country honours you or not, but I can assure you, I just did a small presentation in Fox Hill to 19 people in that community and to see the pride that people just got from a simple certificate and a plaque. There's a man named Bill Swain in Abaco who is 86 years of age. All he has wanted in his senior years was an award from his country. So these things are important. They get to be important the older you get."
Mr Mitchell noted a number of recommendations by the advisory committee for awards, including an award to someone under 25, were not implemented by the Minnis administration.
"All of this argument," he said, "is for people up at the top but the people who are at the bottom doing community service have all been ignored in all of this and all they want is some simple award. It amazes me, the act of having to go to Government House and have your friends and family see you get an award, our people are deeply appreciative of it and to have this disintegrate into a row over something inappropriate is just unfortunate."