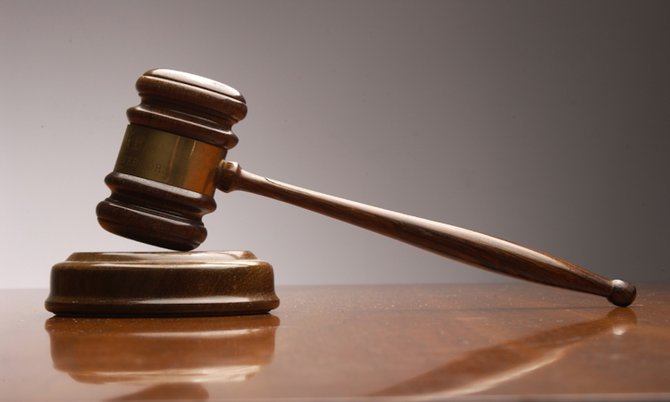 By NICO SCAVELLA
Tribune Staff Reporter
nscavella@tribunemedia.net
A MOTHER accused of setting her one-year-old daughter on fire last year told psychiatric specialists she was coaxed to do so by "demonic voices" which had been "commanding" her to kill herself and do other "bad things", Supreme Court jurors heard yesterday.
Dr Kirk Christie, a psychiatrist, taking the witness stand before Justice Bernard Turner, said Philipa Marshall told him and others the reason she set her daughter Philicia afire was because one of the demons told her to ignite both herself and her daughter.
Marshall, who is schizophrenic, also reported being tormented on a daily basis by those demons for the past three years, which she claimed included her being instructed to overdose on tablets and harm herself.
Dr Christie said Marshall has since reported while she still hears the demonic voices in her head, they now tell her to do "good things" as opposed to commanding her to commit suicide or other negative acts.
The witness' testimony came during a hearing to determine whether Marshall is mentally fit to stand trial for allegedly causing her daughter's death by means of unlawful harm.
Prosecutors alleged Marshall doused her child with gasoline and set her afire in December 2017 at her Faith Gardens home after hearing voices. The child died in February this year having been cared for at Princess Margaret Hospital (PMH).
Yesterday, Dr Christie said he first met Marshall when she was admitted to Accident and Emergency (A&E) at PMH suffering from burn injuries. She was treated and subsequently admitted to the Podlewski Ward at Sandilands Rehabilitation Centre (SRC).
As part of the initial psychiatric diagnostic review, Dr Christie said he along with a number of other officials met with Marshall with a focus on obtaining the history of the burn wounds she had sustained as well as the background concerning her daughter being set on fire.
Dr Christie said SRC officials met with Marshall weekly due to the severity of her symptoms, for approximately 45 to 50 minutes. And during those assessments, Dr Christie said Marshall reported both seeing and hearing the voices of demons, who had been commanding her to kill herself.
According to Dr Christie's evidence, Marshall described those demons as being as tall as the ceiling, with no arms or legs, and with eye sockets but no eyeballs. She also mentioned seeing a dark shadow hovering around her which she said was another kind of demon that also tormented her daily.
Concerning the day in question, Dr Christie said Marshall said one particular demon told her to light both herself and her daughter on fire. Dr Christie said Marshall was "consistent" in making those claims during all of the subsequent assessments.
He said Marshall also reported being instructed by the demons to overdose on tablets.
Dr Christie also said Marshall indicated two previous suicide attempts by driving her car off the road into lamp poles, and that she felt like committing suicide would free her from hearing the demonic voices and seeing the demons.
Marshall told the witness her symptoms began from as early as 2014. During that year, Dr Christie said Marshall saw two private psychiatrists concerning her issues, but did not follow up with them because she felt the treatments were ineffective.
Nonetheless, Dr Christie said Marshall had an "unshakeable belief" that one of her neighbours had "fixed" her by using some manner of witchcraft to cause her to be possessed or tormented by demonic forces.
He said during the time he and the other SRC officials were working with Marshall at the Fox Hill facility, she was "hopeful" her child would be okay following the incident. However, he said when she got the news of her daughter's death, she was thrown into an "emotional catharsis" and began crying as a result.
'Regret'
Dr Christie said a week after she received the news, Marshall expressed "deep regret" over what had happened. The psychiatrist said SRC officials subsequently counselled her on the issue, and that she also saw a clinical psychologist during that time.
Dr Christie said Marshall was eventually discharged from the SRC on March 23, thus becoming an outpatient. However, in light of the psychotic symptoms she displayed, officials gave her oral, anti-psychotic medication to take, as well as medication to cover the side effects of the anti-psychotic medication.
As a precaution, Marshall was also ordered to be given a monthly, long-acting, anti-psychotic injection, which he said is used in the event persons with serious issues forget to take their medication.
Since being discharged and placed on the medication regimen, Dr Christie said SRC officials have seen a "slight improvement" in Marshall's mental state, and that she has been following up on her outpatient psychiatric assessments.
Dr Christie also said Marshall has reported hearing the voices less, and seeing the demons with less regularity. As of June 12, Dr Christie said Marshall reported that the demonic voices were only telling her to do good things.
He said the accused's psychotic symptoms appear to be "fixed", which he said is "in keeping with" schizophrenia. He said such "fixed" symptoms cannot be totally eliminated, as there is no cure for schizophrenia, but can be lessened through a "multi-disciplinary" approach to the disorder and so long as the individual adheres to the treatment regimen.
However, he said Marshall would have to be placed on medication and monitored for the rest of life given her symptoms and the potential of her interacting with certain "vulnerable groups" in society, such as the elderly or children.
When questioned by Crown prosecutor and Assistant Director of Public Prosecutions Vernal Collie if based on his expertise and experience with Marshall, she could either plead to the murder charge, or is of sufficient intellect or able to mount a proper defence, Dr Christie said he could not say in the absence of a more current assessment.
However, in response to a question by Justice Turner, Dr Christie said Marshall would have been mentally fit to stand trial on June 12, when she was last seen by SRC officials.
In light of his suggestion that a more current assessment would need to be made, and his consequent suggestion to the court that such an assessment can be conducted by Friday, Justice Turner adjourned the matter to next Tuesday.
Marshall, who was granted $15,000 bail with two sureties by Chief Justice Stephen Isaacs in April, remains on bail until then. As part of her bail conditions, Marshall must live with her sister-in-law in the interim.
She is also to have supervised visits with two other children.
Marshall is represented by Bjorn Ferguson.