Reader poll
541 total votes.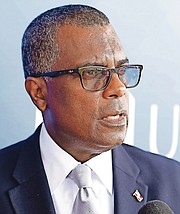 By RICARDO WELLS
Tribune Staff Reporter
rwells@tribunemedia.net
PLP Chairman Fred Mitchell has labelled his counterpart in the Free National Movement an "Uncle Tom," condemning Mr Culmer for accusing the PLP of oppressing generations of black Bahamians through its political ploys and practices.
In the statement, Mr Mitchell asserted that Mr Culmer continues to say, "dumber and dumber things."
Last week, Mr Culmer said the PLP made the United Bahamian Party "look like monsters."
"This is a classic example of what is known as Uncle Tomism," Mr Mitchell said. "That means you blame the slaves for being in their condition and you get one of their own to say so."
He continued: "How could a modern Bahamian, presumably educated in our country as a result of the policies of the PLP, whose island elected representatives of the PLP to take the country into independence, who benefitted from a senior job in a public corporation as a result of PLP policies, who lives in a free nation because of what the PLP did, whose very own FNM leaders were once PLP, speak such total and complete nonsense?
"Instead of seeking to fix Grand Bahama with five FNM MPs and three senators, he is spinning falsehoods. Mr Culmer should go sit in the graveyard in Savannah Sound and weep for his sins," he concluded.
Mr Mitchell also again hit out at the decision to award the late Sir Roland Symonette with National Hero honours, saying it was "bad," "inexplicable" and "unlawful". He also condemned Prime Minister Dr Hubert Minnis for his defence of the move.
In a statement circulated by the Official Opposition on Friday, Mr Mitchell said the prime minister's recent rebuke of the Progressive Liberal Party, where he seemed to agree the party is playing the race card in its argument against the appointment of Sir Roland, signaled a "new low".
Mr Mitchell said the prime minister's actions are "the last refuge of a scoundrel," insisting that Dr Minnis "has lost the argument" and now "has to go there."
On Thursday, Dr Minnis told reporters it would "appear" the PLP was playing the race card on the issue.
Seeming to brush the entire dispute aside, Dr Minnis said: "I don't go down that road. We must move beyond colours. So, I don't see people like that."
Responding on Friday, Mr Mitchell said the PLP has never made its opposition on the matter racial.
Mr Mitchell argued: "First, as far as we know Roland Symonette was a man with African ancestry. So to quote the Deputy Prime Minister Peter Turnquest when he was accused of being racist in tax policy, the PLP can't be racist talking about Roland Symonette since we who have voiced objections are talking about a man who shares our common African ancestry."
Mr Mitchell also claimed that there are many other "white men" who could qualify for the honour, but were passed over by the selection committee.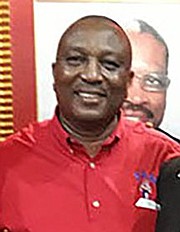 "This is not about race," Mr Mitchell said. "This is about the acts of a man who opposed the creation of the Commonwealth of the Bahamas.
"He opposed majority rule," Mr Mitchell said. "He opposed the lowering of the vote to 18.
"He opposed the vote for women. He opposed the implementation of the labour and social security systems. He opposed the fair drawing of boundaries. He opposed independence.
"Every step of the way he did not want this to be a nation," he added.
"A National Hero is the hero of a nation. Sir Roland Symonette did not want this nation. He gave aid and comfort to a group that wanted to break up the nation. Now he is being rewarded as a hero of that nation."
"Dr Minnis has certainly taken leave of his senses and good judgment," he said.
The first recipients of the country's National Honours were announced on Independence Day, with the top honour of the Order of National Hero awarded posthumously to Sir Lynden Pindling, Sir Milo Butler and Sir Cecil Wallace-Whitfield and Sir Roland.
The announcement, specifically the selection of Sir Roland, has led to national debate over the criteria for selection, with scores of political, religious and national figures using their respective platforms to either condemn or back the choice.
On Thursday, retired Bishop Simeon Hall called for a stop to the debate, which he called "retrogressive."
Bishop Hall, who serves as pastor emeritus at New Covenant Baptist Church, said despite the negative cases now being brought up about Sir Roland's legacy, he knew first hand of many of his positive deeds.
"Sir Roland heard me preach one summer, struggling to get back in college and he paid one year's tuition for me," he said. "So for me, he will always be my national hero."
Additionally, Bishop Hall called on the country to recognise that, just as Sir Roland did, many of the country's founding fathers had "a dark side".
However, he said despite their alleged negative acts, "The good they did outweigh the bad."
And added Bishop Hall: "Some of our black leaders had their own graveyards, figuratively speaking."