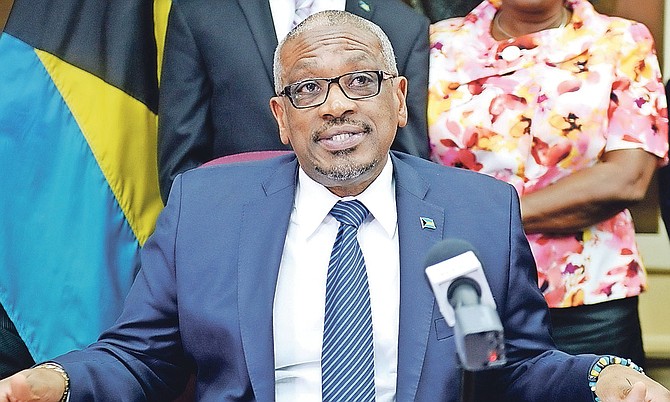 Reader poll
541 total votes.
By KHRISNA RUSSELL
Deputy Chief Reporter
krussell@tribunemedia.net
PRIME Minister Dr Hubert Minnis said it appears the Progressive Liberal Party is playing the race card when it comes to Sir Roland Symonette's posthumous award of National Hero but implored Bahamians to move beyond skin colour when discussions focus on the contributions made toward nation building.
The Bahamas' first National Honours recipients were announced on Independence Day. Sir Roland received the top honour with former Prime Minister Sir Lynden Pindling, Sir Milo Butler and Sir Cecil Wallace-Whitfield.
Sir Roland's honour has been met with controversy, including allegations from the PLP that the former premier led a "racist regime" and opposed the fight for independence.
"I don't go down that road. We must move beyond colours. So, I don't see people like that," Dr Minnis said when asked about the controversy.
Asked if he believed the PLP was playing the race card, the prime minister said: "It would appear that way but that's a word I take out of my dictionary. I don't go down that road."
This came after Free National Movement Chairman Carl Culmer defended the awarding of the honour to the country's first premier. Mr Culmer said on Wednesday Sir Roland singlehandedly "did more for black people" than some people of colour.
Mr Culmer said no man is without sin as he defended the former premier's legacy.
Regarding the decision, Mr Culmer said: "My question to anyone: did Sir Roland contribute to development and also to the country? The answer would be 'yes'.
"I had no issues with him receiving national honours. I have no issue with any Bahamian receiving national honours who contributed to the growth and development of our country."
When asked about the backlash, Mr Culmer said: "I saw the comments, but the thing is we can say the same thing about the former prime minister from the PLP. He did a lot to black folks as well. Should he not be recognised? My thing is, yes, he should be recognised."
Mr Culmer clarified that he was referring to Sir Lynden, while also defending Sir Roland's legacy.
"So, my thing is, there's no man without sin. And during that era, I didn't hear nothing about Sir Roland being prejudiced," Mr Culmer said.
"I heard and read where he (Sir Roland) did a lot for black people. He was the one that gave a lot of loans to black people, giving them opportunities that they didn't have normally. If the records are correct, he did more for black people — I'm talking singlehandedly — than many black people did for black folks."
When asked to elaborate on the ways Sir Lynden oppressed black Bahamians, Mr Culmer pointed to political victimisation.
PLP Chairman Fred Mitchell told reporters on Wednesday that it is the PLP's view that Sir Roland was not a "fitting, proper person" to qualify for that award.
"It is the (PLP's) view that Sir Roland did not fit the legal definition in the (law) for a national hero," Mr Mitchell said. "We made that point clear in all of the correspondence…with the government on this matter."
Mr Mitchell added that it is the party's view that the one person who "without question" fit the definition in the law was Sir Lynden.
"That is without question, there can be no argument about it."
In a post to Facebook, Englerston MP Glenys Hanna Martin decried Sir Roland's award.
"I do not accept that a man who led a racist regime – Sir Roland Symonette – whose deliberate policies obstructed the natural human development and progress of the masses of Bahamian people can ever be deemed a 'national hero.' This decision is perverse and highly offensive. It is grotesque revisionism," she wrote.