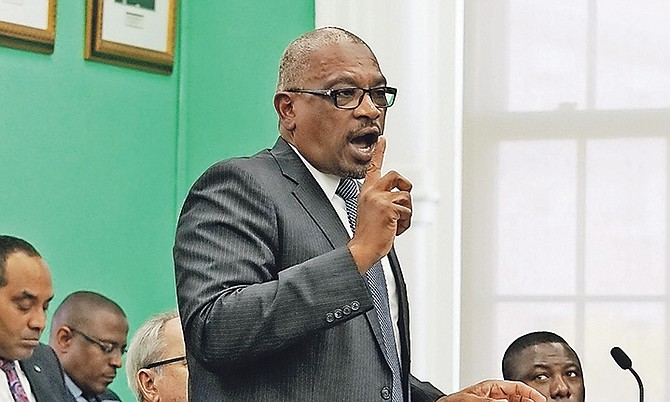 By KHRISNA RUSSELL
Deputy Chief Reporter
krussell@tribunemedia.net
PRIME Minister Dr Hubert Minnis intends to run as leader of the Free National Movement in the 2022 general election and he's confident Bahamians will elect him again to lead the country.
Dr Minnis said this much in an interview with reporters at the Department of Housing's launch of the first service lots for sale at the Sunset Close extension yesterday.
During the event, as he remarked about the government's plan to develop one housing subdivision each year for the next ten years, Dr Minnis quipped: "They got the message. They hear me say the ten-year plan so they can interpret that. That mean you got nine more years of me."
Following these remarks, the prime minister was asked about his plans to introduce term limits for prime ministers, however Dr Minnis did not provide many details. However, he insisted it would come during his term in office.
"It would come in under my term, believe me because I certainly do not want to go more than two (terms), that's my max," he said.
"All I can say is it will come, it will come. Let's put it like that because that's a referendum, so it will come."
While in opposition, the Free National Movement promised to establish term limits for the prime minister. This pledge was also outlined in the Speech from the Throne read by Governor General Dame Marguerite Pindling, which marked the opening of Parliament following the 2017 general election.
However, term limits cannot be instituted without first taking the issue to the public through a referendum. In the past referenda have been an expensive undertaking.
The Christie administration spent $1.2m on the 2013 gaming referendum. It was also estimated that the 2016 constitutional referendum cost the public purse around $1.57m.
The Minnis administration has also pledged to institute a recall system for non-performing members of Parliament and an independent Constituencies Commission and Electoral Commission.