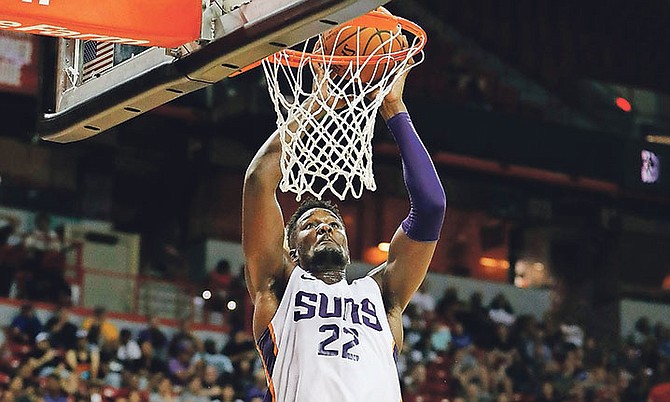 By BRENT STUBBS
Senior Sports Reporter
bstubbs@tribunemedia.net
On the eve of the Bahamas' 45th Independence anniversary on Monday night, National Basketball Association No.1 draft pick Bahamian Deandre Ayton got a morale booster against one of his high school and new NBA rivals as he helped the Phoenix Suns blow out the Orlando Magic 71-53.
In the NBA Summer League in Las Vegas, Ayton exploded for a game high 17 points, 13 rebounds and a block shot in 25 minutes over Orlando's Mohammed Bomba, who was limited to four points, five rebounds, five blocks and two steals in 22 minutes in the much anticipated match-up of two of the top big men in the recent draft.
"With all of the excitement and all the fans coming out here, it really made me a lot more comfortable and I just wanted to put on a show for them," said Ayton during an interview with former Orlando shooting guard Dennis Scott, now a commentator, on NBA TV after the game.
"To be honest, I just want to win as many games as I play."
In their third straight game in the Summer League in Las Vegas, the performance of the 7-foot, 1-inch, 250-pound centre from the University of Arizona enabled Phoenix to remain undefeated.
Ayton, 19, said their relationship goes all the way back to high school where Bamba became a winner. Bamba, 20, starred for Westtown School in Westtown, Pennsylvania, averaging 14 points, 11 rebounds and six block shots per game, compared to Ayton's 26 points, 15 rebounds and 3.5 blocks for the Hillcrest Prep Academy in Phoenix, Arizona.
"This is my first win against him. So when we were shaking hands, he said 'you finally got one hey?' I said 'yeah, finally got one'", Ayton recalled.
"We always been matched up against each other, so yeah, we've always been matched up against each other. "It was a great game, especially on the glass. We were really battling each other. He's a great dude. He's worked on his game a lot. He's very vocal on the court as well. But our team did a good job on the defensive end and we got the job done."
Bamba, a 7-1, 225 lb centre, went on to play for the University of Texas, while Ayton went to Arizona. The two were one-and-done and came out of the NBA June draft with Bamba taken with the No.6 pick by Orlando behind Ayton as the No.1 pick by Phoenix.
Now as he prepare for the start of the NBA 2018/19 season, Ayton said he was also thrilled that Phoenix signed guard Devin Booker to a max contract extension after he averaged 19.8 points, 3.5 assists and 3.3 rebounds in 208 games through his first three seasons with the Suns.
The 6-6 guard has 4,120 career points and eclipsed the 4,000-point mark on March 2, 2018, at an age of 21 years, 123 days old--in NBA history, the only two players to reach 4,000 points at a younger age are LeBron James and Kevin Durant.
"He's a great guy. I've been hanging out with him a couple of times off the court just getting to know him. He's a great guy," Ayton disclosed out one of his new team-mates.
"He's very humble, someone great to be around and just listen too, including (power forward) Josh (Jackson) and all the other guys like (forward) Marquese Chriss. This is a young team and they are very hungry. I just need we have the young legs to run up and down the floor."
The Suns have also added some veteran leadership in signing Trevor Ariza, a 33-year-old from the Houston where he played the last four of his nine years in the league.
The 6-8, 215-pound forward twice helped the Rockets reach the Western Conference Finals while averaging 12.2 points, 5.1 rebounds, 2.4 three-pointers and 1.8 steals in 310 games. In 2017-18, Ariza made a career-high 2.5 three-pointers per game and shot a career-best 85.4 percent from the free throw line to help Houston win a franchise record 65 games.
For his career, the 33-year-old has averaged 10.5 points, 4.8 rebounds and 1.5 steals while shooting 35.3 percent from three-point range in 942 games with six teams: New York (2004-2006), Orlando (2006-2007), the L.A. Lakers (2007-2009), Houston (2009-10; 2014-2018), New Orleans (2010-2012) and Washington (2012-2014).
Ayton will be the second Bahamian to play in the NBA this year. He will compete along with Grand Bahamian Buddy Hield, a 24-year-old guard, now in his third season with the Sacramento Kings. He was selected with the sixth pick in the 2016 draft by the New Orleans Pelicans out of the University of Oklahoma before he was traded to the Kings on February 20, 2017.