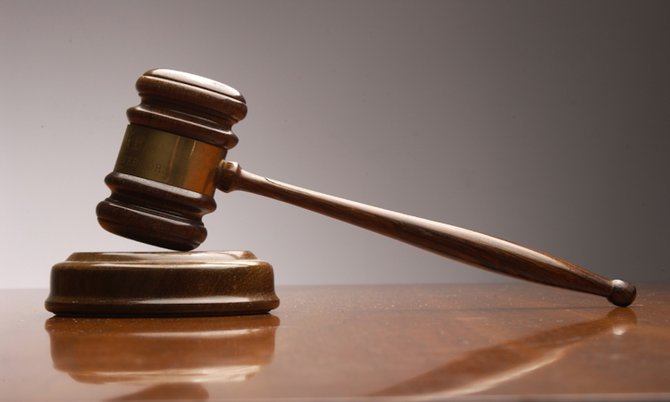 By NICO SCAVELLA
Tribune Staff Reporter
nscavella@tribunemedia.net
A senior magistrate has ordered two police officers be charged with perjury after video surveillance contradicted what they claimed happened the night they arrested a man in a nightclub for having an illegal firearm late last year.
Senior Magistrate Derence Rolle-Davis ordered that Corporal 2766 Rolle and P/C 3674 Taylor be investigated for the "egregious" false narrative they painted in their police reports concerning Dominic Johnson's arrest at the 40/40 nightclub in December.
Magistrate Rolle-Davis further found the subsequent investigation of another officer, Detective Constable 3629 Mills, was "without competence" and "woeful at best". The magistrate recommended that Officer Mills "should also be reprimanded".
Consequently, Magistrate Rolle-Davis acquitted the 28-year-old Coral Harbour resident of possession of an unlicenced firearm, namely a black Taurus 9mm, and possession of six unfired rounds of 9mm ammunition stemming from the December 22 incident.
According to Cpl Rolle's report, while on routine mobile patrol sometime after 11.15pm on the date in question, the crew of Alpha Bravo Tango #1, which consisted of himself, Superintendent K Neely, and P/C Taylor, were conducting an inspection at the 40/40 Restaurant and Bar.
Cpl Rolle said he observed a dark male walk off to the restroom at a "fast pace". As a result, Cpl Rolle and P/C Taylor gave chase where the former observed the man remove a black handgun out of his waistband and drop it into the toilet tank.
Cpl Rolle's report said he and P/C Taylor subdued the suspect, then used a plastic glove and removed the firearm from the toilet. Upon closer inspection of the weapon, Cpl. Rolle said in his report he realised it was a Taurus 9mm which contained six live rounds.
Cpl Rolle said he then cautioned and arrested the man who gave his name as Dominic Michael Johnson of Kent Drive, Coral Harbour.
He was handcuffed and searched, then placed in a marked police vehicle and taken to the Carmichael Road Police Station. The firearm and the six rounds and magazine were initialed.
According to a report from D/C Mills dated December 23, 2017, while on duty at the Anti-Gang and Fire Investigation Unit on December 23, he saw and spoke with Detective Sergeant 2600 McKinney who gave him a black Taurus 9mm pistol with the serial number erased; one black magazine and six rounds of 9mm ammunition.
Det Sgt McKinney also informed him a suspect, Dominic Johnson, of Kent Drive, Coral Harbour was in custody in reference to those items.
Sometime around 4.35pm on that date, D/C Mills interviewed Johnson in the presence of Detective Corporal 2422 Ward and his attorney Wilver Deleaveaux. Johnson was shown the firearm, the ammunition and the magazine, and was also asked certain questions, all of which he replied to by saying "I refuse all questions".
At the end of the interview, Johnson was asked to read over the record of interview and initial his name, but replied "I refuse to read and sign anything". However, his attorney asked to read over the record of interview and was allowed to do so.
Afterwards, D/C Mills and D/C Ward signed and dated the record of interview. At the conclusion of his investigation, D/C Mills further cautioned and charged Johnson with possession of an unlicenced firearm and ammunition.
D/C Mills then marked the weapon and ammunition and submitted them to the police forensic laboratory.
However, The Tribune understands video surveillance of the initial encounter between Johnson and Cpl Rolle and P/C Taylor showed a different version of events, particularly how the latter first encountered Johnson in the club, and what took place afterwards.
"This video footage is clearly in contradiction of the evidence of (Cpl Rolle) and (D/C Taylor)," magistrate Rolle-Davis ruled. "The court finds this egregious and orders that these two officers be investigated and charges levied against them for perjury before the court.
"The investigation of P/C Mills was without competence and is woeful at best," he added. "He should also be reprimanded.
"Accordingly, (Johnson) is found not guilty of the charges on both counts."
Johnson was represented by attorney Bjorn Ferguson.