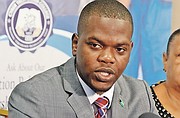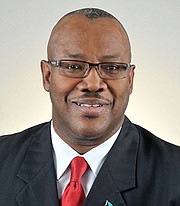 By KHRISNA RUSSELL
Deputy Chief Reporter
krussell@tribunemedia.net
THE parliamentary secretary posts left vacant when Prime Minister Dr Hubert Minnis fired MPs Travis Robinson and Vaughn Miller for voting against the value added tax increase will not be filled.
According to Dr Minnis yesterday, the decision represents a cost saving measure.
"There will be no replacement," Dr Minnis told The Tribune. "We are now trying to balance a budget. That's a savings of $90,000. Every great oak tree was once a nut, so we start small and build big."
Mr Robinson and Mr Miller - former parliamentary secretaries in the Ministry of Tourism and Aviation and in the Ministry of Social Services and Urban Development respectively - were fired for their vote against the rise in VAT in the House of Assembly more than two weeks ago.
Pineridge MP Frederick McAlpine was also fired as chairman of the Hotel Corporation for his vote against the VAT hike. Dr Minnis did not hint who was being considered for this board appointment.
Reece Chipman, Centreville MP, also voted 'no' but he was unaffected, having been fired from his appointment as chairman of the Antiquities, Monuments and Museums Corporation months ahead of the budget vote.
Days after he revoked the three MPs' posts, Dr Minnis said the decision was not personal but based on his responsibility and obligation to follow parliamentary procedure.
"I cannot allow my personal views to get into democracy; we have a parliamentary procedure, and I must adhere, respect, and ensure the procedure lives on, and is honoured, and respected thoroughly," the prime minister said on the sidelines of a conference in Grand Bahama at the time.
Despite losing his appointment in the Ministry of Tourism, Mr Robinson said last week he remains a supporter of the governing Free National Movement.
Nonetheless he told MPs during a speech his vote and presence in the House of Assembly are "mortgaged" to his constituents.
Mr Robinson said he held no hatred or anger, but explained his integrity and allegiance to the people of his constituency led to his vote against the VAT increase to 12 percent.
The MP questioned the relevance of the Westminster system and called for a select committee to evaluate this system of governance.
This system, he said, left Dr Minnis no choice but to fire him from the post after his vote, adding no elected member of Parliament should be forced to choose between their party and the people they serve.
In their termination letters, Mr Robinson and Mr Miller were cited for breaching the Manual of Cabinet and Ministry Procedure, which states parliamentary secretaries, like Cabinet ministers, are bound as a condition of their continuance in office to support government's decisions in public.
For his part, Mr Miller said he voted against the VAT increase because he believed the people should have been consulted.
Despite his vote, Mr Miller said he saw no reason why the party would not offer him a nomination in the next general election.
He said the meeting in which he was fired by Dr Minnis was amicable. At the time, he said he thanked the prime minister and told him he not only loved but respected him. And while he affirmed his respect for Dr Minnis despite the revocation of his appointment, Mr McAlpine suggested the nation's leader would be voted out of office in the next election. He also said the firings would not help the FNM's falling poll numbers.
"You can fire me but I've been living long enough to know that I have seen people fire people and the people who fire the people, I've watched the people fire them," Mr McAlpine warned in a previous interview.