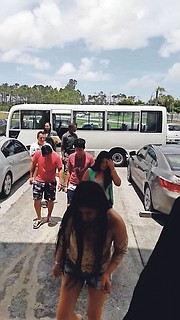 By DENISE MAYCOCK
Tribune Freeport Reporter
dmaycock@tribunemedia.net
SIX Ecuadorians, including a minor, were discovered by Bahamian authorities at a canal in Freeport.
The five adults were charged in court with breaching the Immigration Act.
Three men, two women, and girl were found in the Running Mon Marina area on Sunday, June 24, according to immigration officials.
The five adults were arraigned on June 25 in Magistrate's Court in Freeport before Magistrate Rengin Johnson.
Four were charged with illegal landing, and one man was charged with overstaying his time in the country.
According to the report, sometime around 6pm on June 24, immigration officials acting on information went to the Running Mon Marina area where a group of Ecuadorians was at a canal preparing to be smuggled to the US by boat. Officers from the Royal Bahamas Police Force were also on the scene.
The six Ecuadorians produced their passports, but some of the pages were missing, and officials could not determine when they had entered the country legally. They were subsequently taken into custody and processed at the Department of Immigration.
During further investigations, officials searched a travelling bag of one of the men and found two missing pages of his passport, along with an immigration landing card which showed that he had arrived in the Bahamas in early May and was admitted for seven days.
However, he failed to seek an extension after his visitor's status had expired.
The migrants all pleaded guilty and were convicted.
The four who pleaded guilty to illegal landing were each ordered to pay a $300 fine or serve six months in prison. They were also ordered deported to Ecuador on payment of the fine or after having served their custodial sentence.
The Ecuadorian man who was convicted of overstaying was ordered to pay a $3,000 fine or in default serve nine months in prison. The magistrate ordered him to be deported to Ecuador upon payment of the fine or after serving the custodial sentence.
The Ecuadorians paid their fines and were flown to New Providence on June 25 to be detained at the Carmichael Road Detention Centre to await deportation to Ecuador.