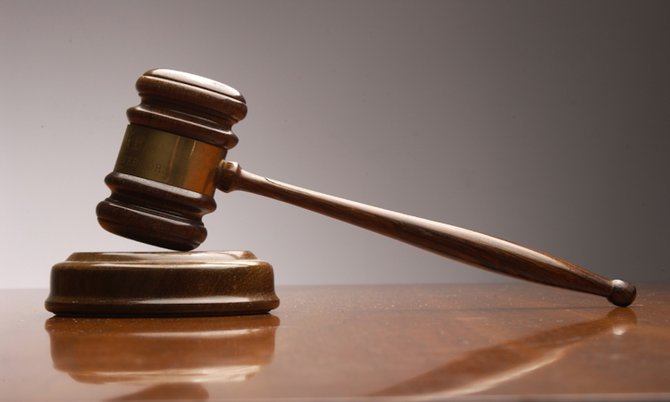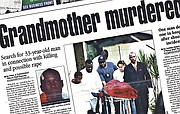 By NICO SCAVELLA
Tribune Staff Reporter
nscavella@tribunemedia.net
A CARETAKER who had worked for an 86-year-old woman, who he had brutally stabbed to death in her Dannottage Estates home a decade ago, was yesterday sentenced to 40 years in prison by an acting Supreme Court judge.
Acting Justice Andrew Forbes sentenced Sandor Fowler to 48 years imprisonment for the murder of Iris Archer in April 2008, who he had stabbed multiple times in her chest with a kitchen knife. When that knife broke, he got another one and kept stabbing. Archer was also set on fire after lighter fluid was poured over  her as she pleaded for her life.
Eight years was taken off Fowler's sentence to reflect the amount of time he spent on remand in connection with the crime.  
Family members seated in the courtroom grew audibly agitated as Crown prosecutor Raquel Whymms recited the particulars of the crime to Acting Justice Forbes, and as the facts grew more and more grizzly, some left in tears.
According to the evidence, on April 12, 2008, Fowler was at the residence of the deceased, cleaning up when he overheard Archer's daughter, Karen Culmer, speaking about sending money to her daughter who was away in college.
He subsequently went to the kitchen area and unlocked a sliding door because he had plans to return to the house the following day, expecting that Archer and her daughter would be attending church at that time.
However, Archer was left home alone the following day while Mrs Culmer, who lived with her, left the house early to attend the Sunday morning service at St Agnes Anglican Church. Mrs Culmer had asked Archer if she was sure she did not want to accompany her to church. However, Archer's response, relatives said, was that she did not feel well, but would be all right at home alone. 
Family members said that Sunday morning was the only time Archer had missed a service.
On the day in question, Fowler, with his girlfriend, Cindy, and a man who he knew only as Edmond from Nassau Village went to Archer's residence.
He went to the rear of the house to the sliding door he'd left open the day before and went inside. However, once inside, he encountered Archer in the kitchen by the sink, who asked: "Sanny, what you doing here?" She wanted to know how he had got inside.
A struggle then followed between the two, resulting in him pushing Archer to the ground and getting a knife out of a knife holder from the kitchen and stabbing her in her chest. When that knife broke, he got another one and continued.
Fowler then called out for Cindy and Edmond to come and assist him, and when Cindy walked to the door she asked Fowler, "What the (expletive) you do?"
At this point Archer was crying. Fowler then went to Ms Culmer's bedroom, got a pink and white pillow, gave it to Cindy and told her to put it over Archer's face, which she did.
He and Edmond then searched the house for money, and found an envelope filled with cash. He and Edmond returned to where Archer was lying and a bottle of lighter fluid was found and poured over her. She was set on fire while she begged and pleaded: "Y'all don't do this to me."
After Fowler pleaded guilty to the single charge of murder, which came as part of a plea deal, Acting Justice Forbes regretted that he had decided to engage in such a violent act towards someone's mother and grandmother.
The judge further expressed how, after Fowler discovered that someone was at home, he should have been dissuaded from continuing with his intent to rob. But in fact he was not, and subsequent actions, the judge said, showed his disregard for life.
Upon sentencing him, Acting Justice Forbes told Fowler to use his incarceration to reflect on his actions and the life he took as a result, noting that various people, such as Archer's family members, have to deal with the negative results of his actions for the rest of their lives.
Antania Rolle-Taylor was the second attorney on record for the Crown. Keith Seymour represented Fowler.