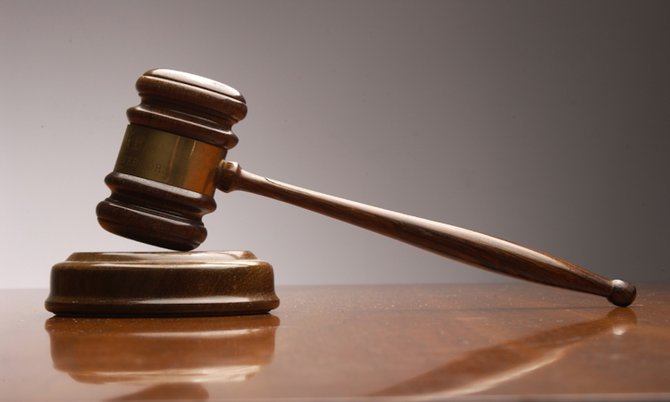 By DENISE MAYCOCK
Tribune Freeport Reporter
dmaycock@tribunemedia.net
TWO of the weapons used by suspects in the double murder and armed robbery of a Deadman's Reef couple were never recovered by police, the Supreme Court heard Tuesday as the trial of three accused men resumed in Grand Bahama.
Although one of the weapons was recovered, the murder weapon used to kill Barry and Sheena Johnson and an AK-47 assault rifle have not been found.

Surveillance video footage was shown in court of three suspects brandishing weapons at the couple's home. One suspect was armed with a pistol, another with an assault rifle, and a third with a shotgun.

When Geoffrey Farquharson, lawyer for one of the accused men, questioned lead detective Sgt 772 Lorenzo Johnson about how many weapons were recovered in his investigation, the witness said only one of the guns was found.
The lawyer then asked the detective what investigations were conducted into finding the other weapons.
The detective said several search warrants were executed, including a search at a house in Pinedale, Eight Mile Rock, for the murder weapon.
Mr Farquharson asked Sgt Johnson whether he could produce a report with respect to those searches, but the officer could not.

The attorney then questioned the witness as to whether his client Paul Belizaire had given a voluntary statement concerning his involvement in the matter. Mr Johnson said that his client had voluntarily provided a full and frank account of his role in the case.
"If Mr Belizaire was being so cooperative and telling you everything, why didn't you ask him about the other two weapons?" Mr Farquharson asked.

"Did you ask Belizaire about where the murder weapons were?"
"No," replied Sgt Johnson.
"Would you agree that finding the murder weapon would have advanced the case significantly?" Mr Farquharson asked.
Mr Johnson said it would have.
The counsel suggested that failing to ask a witness such a question amounts to "slackness" on his part, but Sgt Johnson disagreed,
Mr Farquharson then asked Sgt Johnson about the statements made by several witnesses who had reported seeing Barry Johnson the night he was murdered.
He said the statements given by several witnesses about the time they saw Barry Johnson conflicted with the time when the murders allegedly happened, between 9 and 10pm.
Mr Farquharson stated that Bruno Parker had given a statement to police about receiving a call from his friend Barry Johnson at 9.37pm on September 12 that three men were at Mr Parker's house. He said according to his statement it took him about 10 to 15 minutes to get home.
"That would mean that Parker would have arrived at his house around 9.50pm and he and Johnson stood around talking for a while, and he received three calls from his wife, and that he would have stopped by his mother's house before going home would have been around 10.15pm," suggested Mr Farquharson.
Sgt Johnson said he would not know that because he had not interviewed any of the witnesses.
Mr Farquharson then referred to a statement by a neighbour Gail Zamore who reported hearing raised voices outside between 9pm and 10pm on the night in question when in fact a video shows Mr Johnson arriving at home at 10.22pm.
Sgt Johnson said that the times given by witnesses were not exact and were estimated.


Belizaire, Devaughn Hall and Kevin Dames are on trial for the murders and armed robbery. It is alleged that the men went to the couple's home and robbed them of a set of keys and their GMC truck on September 12, 2015.
The trial continues.