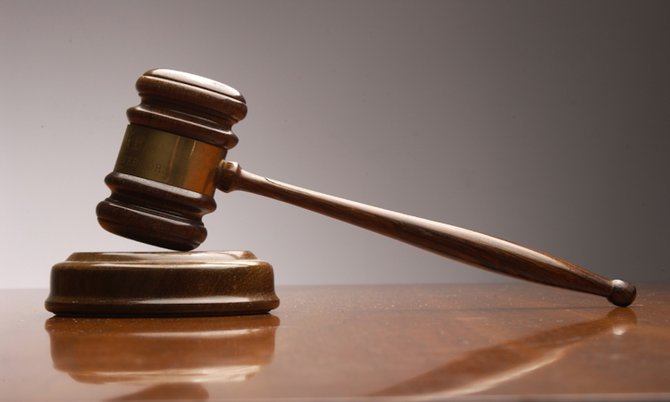 By AVA TURNQUEST
Tribune Chief Reporter
aturnquest@tribunemedia.net
A BAHAMIAN mother of four, who was caught up in the FBI's two-year undercover operation into US visa fraud in Nassau, was sentenced to time served and deportation in a federal court yesterday.
Pauline Pratt, 43, was convicted of one count of conspiracy to commit visa fraud for her involvement in the scam, which saw her and deceased Haitian activist Pierre Parisien bolster visa applications with false information and fraudulent documentation.
She further claimed she could create fraudulent bank letters to support applications, and forged the signatures of bank officials during a recorded meeting shortly before her arrest in September.
"During the (September 28) meeting," read the statement of offence, "defendant Pratt electronically sent two bank letters to (an informant) as examples of fraudulent bank letters that she had created. One letter was addressed to the US Embassy. The other letter was addressed to the Bahamas Ministry of Foreign Affairs."
It continued: "(Informant) provided $800 to defendant Pratt. These funds were payment to defendant Pratt to create fraudulent documents for (informants) and submit visa applications on their behalf."
Parisien is referred to as an unnamed co-conspirator in Pratt's statement of offence; however, he was named in the affidavit sworn by special agent Kevin Gounaud, which detailed the FBI sting and recorded conversations held between informants and another alleged conspirator Edward Israel Saintil. 
The affidavit was filed in support of a criminal complaint against Saintil.
Parisien, president of the Haitian Organisation for the Prevention of HIV/AIDS & STDs (HOPHAS), a local non-governmental organisation, was reportedly recorded in several meetings with informants in 2017.
He introduced the informants to Pratt on October 12, 2017, and provided answers for marital status and local address for the applications. In that meeting, Ms Pratt was also recorded discussing appropriate pay scales to use for the fake job letters. One of the informants was said to have worked as an auto mechanic for the "Mechanic Doctors" in Garden Hills, while the other worked as a store manager for the "19.99 store" on East Street.
"At the conclusion of the meeting, Defendant Pratt told (informant) that each application would cost $240 and that she needed to be paid before submitting the DS-160s," read the US attorney's statement of offence.
The separate applications were electronically submitted to the embassy's consular affairs office on October 14, 2017, and according to the statement, included all the information provided to Pratt during the recorded meetings at her house.
Those applications were denied, and in a recorded conversation on June 11, Ms Pratt and the lead FBI informant discussed re-submitting applications but with employment letters stating the pair worked at a local casino.
The informant posed as an art curator, and Pratt travelled to Washington on September 28 to further discuss the visa applications and view an art exhibit. Pratt was arrested on September 28, and released pending trial on October 5.
However, Pratt's attorney Kira Ann West disputed this fact and took a different view of evidence provided by prosecutors.
Ms West wrote: "(Pratt) acknowledges her actions in providing false information on the forms. However, it is important for the court to know that she did not come to the United States to commit the crime. 
"She was lured here by the United States government. Her airline fare was paid, as was her hotel room in Washington, DC, by the government through the confidential informant. 
"She was told by the confidential informant that she would be here to attend an art show with her aunt, and the confidential informant posed as a curator of an exhibit. Once she was lured here, she was arrested in the hotel room."
As part of her plea deal, Pratt agreed not to submit an application to the US for any immigration benefits, including visas, directly or indirectly on behalf of any third party. 
The agreement noted she could still apply for an immigration benefit on her own behalf.
Ms West appealed to district judge Paul Friedman for leniency given her current family circumstances, her health, and her lack of need for incarceration.
Pratt suffers from diabetes and hypertension, and has been unable to access medication in the US, Ms West stated.
"Ms Pratt does not dispute her role in the charged conspiracy," Ms West continued. 
"However, she does dispute some of the facts and states so herein. She knows what she did was wrong and has taken full responsibility for it. She immediately told the truth upon her arrest and explained her role in the offence to the government agents.
"Ms Pratt is a 43-year-old mother of four children: three girls that are 19, 17 and nine and a little boy who is one. She is married. She has a job – a job that is being held for her until she returns to the Bahamas. 
"It is imperative that Ms Pratt return to her native land and family, not only for her children's sake, but for her own."
Ms West also wrote: "Ms Pratt recognises the seriousness of the offence for which she has admitted responsibility, and is remorseful about her actions and the consequences of her actions to those around him and to society at large.  
"It is her remorse and her recognition of having made a mistake, as well as her other qualities as a person that makes her friends and family remain supportive of her in these difficult times. Fortunately, she has had an outpouring of support from her friends and family both here in the United States and the Bahamas."