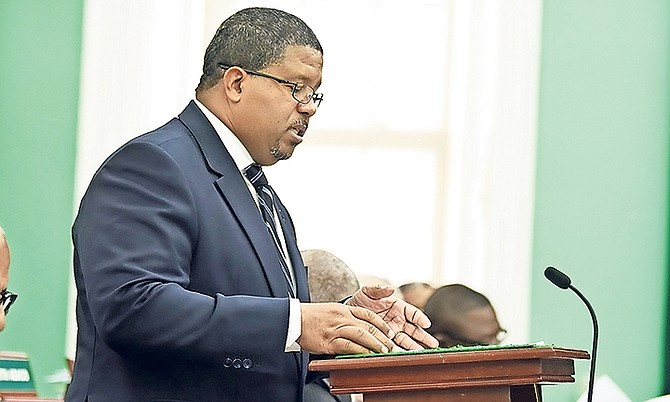 By KHRISNA RUSSELL
Deputy Chief Reporter
krussell@tribunemedia.net
FINANCE Minister K Peter Turnquest defended government's intention to legislate non-profit organisations insisting yesterday the Minnis administration is simply seeking to ensure transparency while safeguarding the country against international risks.
As the Non-Profit Organisations Bill 2018 seeks to regulate these groups, Mr Turnquest was adamant the government did not want to overly interfere or monitor their activities.
The bill was part of a compendium of financial services bills the government seeks to pass to further comply with international tax standards.
The deputy prime minister said without this legislative protection for NPOs, the Bahamas could be made more vulnerable to money laundering, corruption, cyber-crimes, human trafficking, financing or terrorism or the proliferation or financing of weapons of mass destruction.
His defence came the day after Bahamas Christian Council President Bishop Delton Fernander told Guardian Business it was a shame the government wanted to pass the NPO Bill without considering the concerns of the church.
However, Progressive Liberal Party Deputy Leader Chester Cooper questioned how the government could legislate NPOs while turning a blind eye to political organisations and their campaign finances. In this regard Mr Cooper said he did not understand why this level of disclosure was required from these groups.
"Now, Mr Speaker, there are those who (have) raised concern about having to register, having to file financial statements to show that they are operating within the guidelines and the mandate of their organising documents," Mr Turnquest told the House of Assembly.
"Now let me state for the record that it is not the intent of the government to interfere or to monitor other than for defined purposes the activities of any organisation be it religious, civic (or) social. That is not the intent of this bill.
"The overriding objective of this bill is to provide for regulations to ensure that non-profit organisations are operating in a transparent manner and are not engaged in activities, which constitute an identified risk as defined in the Proceeds of Crime Act – Ch 93, namely activities involving corruption, cyber-crimes, human trafficking, money laundering, or financing of terrorism or proliferation or financing of weapons of mass destruction."
He continued: "Now some may say for the sake of that argument, 'I'm just a little charity organisation that provides a feeding centre for indigent people in the community I don't know anything about financing, I'm not involved with anyone that is questionable as far as I am aware. We receive donations and we used those donations for the purpose as established.' I suspect that 100 percent of our organisations would be so subscribed. This bill though is intended to help ensure that no act be it domestic or international comes to the Bahamas, establishes a non-profit organisation, or knowingly or unknowingly utilises an existing non-profit organisation to run them or to conceal the proceeds of crime.
"It can happen, Mr Speaker, because many organisations receive donations. Some receive donations from around the world and a lot of times we don't necessarily know the background of those persons who are sending you donations. This is not concerning your $100, your $1,000 or your $10,000 donations. This is concerned with your large donations and so this is not about trying to identify or expose the affairs of any organisation. It is intended to ensure transparency in the plight against illicit activities."
State Legal Affairs Minister Elsworth Johnson agreed the government did not want to monitor organisations' balance sheets or carry out a witch hunt for anyone.
He said as the country invites thousands of companies and millions within its borders, there was an obligation to ensure standards were fit and proper to protect the Bahamas' reputation and sovereignty.
For his part, Mr Cooper said the new law will be very unpopular.
He said: "About this bill, I don't quite understand some of the logic.
"Mind you, I do understand the international pressure to regulate unincorporated organisations, and I don't really get the scepticism with our religious organisations, but I'm really strained to understand why non-profit companies are seemingly being required to re-register under this law.
"Non-profit companies like the Bahamas Chamber of Commerce, of which I'm a past president, and Bahamas Faith Ministries International and many others, are already subject to additional scrutiny and the direct approval of the attorney general as required by our existing Companies Act. Is government asking non-profit companies to duplicate their regulatory requirements by registering under both acts?
"Asking non-profit companies and all non-profit organisations to identify their assets on a balance sheet and a profit and loss statement does away with any semblance of confidentiality.
"This is a completely new paradigm for the Bahamas, which will, honestly, be very unpopular and be met with much push back from non-profits and, in particular, the churches who will view this as a severe and sudden intrusion. Some might likely see it as a suppression of small churches which are the bedrock of some small communities. I do need to understand why this level of disclosure is needed by non-profits," the Exuma and Ragged Island MP said yesterday.