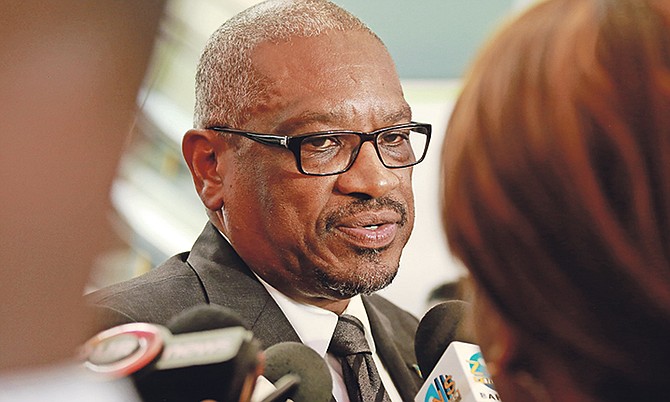 By RASHAD ROLLE
Tribune Staff Reporter
rrolle@tribunemedia.net
PRIME Minister Dr Hubert Minnis is not concerned about the talk of a general strike in the country.
"I'm more worried about other matters," he joked to reporters yesterday, when asked for his reaction to recent comments on a general strike from union leaders.
"I'm more worried and concerned whether the Saxons are going to win Junkanoo this Christmas. That's what I'm gearing up for,"  he laughed.
Nonetheless, Dr Minnis' remark drew criticism across social media after a reporter posted his comments, recalling other times when the prime minister responded flippantly to questions about national affairs.
Asked once about appointing a substantive chief justice, he joked that he was going home to make stew fish. 
A statement released by the Office of the Prime Minister last night responded to the backlash Dr Minnis received online, stressing that despite his joke, the nation's leader was not seeking to make light of labour issues. 
"The prime minister, after addressing the Third Caribbean Infrastructure Forum at the Baha Mar Convention Centre on Tuesday, was asked by the media whether he was concerned about a general strike," a statement from the Office of the Prime Minister noted. "The prime minister responded 'No'. He went on to also suggest that there were additional matters upon which he had some worries and concerns."
The statement said Dr Minnis' comments about Junkanoo was an attempt to engage the media in "a moment of light humour."
The statement continued: "He further joked with a member of the media and asked 'You pull for us don't you?' And then asked, 'You're not a Saxon?' The time with the media ended on a high note with the prime minister giving a hearty chuckle to members of the press before moving on to his next assignment. The prime minister at no time however sought to make light of or diminish the seriousness of labour issues or the concerns of workers within the country. It was only after giving a clear response to the question that the prime minister sought to use the opportunity, as an avid Junkanooer and member of the Saxons Superstars, to have a light-hearted moment with the media."
Unions have not held serious talks about a general strike, according to Bahamas Union of Teachers President Belinda Wilson, though some union leaders have mentioned it while grumbling about their unresolved labour disputes with the government.
"There hasn't been any discussions about a general strike to my knowledge at this time," Mrs Wilson told this newspaper yesterday. 
Unions leaders dismissed the prime minister's large-scale meeting with them on Monday, saying they merely rehashed their concerns but got no closer to having them resolved.
Dr Minnis also said yesterday: "Some of the problems were way back 15 years you know, I wasn't even here and then I'm saddled with 15 years of problems but, so be it. (The meeting on Monday) was very informative. I obtained a lot of information. The information I have gathered from them I will inform my labour minister to meet with the relevant unions so as to deal with the matters. They had other concerns with respect to board and agencies, how they were functioning and I will ask the relevant ministers to speak with their chairmen of the various boards so you could have better communication between the boards and the union and employees (sic)."
Dr Minnis had a more successful meeting with senior doctors of the Consultant Physicians Staff Association.
He was expecting to meet with Financial Secretary Marlon Johnson yesterday, he said, adding the team "will look at whether we have any type of wiggle room but we have just introduced our fiscal policy programme so under no circumstance can we at any degree jeopardise our international financial standings. You know we're being reviewed by the OECD, etc, so all those matters have to be taken into consideration. One cannot just look in isolation, one has to look at the global picture."
Doctors persisted with their industrial action yesterday after their meeting with Mr Johnson was postponed to noon today, however.
"We are not returning to work at this time," said one CPSA representative.