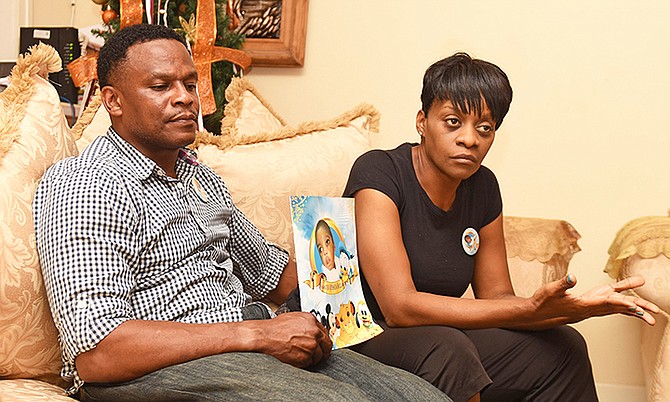 By AVA TURNQUEST
Tribune Chief Reporter
aturnquest@tribunemedia.net
DEVASTATED by the sudden and unexplained death of their brain-injured toddler who spent his entire life in hospital, a couple are suing the government in the hope to bring not just closure for loved ones but justice for their son.
Joshua Bullard was born in December 2015, just three days after his mother Madeen had allegedly been given the wrong blood during a transfusion. His family insists this critical error played a crucial role in his severe developmental issues at birth, and lifelong hospitalisation.
Following his death on March 9, his parents Ricardo and Madeen Bullard said they remain haunted by the litany of unanswered questions, total institutional silence from hospital officials and an overwhelming despair over possible missed opportunities to access expert medical opinions outside the country.
The couple, who also have two daughters aged eight and nine, spoke to The Tribune on Monday, which would have marked Joshua's third birthday.
"To be honest, you can't even say what would bring peace," Mrs Bullard said. 
"Basically you can't really answer that but one of the things I really want is justice for him. So that we can get ourselves together. We know time brings on healing and it's not an overnight thing." 
She continued: "It's been eight months since he's passed. I would want justice for him…at the end of the day he's not here. They never actually said, 'this is what is wrong with him'."
"Yesterday I woke up crying," Mr Bullard said, "because some days are good and then some days are not so good. They say well, we have centres you can go to and talk about it. But the trauma that we have experienced is not just gonna take sitting down and talking about this, unless you have been through it and experienced the coldness of the institution.
"When Joshua passed that day, we got no call from administration, nobody called," Mr Bullard continued. 
"My son never, never one day left the hospital. He went from maternity ward to operating room straight into NICU, it's been a struggle. And we were the lenient and compassionate parents on the ward. (Despite) what we were going through, we were able to encourage other parents, tell them it would be ok, your baby is gonna go home.
"Joshua was the oldest baby on that ward. We started with God, if it wasn't for my (faith community) just our faith in God, and different ones praying for us. When we go out there we put on a mask because you're hurting, you're angry, it's a daily feeling," Mr Bullard said.  
Legal action
James R Thompson & Co filed a writ on behalf of the Bullards in the Supreme Court in Freeport on June 26 in an action against the Public Hospitals Authority (PHA), Minister of Health Dr Duane Sands and Attorney General Carl Bethel, who are the defendants.
The Bullards, of Freeport and Fox Hill in Nassau, are the first and second plaintiffs, and Rev Marjorie LaFleur, Mrs Bullard's mother who is representing Joshua's estate, stands in as the third plaintiff.
Joshua was born at PMH on December 3, 2015 with "fatal brain injuries" due to alleged medical negligence. The infant was never able to leave the hospital after his birth and remained in the ICU paediatric unit up until his death.
Despite challenges, his mother dedicated her life to caring for him and spent each day with him during visiting hours.
"I came there that Thursday (March 8)," she said, "I cleaned him up. I normally call my mother on video call, let her see him. He's used to, when we come in the morning, pray with him. He's used to the voices, he knows the difference, Grammy, mommy, daddy, and the voices of his nurses believe it or not."
Ms Bullard continued: "Mommy was talking to him and he's making sounds. Once I left I went back that evening. They never said. . . they tried to tell me he had an infection, but he wasn't on antibiotics. As simple as if I know when they take blood from him. Once the Band-Aid there I'm asking what happen, what y'all taking it for? What was the results? None of these things happened. They never called us in a conference, nothing to say what he died from."
In the lawsuit's statement of claim, the plaintiffs are seeking damages for Joshua's wrongful death, misrepresentation and negligence, and for harm caused to Mrs Bullard and Joshua before he was born, and negligence generally in respect to the plaintiffs. 
On November 30, 2015, a pregnant Mrs Bullard was admitted to the PMH where she was given a transfusion of blood that was incompatible to her blood type. 
The parents claimed the hospital knew or ought to have known the blood type but still administered the wrong blood which then caused a severe reaction in Mrs Bullard and they believe severe injuries to her unborn baby.
It is further alleged the defendants and their servants and agents did no treatment or took no precaution and/or took no account of the unborn baby or the mother' severe reaction or injuries caused to both them. 
After Joshua was born, it is alleged the defendants did not advise Mr and Mrs Bullard of the permanent injuries and misrepresented to the plaintiffs that the child would survive giving them hope and expectation that the infant would recover. 
"The defendants kept the infant at PMH for approximately three years and the first and second plaintiffs visited and hoped and expected their child to come home relying on the said misrepresentation," the statement read.  
The Bullards, who had expected that their child would recover, contacted various experts in the United States and other countries about treatment and recovery of their child without results. 
Mr and Mrs Bullard wrote a letter on February 22 to Dr Sands about their concerns and requested his assistance and audience, but the couple claimed they never received any response from him.
It is claimed that Joshua died this year after "several unusual treatments and visits by agents of the defendants at the PMH."
Questions
On Monday, Mrs Bullard recalled: "They just said they needed to see us, that was their words. They didn't say nothing happen to him. The doctor came in and was like 'Joshua is a fighter' and I'm like ok, these are words I always hear. I said 'yes he is, he's a strong boy.' (The doctor) said 'I don't know what took place but Joshua passed.' I said, 'Passed?' He said 'Yes, he's gone,' I said, 'Gone where?'
"I heard them shuffling," she said, "I heard the crib. What they did was take him out, have him wrap up in the blanket and they hand him to me. I'm like what happened?"
The Bullards have questioned the time stamp on his death certificate, which states the child died at 11.31pm on March 9.
His mother said: "Even if that's the case, let's say it's a grammatical error and they meant to put after 11am. I was there to the hospital from after 10am. How could that happen when I was already present at hospital? 
"It couldn't have happened the night before (March 8) because we called and they said he was sleeping," Mrs Bullard said. 
"They would call for anything, any time because they knew we were involved. You didn't call, you didn't say anything before we went to bed on Thursday, this was around 12am-1am we called, that's a routine we do. They told us he was sleeping and I said let him know we love him and we will see him tomorrow."
In their writ, it is also alleged health officials had "secret visits to Joshua in the hospital" and "the defendants took steps that resulted in and caused the death of the infant, third plaintiff, and to effect and to minimise their liability that resulted and caused the death of the third plaintiff."
The plaintiffs also claimed the hospital has refused to give them the results of an autopsy.