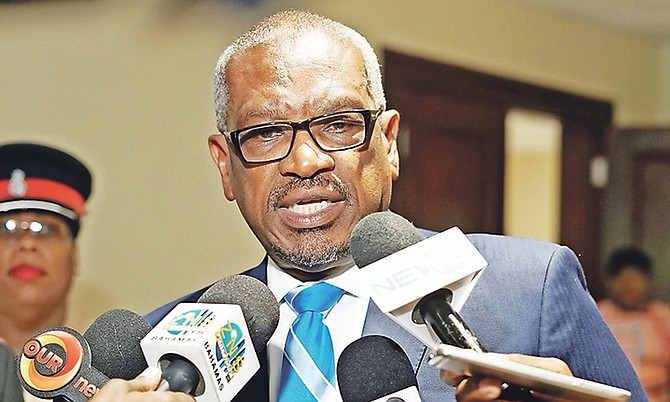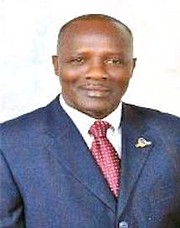 By RASHAD ROLLE
Tribune Staff Reporter
rrolle@tribunemedia.net
UNION leaders branded Prime Minister Dr Hubert Minnis' large-scale meeting with them a flop yesterday, dismissing the event as an elaborate courtesy call rather than a productive attempt to resolve their issues. Rather than leading to conciliation, the meeting and its three-hour airing of grievances gave way to talk about a general strike among trade unionists, The Tribune was told. 
Bahamas Public Services Union President Kimsley Ferguson left the meeting and told the press the country could see a repeat of the 1942 Burma Road Riot "if we continue along this particular vein".
"Persons are taking the plight of workers very, very lightly in this country," he said.
The meeting was part of Dr Minnis' effort to suppress the burgeoning labour crisis in the country as unions representing senior public doctors and Morton Salt take industrial action and unions representing nurses and teachers plan steps to do the same.
One by one yesterday, union leaders complained that the scope of the meeting made it futile because it was impossible to address the concerns of all 30 unions in attendance.
They complained that because labour officials have been told of their concerns through correspondence and meetings, action is now needed, not more talk. 
"There was no commitment to anything," Bahamas Union of Teachers President Belinda Wilson said, summing up the consensus.
"All I saw it as was an opportunity to regurgitate the same problems we have been articulating for years and years and years. I knew having a large number of labour leaders in one room for a few minutes could not give adequate time for the concerns."
Dr Erecia Hepburn, the membership secretary for the Union of Tertiary Educators of the Bahamas, said her time would have been better spent marking student papers.
"All you have to do is address the issues," she said. "They were written before, they were stated before, I don't know if we have to do some kind of dance to get them to understand."
She also complained that officials took their cellphones away.
"I guess this government's whole goal of transparency is out of the door," she said.
Union leaders said they could not recall a meeting with a prime minister of this scale and suggested another one would be a bad idea.
"How can you have a meaningful meeting with 30, 40 individuals?" said Tyrone "Rock" Morris, general secretary for the Trade Union Congress.
"It is an exercise for you guys, so it can be seen by Bahamians that the prime minister is doing something to address the many ills that beset workers in this country. We want to thank the prime minister for giving us an opportunity for coming to be in his presence and for saying 'how you doing' because nothing meaningful was achieved, nothing meaningful was expected by me."
Most union leaders didn't specify their concerns to the press, but Mrs Wilson, back after a recent suspension, said millions are still owed to teachers and Family Island educators are awaiting rental allowance for September, October and November.
"They're being threatened by landlords that if they do not pay they will be evicted," she said. "These are the same challenges we have faced over the years and we were of the view that with new people coming in we may have had an opportunity to have some of these matters resolved. Having to go now and meet with the minister of labour and discuss the same matters we articulated in there, and the minister of labour was present, I feel like it was just another round of bureaucracy."
For his part, Labour Minister Dion Foulkes said he thought the meeting went well. The purpose of the meeting was to sensitise the union presidents to the prime minister's views and for the prime minister to hear firsthand what their concerns are, he said, adding that he is hopeful the issues will be resolved in the coming months.
As for a talk of a general strike, he said: "It all depends on unions making a decision in the interest of their membership. The government has to make a decision on the entire country and I think the prime minister is doing a good job striking that balance."