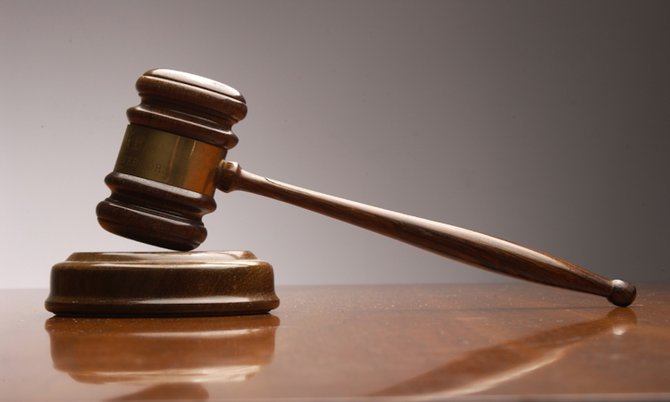 By RICARDO WELLS
Tribune Staff Reporter
rwells@tribunemedia.net
A 20-year-old woman who claimed she was unaware that possessing a gun she had retrieved from her home and intended to transport to her boyfriend was a criminal offence, was yesterday sentenced to two years in prison.
Shakeitra Ferguson, who was 19 when found in possession of a .45 pistol in the area of Exuma Street, was handed the custodial sentence by Magistrate Samuel McKinney yesterday afternoon.
Witness statements given yesterday by the two arresting officers in the case, Corporal 1964 Smith and Woman Police Constable 3743 Amia Strachan, recalled that around 11.30pm on February 7 while on patrol, they received various reports and a description of a woman in the area of Exuma Street.
The officers said that Ferguson, once stopped by police, was asked her identity, cautioned as to the reason she was being stopped and searched.
Ferguson voluntarily admitted to being in possession of a firearm, handed over her bag and further divulged that she was en route to hand the weapon over to her boyfriend.
Ferguson denied this account of the arrest, saying she was never searched nor asked to identify herself.
However, during her testimony in the case, Ferguson did admit to voluntarily submitting her bag, with the indication that a firearm was concealed within.
In her account of the arrest, Ferguson claimed that shortly after she left work on the date in question, she went home and took a shower.
She claimed that it was around this time she received a call from her sister to inform her that police were looking for her in reference to a firearm and dangerous drugs.
Ferguson told the court that she got dressed, retrieved the firearm in question from under a rug in her home and packed it away in a blue draw-string bag.
Additionally, she said it was her intention to transport the gun to her boyfriend who was reportedly at a nearby bar.
She claimed during the process of transporting the firearm she was approached by officers, at which time she immediately handed over the gun with the indication of her intent to take it to her boyfriend.
"They never had to search me," she told the court.
"When they called me, I hear them say, 'see her there,' so I gone over to them and handed them my bag. I told them I had the gun and what I was doing."
Further to the discovery, police also indicated that they found a magazine and one live round in Ferguson's possession.
In his ruling yesterday, Magistrate McKinney rejected the notion that Ferguson was unaware that being found in possession of the firearm would result in a criminal charge, citing her admission that she was informed by her sister that she was being sought by police in reference to such an offence.
Magistrate McKinney said Ferguson was aware of the seriousness of the actions, further citing various sections of the Firearms Act which addresses the grounds to determining possession.
Magistrate McKinney dismissed the charge of possession of ammunition, insisting that prosecutors provided no evidence the ammunition was in her possession.
He then sentenced Ferguson to two years at the Bahamas Department of Correctional Services on the one count of possession of a firearm.
After the sentence was handed down, a surprised and somewhat startled Ferguson asked Magistrate McKinney if the ruling meant that she would have to serve time in prison, to which he insisted the nature of the offence mandated a custodial sentence.
Despite this, Ferguson petitioned the court to pay a fine in lieu of prison time, telling the court that she could not "go through any more time" at the correctional facility.
Nonetheless, she was handed over to officers to commence her sentence.