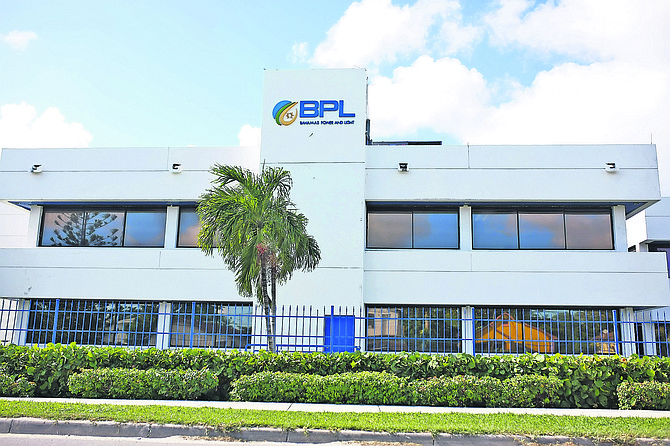 By AVA TURNQUEST
Tribune Chief Reporter
aturnquest@tribunemedia.net
THE government will launch a formal investigation into the saga at Bahamas Power and Light and the circumstances that led to the shock dissolution of its board of directors and a bitter war of words with top officials.
Prime Minister Dr Hubert Minnis told the media at a press briefing in Grand Bahama that he met with former board members early yesterday morning.
He later told reporters he has not yet chosen the investigators.
"I have met this morning with the past BPL board members," Dr Minnis said.
"I had a very good meeting with them and I have informed them in light of what has been transpiring that the government will initiate a proper investigation into the BPL saga and when we complete that investigation that will be made readily available to you."
Minister of Works Desmond Bannister, who has responsibility for BPL, has laid the blame for dysfunction at the former board squarely at the feet of its ex-chair, Darnell Osbourne.
Mr Bannister told the media he only became involved with the operations of the BPL board of directors in a bid to block the company from paying the personal bills of its former chairwoman, including make-up services and the installation of a home security system.
It was later confirmed the home security system had been approved by the board.
It was also alleged by sources close to the matter that the security system was agreed by the board after BPL Executive Director Patrick Rollins shared an experience of having his car destroyed by fire as chairman of Nassau Flight Services. Mr Rollins said only Mrs Osborne among the board members upgraded her home security after he had recounted his story.
The Tribune understands there was a make-up bill submitted for services rendered in connection with a company branding photoshoot, which included scores of other employees. Mr Bannister  - made aware of this explanation - contended he was referring to a different bill which reflected make-up services for only Mrs Osborne.
Yesterday, Mr Rollins said he looked forward to getting back on course with major projects at the corporation after a much needed "reset" of its board of directors.
Mr Rollins backed claims levelled by Mr Bannister that the relationship between himself and Mrs Osborne changed dramatically after he was appointed as executive director.
He insisted he did not have any personal issues with Mrs Osborne, adding the relationship was "pretty good" until his appointment.
"Things had pretty much gone as normal and then once I was announced executive director things took a dive," Mr Rollins said.
"Nothing was allowed to happen. It got frustrating trying to get things done. It had to come through her, she wanted to make a point that if she couldn't have her way nothing would happen. It was unfortunate but that's how it was.
"I didn't have a problem with her," he continued, "I had a problem that we weren't getting things done because of the situation. I don't think it should be that because I'm not satisfied with the way things are going, I should just bring everything to a halt. At the end of the day it's not serving the Bahamian people."
Of the board's dissolution, Mr Rollins said: "It was a reset, we can get back on course and get things going."
Mr Bannister's rebuttal on Tuesday followed accusations of political interference in a statement penned by Mrs Osborne and two former board members, Nicola Thompson and Nick Dean.
In their joint statement issued on Sunday, the former BPL board members defended their tenure and said Mrs Osborne in particular was "continually disrespected and undermined", suggesting chauvinism was at play.
The group has declined further comment, but sources close to the matter identified other key allegations against CEO Whitney Heastie and Mr Rollins such as unauthorised travel and negotiations contrary to directives of the board; and attempts to subvert the procurement process.
However, Mr Bannister told The Tribune he believed the discord between board members stemmed directly from Mrs Osborne's disenchantment over his decision to appoint Mr Rollins to the executive director post after it was vacated by Deepak Bhatnagar late last year.
Mr Bannister further alleged to Tribune Business that Mrs Osborne exposed New Providence residents to power outages by blocking the purchase of critical parts, and as a result, the corporation was facing a $10m-plus loss.
Outside Cabinet, Mr Bannister said he directed Mr Heastie to provide the media with invoices submitted by Mrs Osborne. However, supporting documents have yet to be released.