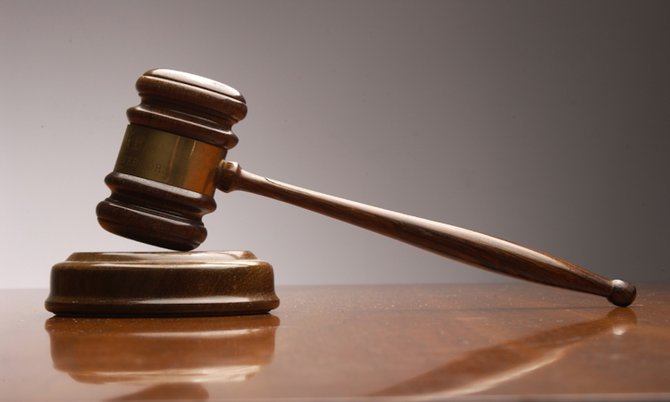 By MORGAN ADDERLEY
Tribune Staff Reporter
madderley@tribunemedia.net
JUSTICE Stephen Isaacs was officially sworn in as Chief Justice in a ceremony held at Government House on Friday.
Chief Justice Isaacs was formally appointed to the substantive post on July 10, after months of speculation.
The country's last substantive chief justice was Sir Hartman Longley, appointed in 2015. Justice Isaacs was sworn in as acting chief justice last December.
Speaking to reporters after the ceremony, Justice Isaacs listed better efficiency, an improved judicial complex, and more effective manpower management among his goals for his tenure in this position.
When asked what he hopes to bring to this post, Justice Isaacs first acknowledged that when there is a change in leadership, there is a "change in culture", adding those who fall below then must adapt to "your style, your drive, your vision".
While saying the judiciary's basic function of settling disputes between parties must continue, he pointed to the overall issue of improving efficiency.

"We always try to improve the efficiency in disposing of cases, criminal and civil," he said. "Our immediate concern has always been that the judges are separated into, in this case, four buildings.
"But we're getting closer because they're all on Bank Lane now, instead of scattered all in different locations. So that'll help us coordinate our efforts.
"Having a purpose-built judicial complex is still in the works. It's been tin he works since I was registrar. And with any luck you may see it before I retire."
In terms of case load, Justice Isaacs said, "efficiency goes with volume".
Pointing to how litigious Bahamian society has become, along with the "social upheaval" caused by crime, Justice Isaacs said the ratio of cases to judges continues to be extremely disproportionate.
"We always try to maintain efficiency, but the number of judges is limited by statute," he said. "So, let's say we have 16 judges. And one year, there are 1500 cases filed. The next year, there's 1700 cases filed, and on and on. But you still have the same 16 judges. That adds to the issue of efficiency."
"What would be really helpful is, for instance, on the criminal side, in the US, 90-plus per cent of persons who are charged with a crime, plea bargain. They plead out. Only about 5-10 per cent go to trial."
Justice Isaacs said by comparison, the Bahamas has a "fledgling" kind of plea bargain system.
"Our plea bargain is limited to, putting it in simple terms... 'you take less time for the same crime'.
"Which is different from, 'well, we'll charge you with a lesser crime, and you go to prison, and you may get out in three years on a 10 year sentence'.
"Well, we don't operate that way. So we…have less incentive for persons to plead guilty, because the benefits aren't as great as those that you'll have in the US."
"On the civil side, because of all the social upheaval that's been going on, most of the judges are signed to criminal cases."
Because of this, Justice Isaacs said, the civil judges that are left are "swamped" with the myriad of cases that are piled into the system each year.
"That is something we have to look at, but we're looking at it, we keep looking at it, we try to distribute the cases a little more evenly, and have the criminal judges hear some civil matters. That's as far as we've gotten so far."
Justice Isaacs added better distribution is important to avoid judges experiencing "burnout".
When asked his other goals for his tenure as Chief Justice, Justice Isaacs said "more of the same" but "with a better result".
One method to achieve this will be a focus on the administrative staff, he said, adding when they are more efficient, judges are more efficient.
"Having sat as registrar, I have a pretty good feel as to how to motivate the staff. I tend to have an open door policy— as long as you are doing your work, I will listen to your problems.

Ultimately, Justice Isaacs said the system has to be run on a merit system. Otherwise, "it clogs up the whole administrative system."
He also recommended judges have a "no-nonsense" attitude with attorneys, which will also cause them to "pick up speed".
Attorney General Carl Bethel also praised the selection of Justice Isaacs at Friday's ceremony.
Mr Bethel described him as a jurist of "decades-long experience," who "came up the hard way".
"(Justice Isaacs) worked his way through the lower levels of judicial experience as a registrar, he then became a puny judge in 2002, and since then has worked his way up to the rank of senior justice, until today, when he's finally ascended to the pinnacle of the judiciary as our Lord Chief Justice of the Bahamas," Mr Bethel said.
"We are very, very proud (of) all of his achievements, and we think that he is an excellent jurist, and a man who has dealt with every manner of legal dispute, and has done so efficiently, effectively, fairly, and impartially.
"And we have every confidence that in this…office, he will maintain the very highest standards to be expected of a Chief Justice of the Commonwealth of the Bahamas."
When asked what he would say to those who were critical of how long it took for this selection to be made, Mr Bethel dismissed their critiques and pointed to the "peculiar authority" of both the prime minister and Governor General.
"The prime minister felt it was his right to exercise discernment, not to rush to something," Mr Bethel said.
"Yes, he ended up, really, at a foregone conclusion. But he did so after due deliberation and careful thought and consultation. Not only with me, but with the wider legal profession. With other senior attorneys, and also, I know for a fact, with other members of the judiciary.
"But it took time and it was a process that he went through because he wished to be very careful in what he did."
Mr Bethel was also asked by reporters about the passing of the Economic Empowerment Bill in the Senate on Friday, without the opposition's amendments being adhered to.
Responding to their critiques of the Bill, Mr Bethel said: "In governance, you do nothing, you're criticized for doing nothing. If you do something, you're criticized for that.
"My only question to the opposition is this: You don't like what we're doing or how we're doing it, what did you do? Don't try and pomp style— which (is) what they're trying to, pomp and style.
"What did they do to empower the ordinary Bahamian?" he continued.
"What did they do to craft laws that were directly aimed at giving economic benefits to ordinary Bahamians? The same benefits a foreign investor could get, an ordinary man and woman, an ordinary Bahamian investor can get, and get it over the hill. What is wrong with that?"