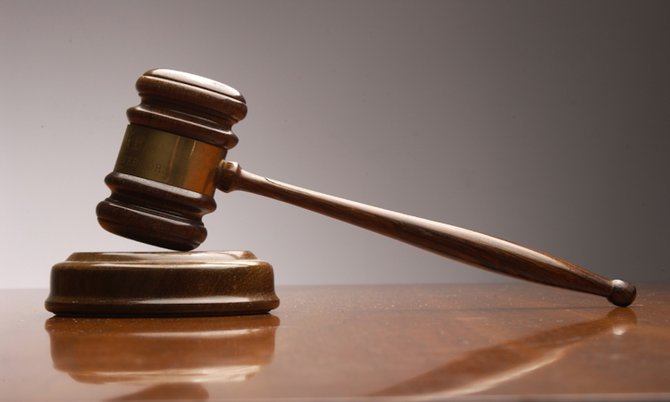 By NICO SCAVELLA
Tribune Staff Reporter
nscavella@tribunemedia.net
A JAMAICAN man sentenced to life in prison for a double murder in 2011 previously believed to be the motivation for a triple murder that occurred just weeks later will now be released from prison in just over 50 years' time.
Appellate Justices Jon Isaacs, Sir Michael Barnett (acting) and Acting Chief Justice Stephen Isaacs, substituted Serrano Adderley's life sentence for murdering Kevin Forbes and Alwayne Leslie for a sentence of 60 years, minus time spent on remand.
Thus, in light of the two years and ten months the 36-year-old spent on remand, the appellate judges said Adderley will now effectively serve 57 years and two months from the date of his sentence on May 20, 2014.
Justice Jon Isaacs said their reasons for altering Adderley's sentence, while simultaneously rejecting his appeal against his conviction, will come at a later date.
After the decision, Adderley asked if he could "re-appeal" the decision, to which Justice Jon Isaacs replied by saying he could pursue the matter to the London-based Privy Council.
When Adderley then asked if he could secure leave to appeal to the Privy Council, Justice Jon Isaacs indicated such leave would be granted only if he files the proper paperwork.
In late 2013, a Supreme Court jury unanimously convicted Adderley of the July 12, 2011, double murder.
On May 20, 2014, Justice Indra Charles sentenced Adderley to two life sentences for the double murder, while simultaneously rejecting the death penalty because his crime did not meet the criterion of being the "worst of the worst".
According to earlier reports, on July 12, 2011, the police control room received information that two people were shot in a Haitian village off Montgomery Avenue. Police found the bodies of two men with gunshot injuries to the body and face.
According to the Crown's case, the shooting was witnessed from different perspectives of varying degrees and times by three witnesses.
Tina Bullard indicated Forbes was her boyfriend at the time of the shooting. On the date in question, she said she was at home washing when she heard a gunshot. She said she ran to the direction of the sound and in doing so found Adderley pointing a shotgun at her boyfriend's face before pulling the trigger.
She also said Leslie was lying on the ground along with her boyfriend. Ms Bullard later identified Adderley in an identification parade.
Ms Bullard said Adderley, whom she knew as "Rano", was her neighbour, and that he moved into the neighbourhood at least six months before the incident. Ms Bullard also said they were friends and that she would see him every day.
Forbes' daughter, who was eight-years-old at the time of the incident, said around 8pm on the date in question she was home when she saw someone sneak up on her daddy's friend "Yardie" and blow his face off. She said the same person then shot her dad in the face.
Forbes' daughter indicated the person who did the shooting was "Rano" Adderley, whom she'd known for four months and would see every day. She said after Adderley shot her father and "Yardie", he ran after her cousin Shawn Knowles.
Forbes' daughter attended an identification parade sometime later where she picked out Adderley as the person who killed her father and his friend.
Knowles, Forbes' nephew and the Crown's main witness, said on the date in question, he was in his residence when he heard "boom" five times. He said he exited his home and saw Adderley standing over Forbes, his uncle, before pointing the shotgun at Leslie and killing him.
Knowles said Adderley, whom he knew for some seven months prior to the incident and saw every day since then, subsequently turned the gun on him, causing him to flee.
Knowles also said that on June 12, 2011, he understood Adderley had an altercation with Forbes, aka "Wabby." Knowles said he was told by Leslie that Forbes fired two shots over Adderley's head during an argument over shared living quarters and housing arrangements.
Adderley, meanwhile, raised an alibi defence and claimed he was at Bamboo Shack on Carmichael Road buying food when the shooting occurred, and that he received a message saying there was a shooting taking place in the Haitian Village.
Adderley also said that while in custody he was slapped, kicked and forced into a body bag by officers during the investigative stages of the matter.
Adderley further denied there was an altercation between himself and the deceased earlier in the day, and further contended that all of the eye witnesses to the shooting were lying. He specifically maintained that Ms Bullard and her daughter were coerced to give evidence against him by Knowles, who at the time was charged with the murder of his pregnant girlfriend.
Weeks after the double murder, on June 30, 2017, three people, including a pregnant woman due to give birth to a baby boy were fatally shot during an incident that prosecutors alleged at the time was in retaliation for Forbes' and Leslie's deaths.
According to reports, the victims were asleep in a one-bedroom apartment when intruders, who prosecutors alleged at the time to be Knowles and Timothy Saunders, forced their way inside by blasting the locks with a shotgun.
Once inside, they shot Shackara Rahming and Erica Ward in the head and Edward Braynen in the back using a shotgun. Four young children inside the apartment were found unharmed by police.
Ward was pregnant with Adderley's child at the time of her death.
On August 4, 2016, both Knowles and Saunders were sentenced to 18 years in prison by Stephen Isaacs, who was a senior justice at the time. However, Knowles' sentence was reduced to 17 years after receiving credit for time spent on remand awaiting trial.
Saunders had his sentence reduced to 14 years for his four years spent on remand prior to trial.