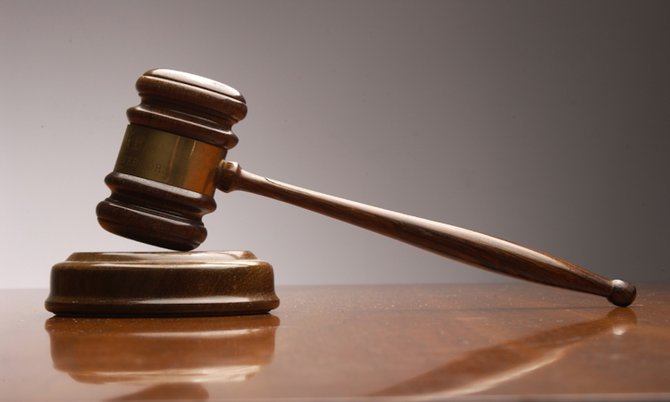 By NICO SCAVELLA
Tribune Staff Reporter
nscavella@tribunemedia.net
A MAN previously sentenced to seven years in prison for armed robbery as part of a plea deal is suing the government for unlawfully detaining him for over a month after he was declared a free man by a Supreme Court judge.
Camario Miller is suing the government for "the sustained mental anguish" he experienced for the 33 days he spent at the Bahamas Department of Correctional Services despite Acting Justice Guillamina Archer-Minns' January 2017 declaration.
Miller, who was declared a free man after his time on remand was deducted from his sentence as a result of the plea agreement, claimed he was never given a "legitimate reason" and no official at the BDCS apologised to him for detaining him.
Charging the conduct of the BDCS was "arbitrary, oppressive and/or unconstitutional," Miller, the plaintiff in the action, is asking the court to award him damages.
Miller is also seeking interest pursuant to the Civil Procedure (Award of Interest) Act, 1992; further or other relief, and costs associated with his legal action.
BDCS Commissioner Patrick Wright is listed as the first defendant in the action, while Attorney General Carl Bethel is listed as the second defendant.
According to court documents, on May 11, 2009, Miller was charged with three counts of armed robbery.
A plea agreement was concluded between Crown prosecutor Abigail Farrington and his attorney Christina Galanos on December 16, 2016, which stipulated that in exchange for him pleading guilty to all three counts, the Crown would recommend the court to sentence Miller to seven years, seven months and eight days in prison.
It was also stipulated in the plea agreement that the time Miller spent on remand would be deducted from the seven-year sentence to be imposed, and that the sentence would run concurrently with any other sentence he was currently serving.
On January 19, 2017, Miller pleaded guilty to all of his outstanding matters before Justice Archer-Minns, and was sentenced to seven years, eight months and eight days accordingly.
As Miller had already spent that amount of time on remand, the court informed him that in the circumstances, and if he had no other matters, he was free to go.
Despite the judge's declaration, Miller was taken to the Fox Hill prison, where he stayed until mid-February.
On or about February 13, 2017, Miller's attorneys wrote a letter to Mr Wright, requesting to be provided with the reason for their client's continued detention. The second defendant, via a copy of the letter, was also apprised of the letter's contents.
However, Miller claimed Mr Wright had not responded to that letter. Days later, on February 21, Miller was released from the BDCS.
Court documents emanating from counsel for the defendants stated that on February 20, 2017, the "relevant persons" at the BDCS received a certificate of discharge for Miller after 5pm and released him the following day.
Roughly a year later, on January 4 of this year, Miller's attorneys wrote another letter to Mr Wright requesting to be provided with his position on liability for the alleged false imprisonment of their client.
In a defence on behalf of the defendants, filed on March 16, 2018 in the Supreme Court, the Office of the Attorney General said it "makes no admission" to paragraph four of Miller's statement of claim concerning the date he pleaded guilty, and the judge's consequent order.
However, the AG's Office said Miller "in fact did have another matter pending and outstanding, which emanated from Court No 6, the offence being armed robbery and which the Bahamas Department of Correctional Services still showed as outstanding which warranted the plaintiff's continued lawful detention."
The AG's Office further said Miller was being "lawfully detained," and there is thus "no reason to offer an apology" to Miller for his "lawful" detention.
The AG's Office did admit Miller was in fact taken back to the BDCS, but denied he was wrongfully imprisoned or deprived of his liberty for 33 days without legitimate reasons, and further put Miller to "strict proof" on those allegations stated.
The AG's Office also admitted to not responding to Ms Galanos' February 13, 2017 letter to Mr Wright, but further claimed at the time certain inquiries were being conducted by "the relevant persons" at the BDCS at the request of counsel for the defendants into the status of Miller's "continued lawful detention."
The AG's Office ultimately said its clients deny "each and every allegation contained in the plaintiff's statement of claim."
Last week, The Tribune exclusively reported how Denico Bowe, who was recently acquitted of murdering Strauss Edwards Jr on Potter's Cay Dock in 2015, is suing the government for unlawfully detaining him for some five days after he was found not guilty of the crime.
Bowe is suing the government for being unlawfully detained from March 14 to March 19 of this year, despite him being given "time served" concerning a charge of causing harm on the former date, and a release order executed on that day by the presiding judge.
According to Bowe's sworn affidavit, he is suing the government for the "unhygienic and inhumane" conditions he experienced by being detained for 120 hours after being acquitted by a Supreme Court jury of Edwards' murder.
He alleged he was forced to urinate in jars and was not provided with access to a toilet. He claimed he was also forced to defecate in a slop bucket, which was "simply dumped periodically."
Bowe also claimed he contracted scabies and was exposed to inmates with tuberculosis, making him sick on numerous occasions. He alleged he was forced to use his "bathing bucket" from which to drink water when there were no other containers available.