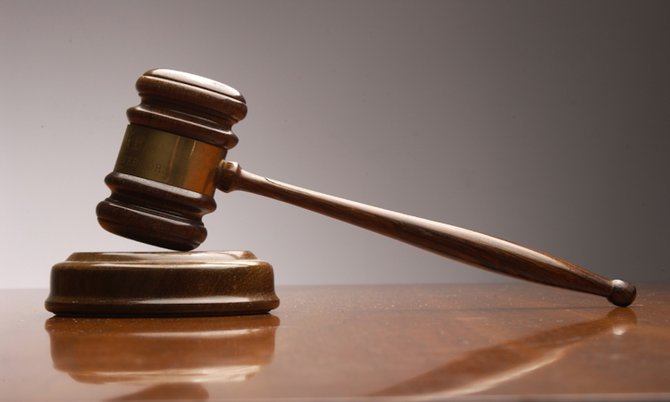 By NICO SCAVELLA
Tribune Staff Reporter
nscavella@tribunemedia.net
THE CROWN is seeking the death penalty for one of two men convicted of the shooting death of a man in his Family Island home during the process of an armed robbery four years ago.
Prosecutor Al-Leecia Delancy submitted to Justice Carolita Bethel yesterday that Giordano Rolle Jr "should be made to suffer death" for murdering Dwayne Finnekan in Exuma in February 2014.
Ms Delancy said his accomplice, Demetri Rolle should receive 25 years for manslaughter, and that both men should each get 25 years for robbing Finnekan at gunpoint on that date.
The prosecutor submitted that while Demetri Rolle didn't actually shoot the deceased, he played a "significant role" in the incident by being present when it occurred, and also being armed with a shotgun which he used to hold up the only other person who could have assisted the deceased before he was killed.
And concerning the armed robbery charge for which both men were convicted, Ms Delancy noted the "utterly unnecessary," "senseless" and "heinous" manner in which the offence was executed.
Submissions
The submissions came during a hearing for counsel to make submissions and/or recommendations on sentencing for both men concerning the armed robbery and subsequent shooting death of Finnekan on February 18, 2014.
On March 10, 2017, following a trial by jury over the crimes in question, Giordano Rolle was convicted of murder and armed robbery, while Demetri Rolle was convicted of manslaughter and armed robbery.
According to previous reports, on the date in question, Finniken, also known as Dwayne Nixon, was at home with another man when two men armed with firearms entered the residence.
The two convicts, while armed with a handgun and a shotgun, subsequently robbed Finnekan of cash, a gold necklace and a hand chain.
One of the men shot the victim, resulting in his death, before they fled on foot. The 23 year old was pronounced dead at the scene by the island's local doctor.
According to Ms Delancey, Finniken was lying face down on the bed when he was shot in the back. The one person who was in a position to assist him in any way was being held at gunpoint by Demetri Rolle in the front room.
In his record of interview, Demetri Rolle said: "We went there because American sent us there…to take the drugs and money…"
When asked if it was he who shot and killed Finnekan, aka "Yardy," and not Giordano Rolle or another individual, Demetri Rolle said: "It was Gio, sir, not me."
Yesterday afternoon, David Cash, attorney for Giordano Rolle, submitted that the crime in question does not fall under the category of "worst of the worst" as mandated by the Privy Council, having regard to all of the circumstances of the case.
Murder
Mr Cash further submitted that while the court has the jurisdiction to sentence someone to death, it is "the duty of the court" to make a determination whether or not the murder in question can be considered to be the "worst of the worst," and if it automatically warrants the death penalty.
In any event, Mr Cash requested the court to consider imposing a 30-year sentence on his client for murder, and 12 years for armed robbery.
Meanwhile, Demetri Rolle's attorney Sonia Timothy, in providing the mitigating factors on behalf of her client, noted that he does not have any previous convictions for offences of a similar nature.
However, she noted that her client has convictions for causing damage and possession of dangerous drugs.
Ms Timothy also submitted that as noted in the probation report, her client has had continuous employment since leaving high school, serving as a space cleaner, landscaper, construction worker, tree-trimmer, as well as a helper in paving roads.
Ms Timothy also noted that he was employed at the time of his arrest. She also said that since being incarcerated, he has participated in at least one programme.
Ms Timothy thus requested Justice Bethel to consider imposing a 12-year and six-year sentence for her client's manslaughter and armed robbery convictions, respectively.
Justice Bethel noted the submissions and adjourned the matter to May 10 for sentencing.