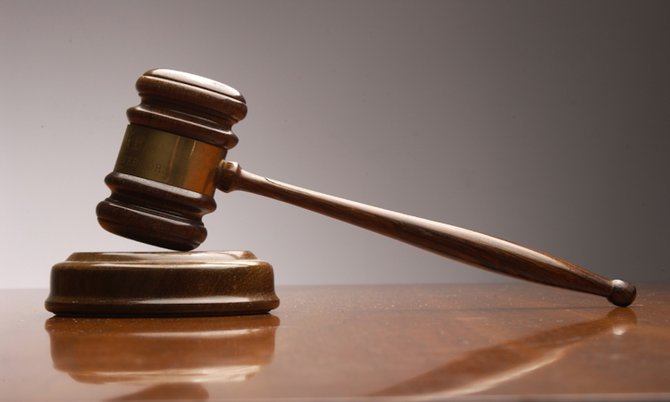 By NICO SCAVELLA
Tribune Staff Reporter
nscavella@tribunemedia.net
A MAN, previously sentenced to four years in prison and fined $25,000 for admitting his involvement in a $1 million drug seizure in waters off Andros four years ago, has had one of his sentences set aside by the Court of Appeal.
Court of Appeal President Sir Hartman Longley, with fellow Justices Stella Crane-Scott and Sir Michael Barnett (acting), set aside a magistrate's order for Pedro Brown to pay $25,000 for his involvement in the April 2, 2014 drug smuggling plot.
The appellate justices simultaneously substituted a four-year sentence to run concurrently with the four-year sentence he received in connection with three drug related charges he pleaded guilty to, set to run from the date of conviction.
The decision, Sir Hartman noted in the ruling, concerned a particular "concession made by the Crown."
In 2014, Magistrate Samuel McKinney ordered Brown to pay $25,000 or face one year in prison after pleading guilty to conspiracy to import dangerous drugs.
Magistrate McKinney also sentenced Brown to four years in prison each for possession of dangerous drugs with intent to supply, conspiracy to possess dangerous drugs with intent to supply, and importation of dangerous drugs.
At the time, the magistrate ordered that the sentences run concurrently.
Drugs
Prior to his April 3, 2014 sentencing, Brown, of Waterford, Eleuthera, along with 40-year-old Raymond Bain of Sandy Point, Abaco, and 34-year-old Jacob Curtis of Kemp Road, appeared before Magistrate McKinney on five criminal charges: possession of dangerous drugs with intent to supply, conspiracy to possess dangerous drugs with intent to supply, conspiracy to import dangerous drugs, importation of dangerous drugs and causing damage.
The last charge concerned $17,000 worth of material damage to a police Avenger Boat involved in the arrest on April 2, 2014, the day the crimes are alleged to have occurred.
On the day in question, around 5.45am, officers acted on a tip that led them to an area of water between Cargill Creek and Fresh Creek, Andros.
They saw a boat equipped with two outboard engines and on getting closer to the vessel, officers turned on their lights and sirens announcing their presence as police.
However, the boat engine was started by a person believed to be the captain, drove forward and rammed into the police boat, causing damage.
Vessel
Officers intercepted the fleeing vessel and brought it to a stop where they again identified themselves as police officers before boarding the vessel and informing the three occupants, including Brown, of their suspicion that drugs were on board.
Their suspicion proved to be correct when officers discovered a number of crocus sacks containing suspected marijuana.
The occupants were cautioned, arrested and taken to Nassau with the drugs to face charges.
Bain and Curtis pleaded not guilty to all of the charges.
Brown, however, pleaded guilty to all of the drug charges, but not the charge of causing damage.
Police prosecutor ASP Ercell Dorsett noted that according to Brown's interview with police, Brown admitted being on the boat and knowing that drugs were on board.
He further informed the police that they had left and gone out into the ocean and collected the drugs from another vessel and they were to carry the drugs to Andros.
Attorney Roger Gomez II, who stood in as amicus of the court for Brown, had asked the court to give Brown the mandatory minimum because he was upfront with police and the court from the outset.
However, Magistrate McKinney noted that notwithstanding his early plea of guilt, Brown had been released from prison in 2009 after serving time for the same offence, possession of dangerous drugs with intent to supply.