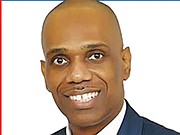 By DENISE MAYCOCK
Tribune Freeport Reporter
dmaycock@tribunemedia.net
PINERIDGE MP Rev Frederick McAlpine made a $2,000 contribution to the Grand Bahama Children's Home on Wednesday and appealed to others to help the local orphanage.
"We are aware that the GB Children's Home, that is in the Pineridge constituency, has been going through a hard time at this time; we wanted to make sure those less fortunate are considered and remembered," he said.
Rev McAlpine, who was accompanied by wife, Tracey, appealed to people in the Pineridge constituency and to corporate Bahamas to assist the facility, which caters to more than 20 children.
"They are trying to do all they can to remain open," said Rev McAlpine, who suggested that persons can also help by just dropping off a bag of groceries.
"A bag of rice and sugar, and a can of cream - every little counts," he said.
"We are here to make this contribution on behalf of the good people of Pineridge, and I want to urge people to do what they can to help the home, and I thank those that have already responded from corporate Bahamas."
Shelia Johnson Smith, executive director of the Grand Bahama Children's Home, was very grateful for the contribution made by Rev McAlpine.
"This is not the first time that Rev McAlpine has come to the aid of the GB Children's Home.
He has done it several times, and people don't know about it.
He is giving us $2,000, and it means so much," she said.
"The Bible talks about orphans and widows, and we are here taking care of orphans, and he is on board with us, and we are grateful to him, and we are asking the corporate community and individuals to come and help us," she said.
The Grand Bahama Children's Home was founded to help care for children removed from their families for reasons of abandonment, abuse or neglect.
The home cares for children up to 12-years-old.
The orphanage is jointly funded by the Bahamas government, the Grand Bahama Port Authority and contributions from the local community.