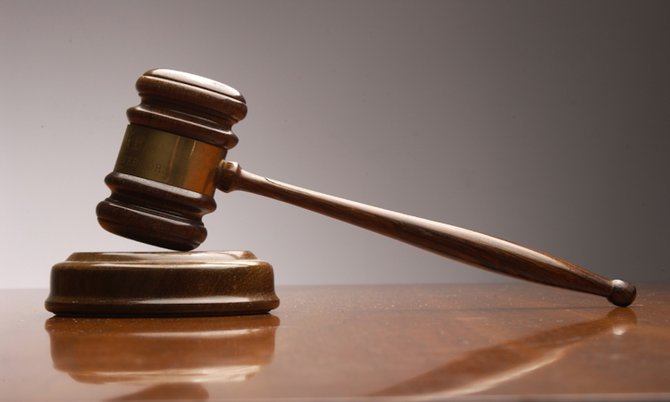 By NICO SCAVELLA
Tribune Staff Reporter
nscavella@tribunemedia.net
A SUPREME Court jury has acquitted a man previously accused of having sex with an underage teenage boy three years ago.
The jury found David John McKenzie not guilty by a vote of 6 to 3 of the single count of sexual intercourse with a minor of the same sex.
The Crown had previously alleged that McKenzie, aka "Bushman", had sex with a 15-year-old boy in April 2015.
The virtual complainant, now 17, testified during trial before Senior Justice Vera Watkins how on one day during the period in question, either a Saturday or a Sunday, he woke up and headed through "the back road" where he ultimately ended up encountering and speaking with McKenzie's brother for roughly ten minutes.
Afterwards, the teenager said he started speaking with McKenzie. By this time, the boy said, McKenzie's brother had already left to go to church.
The teenager said he spoke with McKenzie for 10 to 15 minutes. He said after that, McKenzie was "putting some bush tea up" before he ultimately walked into his house. After that, the teenager said McKenzie started calling his name and telling him to "come for this".
The teenager said he went inside McKenzie's house, and once there, he said McKenzie gave him $25.
The teenager said McKenzie then locked the door, then told him that he wanted "some of that hip". The teenager said he pretended like he didn't hear McKenzie and responded, "what"?
However, the accuser said McKenzie repeated what he said, leading the teenager to call McKenzie a "sissy" and repeatedly called him gay.
Afterwards, he claimed McKenzie allegedly forced him onto his bed and pulled his pants down, however, he said he wasn't "even thinking to scream or call nobody".
The teenager said because McKenzie started to overpower him, he tried kicking and punching him. However, he said the man turned him over and put a pillow over his head. He said McKenzie held him down and proceeded to have sexual intercourse with him for about 15 minutes before climaxing.
The teenager claimed he was in McKenzie's house for approximately 35 minutes.
The teen said he eventually left McKenzie's house, made a brief stop at his home to get some clothes, before running all the way to his father's house on Miami Street, where he said he stayed for a week.
The teen said he did not tell anyone, not even his parents, about what McKenzie allegedly did to him.
Later, after he returned home, the teen said he was walking on a particular street when he saw McKenzie again. The boy claimed McKenzie said: "Come here. I have something for you". However, the teen said he took two more steps before running up the hill to his mother's house.
After he went to his mother, he went by someone named "Finny". As a result of him thinking about what happened to him, the teenager said he "had to talk about it", and started to tell Finny about his experience.
Afterwards the two got into a vehicle and drove to where his mother was. After a conversation between his mother and Finny, they all went to the Central Detective Unit, where they were questioned on the matter.
Police
The teenager also said the police told them to show them where McKenzie lived, which they did. He said McKenzie was arrested that night. Afterwards, the teenager said they all returned to CDU, where McKenzie was questioned in front of them.
After that ordeal, the teenager said he went to the hospital to be tested before returning home with his mother.
Dr Timothy Providence, a physician stationed at the Bahamas Department of Correctional Services, also gave testimony during the trial.
Dr Providence stated that during May of 2015 he was employed at the Flamingo Gardens Clinic, and that on the 6th of that month, he saw the complainant as a patient.
In a report of his medical examination of the teenager, Dr Providence noted there was an abrasion at the teen's anus, more specifically, a tear that was 0.3 millimetres.
However, Dr Providence's report noted that the teen's anal sphincter was "normal" and there were no lacerations noted.
Dr Providence's report also noted that there were no contusions, bruising, tenderness, bleeding, discharge, semen, bite marks, scratches, nor foreign material identified in that region.
Dr Providence also noted that the emotional state as well as the appearance of the teenager were "normal".
When questioned by Crown prosecutor Linda Evans, Dr Providence said the tear noted on the teen's anus could have been caused by the insertion of a penis.
However, during cross-examination by McKenzie's attorney, Stanley Rolle, from the Public Defender's Office, Dr Providence stated that an abrasion like the one found on the teen's anus could have been caused by other means, such as scratching, or the use of coarse toilet paper or an abrasive bath towel.
However, Dr Providence stressed that in such a situation where an abrasion of the anus is caused by scratching, the lesion that would occur would be more of a "perianal lesion".
When questioned by Mr Rolle if bleeding is likely to occur when a man McKenzie's age forcibly inserted himself into the anus of someone three times younger without lubrication, Dr Providence agreed.
However, when asked if scarring is likely to occur as a result of such a scenario, Dr Providence said scarring is possible but not entirely guaranteed.
Experience
Dr Providence further noted that based on his professional experience, he would still expect to see a normal sphincter tone after just one incident. Conversely, he said a "relaxing" of the sphincter muscle would be noted if there is "chronic sexual intercourse".
At the close of the Crown's case, McKenzie opted to remain silent and called no witnesses on his behalf. He instead relied on the record of interview that was exhibited before the court.
In that record of interview, dated May 4, 2015, McKenzie acknowledged that he knew of the teenager, but denied knowing him personally, claiming that he would see the boy walking "through the yard" to his brother's children.
McKenzie also said he never invited the boy to his house, and "never got that close to him" to have sexual intercourse as alleged.
Concerning the $25 in question, McKenzie stated that he gave the teenager the money because he had asked for a pair of shoes. McKenzie further said he told the teenager's mother that her son had asked for shoes and that he gave him the $25 towards that end.
McKenzie said the teenager ultimately bought a pair of grey and white tennis shoes.
McKenzie also denied that he ever gave the teenager money in exchange for sex. However, he acknowledged that one time, he gave the teenager $20 and told him to give his nephew $10 so that they could get something to eat from Burger King.
When asked by the officer if he offered/offers the other boys in the neighbourhood money, McKenzie replied by saying it depends on if they do something for him. For example, he said if they retrieve bottles for him he would give them a dollar, and if they have nothing for lunch he would give their respective mothers money on their behalf.
The teenager, during his testimony, also said he would receive money from McKenzie, $10 or so, because he "used to help him with (his) bush tea, pouring it in the jug." The boy also said that another person who helped him pour the tea in the jug would also be paid by McKenzie in his presence.
And when questioned by the Crown how often he would help McKenzie with the bush tea, the teenager said it would occur "like every time I come around".