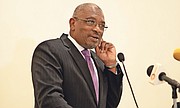 By RASHAD ROLLE
Tribune Staff Reporter
rrolle@tribunemedia.net
PRIME Minister Dr Hubert Minnis has given no indication he regrets his criticism of the Christie Administration's Interception of the Communications Bill despite its likeness to the one his administration tabled in Parliament several weeks ago, according to press secretary Anthony Newbold yesterday.
Critics have accused the administration of hypocrisy in seeking to pass a Bill it staunchly opposed just several months ago.
Asked yesterday if Dr Minnis accepts the hypocrisy charge from critics, Mr Newbold said: "The Prime Minister always makes decisions based on the information he has available to him. He hasn't indicated to me any regret about any statements. I know this government intends to have wide public consultations with all the bills that are coming."
The Interception of Communication Bill has not been altered much from the Christie Administration's version of the legislation and critics of the new version have not specified what provisions in it erodes protections that existed in the original Bill.
In February, Dr Minnis said of the Bill: "This piece of legislation, which has been rushed and rammed down the throats of the Bahamian people, should not be allowed to stand. It is a breach of the privacy of the public at large, and it is our fear that this Bill has more to do with blocking any opposition to this corrupt government, than being a useful crime fighting tool."
Opposition leader Philip "Brave" Davis has said the new Bill gives too much power to politicians.
Part VI of the new Bill, about listening devices, was imported from the Listening Devices Act. That law would be repealed if the Interception of Communication Bill passes through Parliament.
That section gives the minister responsible for national security the power to authorize anyone to use a listening device for a period not exceeding 30 days.
It also allows the commissioner of police, after consultation with the attorney general, to authorize police to use a listening device for a period not exceeding 14 days.
Yesterday, Mr Newbold said: "Whatever bills that are gong to be brought, those bills already laid, wide public consultation will take place. People will get to weigh in and everybody's view will be considered and the best bill possible will be that bill that will end up being passed into law for the Bahamian people.
"Obviously the government is not going to say this is the bill and we are going to pass this. That's not going to happen.
"The government understands that it has a responsibility to the people especially in light of all those statements that were made to ensure that people participate in the crafting and eventual passing of laws," he added.