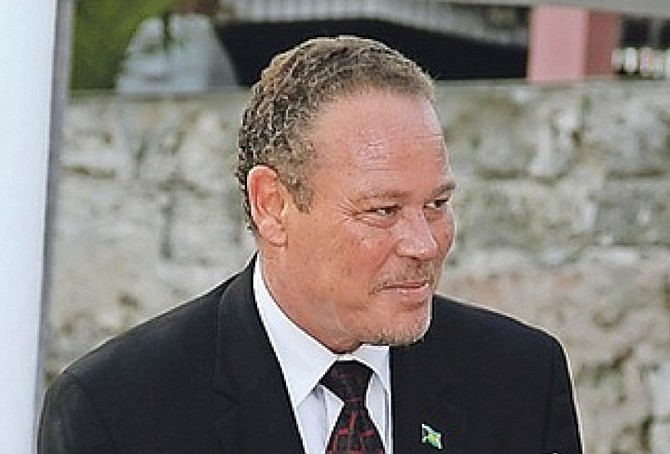 By AVA TURNQUEST
and MORGAN ADDERLEY
ATTORNEY General Carl Bethel yesterday made it clear that government intends to pass the Commercial Enterprises Bill into law in its current form.
While he acknowledged no legislation was "drawn in stone," Mr Bethel confirmed there were no plans to review recent suggestions before the bill is passed in the Senate.
His comments follow criticisms levelled by the Official Opposition, former Prime Minister Hubert Ingraham, and the Chamber of Commerce.
At a press briefing on Tuesday, Press Secretary Anthony Newbold told the media the administration will consider "recommendations and suggestions" for the bill and incorporate those it believes have merit.
Senate debate is due to start on Monday.
"We have no present intention to make any changes other than those made in the House of Assembly," Mr Bethel, leader of government business in the Senate, told The Tribune.
"Every bill is a work in progress, if when the law is implemented it is discovered there are some things that need to be addressed, then it will, but that is not the present intention of the government.
"It's not a static legislation. Look at the Progressive Liberal Party's attempt with the first Grand Bahama bill. They passed it and had to come back the next week with immediate amendments, then had to come back with extensions every six months.
"That will not be the fate of this bill," he continued, "it is well intentioned, it has safeguards, and we will be monitoring how effective it will be at attracting businesses not in the Bahamas. Whether it's with foreigners, or Bahamians, or a joint venture. Right now, you have a very anaemic financial services sector and the economy is not where it should be.
"But no legislation is drawn in stone."
The bill would allow foreigners or Bahamians to receive "economic concessions" if they establish specified types of businesses in the Bahamas with an investment of no less than $250,000. Such businesses would be entitled to a specified number of work permits for executives, managers and people with "specialised knowledge."
Although the bill has faced strong backlash, many Cabinet ministers have defended it as a means to grow the economy.
On Tuesday, Minister of Education Jeff Lloyd said critiques on the legislation have been "misguided" and "unfounded."
Speaking with The Tribune after a press conference at the Ministry of Education, Mr Lloyd was asked what he thought of the rising number of voices critical of the bill. "Well I think it's misguided, it's unfounded," the South Beach MP said Tuesday. "Many of the persons who are making those criticisms don't have a clue as to exactly what the bill says. And it's unfortunate because what our people are appreciative of, I hope that they are, is that the economy needs to expand.
"We need to invite new businesses and new opportunities for Bahamians, not only to get into business but Bahamians to be able to learn new skills within the financial services industry, an industry that has been in the slide now for the last 15 years. It's a crucial industry, it employs many very wonderful Bahamians who make great salaries and unfortunately those persons have lost that opportunity over the last 15 years. So it's really unfortunate that [these comments are] as misguided as [they are], but we understand."
Mr Lloyd, an attorney, continued: "I do however have to admit that there are some very good suggestions that come from persons here and there, and those are under consideration by the government. But the Commercial Enterprises Bill is an excellent piece of legislation, it's a wonderful opportunity being presented to Bahamians for us to expand our economy or in a sense to revive a lagging financial services industry, and one that is going to assist in growing the middle class."
Mr Lloyd was also asked his perspective on concerns regarding the lack of stipulations for Bahamian workers in the bill.
He said: "[The company] will not get a permit, they will not get a licence to operate. That's the bill. This is what I mean when I say that people don't read the bill. Read the bill! Your business plan has to be approved and the business plan must say how many Bahamians you are going to hire and those Bahamians must be trained. Because there is a permit that is – first of all, you're given the licence and the licence for trade. There is a permit that is given, a certificate that is given, every single year. And that makes a rigorous standard.
"And that standard is, are you training these Bahamians? Are you in fact transferring these skills? We're not just going to take your word for it, there will be an investigation, there will be an inspection to ensure. Listen, we've got hundreds of Bahamians who started out in the financial services industry with companies that were owned by foreigners. Today they are now experts in that industry. How? Through the transfer of skills."
Mr Lloyd added: "Let's look at it this way: if NASA came to the Bahamas and said today that we are going to build a spacecraft in the Bahamas, we're going to lay down one of our spacecraft building platforms in the Bahamas, and we are going to train Bahamians in the art of building spacecraft, would we be in here carrying on this nonsense about, 'oh no don't bring them here, Bahamians gotta be the ones, you're taking jobs out of mouths of Bahamians!'
"What nonsense. But the narrative that carries the day is the one that talks about fears and lies about Bahamians losing out on jobs. Nonsense."
Last week Wednesday, the Commercial Enterprises Bill passed the House of Assembly with unanimous support from the Free National Movement.
Opposition Leader Phillip "Brave" Davis has said the Progressive Liberal Party will repeal the legislation if it is re-elected to govern.