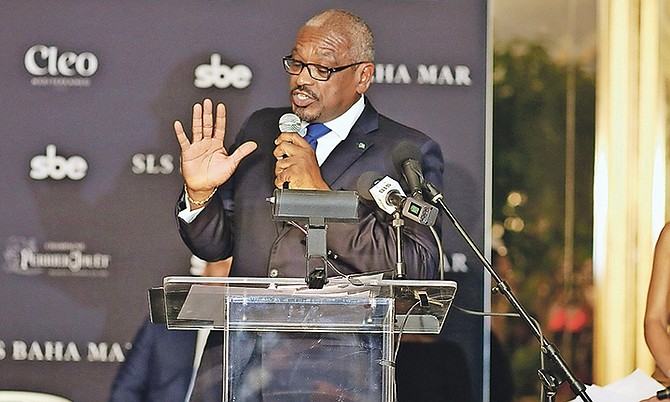 By KHRISNA RUSSELL
Deputy Chief Reporter
krussell@tribunemedia.net
PRIME Minister Dr Hubert has suggested he is not wrong for changing his mind regarding a pay raise for Members of Parliament, adding that correcting the "dire" structure of the public service is needed to change the "unfair" pay scale in the government sector.
"If I am headed out east then somewhere I decide to turn around and head out west, am I wrong?" was the prime minister's response when The Tribune drew his attention to his 2014 stance against MPs receiving a pay raise, as proposed by the former Christie administration.
His position then was: "As long as I am leader of this country, the FNM would not support any pay increase with all the pain and suffering that is going on in this country."
However, three years after this rejection, the prime minister told Parliament it was the government's intention to bring a pay increase for MPs during the next budget cycle. Since then and amid fierce public backlash, Dr Minnis' Press Secretary Anthony Newbold has seemingly attempted to walk back the comment, saying a raise is dependent on an economic upturn.
Absent from this debate over the last several weeks was further explanation from Dr Minnis, who was questioned about his proposal on Friday night on the sidelines of the opening of the SLS Hotel at Baha Mar.
Earlier in his interview with this newspaper, Dr Minnis said: "Listen to me carefully. We look at things globally. We will have committees that will review the entire public service, public service reform. A part of it will look at the salary scales of each minister, [this is] Members of Parliament, prime ministers, corporations, etc.
"It is unfair and you don't carry what I [don't] want you to carry. Carry this. It is unfair for some individuals to be [paid] half a million dollars a year and others getting paid $18,000. It's unfair. That has to be corrected and that is why you need public service reform looking at the dire structure and correcting it so that individuals will receive what is due.
"At the same time, in correcting [the sector] you look at the placement of individuals to ensure that they are placed in the right position because individuals' performance are bad, not because they don't want to work but they are misplaced. So that is all a part of public reformation."
Earlier this month, Dr Minnis painted the intended increase as a sensible development, especially in light of the substantial salaries the former Christie administration paid some contract workers in the past five years.
"I only want to put the nation on notice that the time has come when individuals are being paid by that government half-a-million per annum, individuals are receiving contracts up to $800,000 and the members of Parliament are being paid $28,000. I want to put the country on notice that at the next budget I will come forward with a pay increase for the members of Parliament," he said as debate wrapped up in the House of Assembly on a constitutional amendment bill to create an independent Office of the Director of Public Prosecution.
"I will establish an independent committee who will look at the members' salaries, who will look at salaries for these half-a-million, these $800,000 and these contracts signed a few hours before election, all of that will be reviewed. [The committee will] review all salary structures for government entitles," he said at the time.
When asked for comment on the planned salary increases moments after Dr Minnis made the announcement, Bain and Grants Town MP Travis Robinson said parliamentarians should make $60,000 to $70,000 per year, likening their current pay to "janitorial salaries." He said increasing the pay of politicians would help stamp out corruption.
House Speaker Halson Moultrie last week said the Judges' Remuneration and Pensions Act could be used as a precedent for the establishment of a review committee or commission to bring parity to salaries of those in the parliamentary and executive branches of government.
While he pointed to sections three and four of the act as a benchmark, it is unclear whether he was also referring to the pay scale outlined in the legislation governing judges' salaries.
According to the Judges' Remuneration and Pensions Act from 2008 and onward, the chief justice is the highest paid of the judiciary with a salary of $110,000 per annum.
Any senior justice or other judge receives a salary of $103,000 and $97,000 per annum respectively.
Members of Parliament make $28,000 a year.