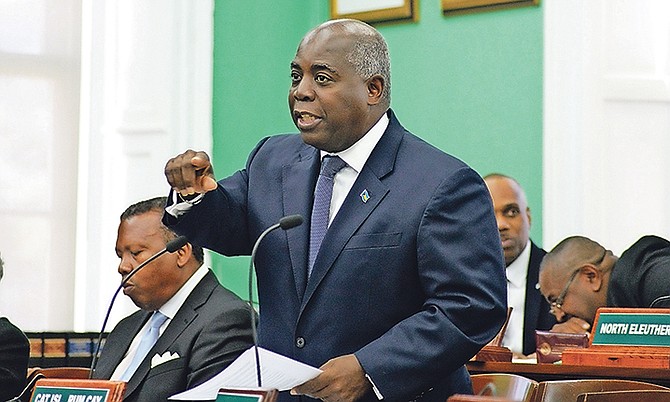 Reader poll
298 total votes.
By SANCHESKA DORSETT
Tribune Staff Reporter
sdorsett@tribunemedia.net
THE Progressive Liberal Party (PLP) does not support the prime minister's planned pay increases for members of Parliament, PLP Leader Phillip "Brave" Davis said yesterday, stressing the "personal needs of well off politicians" should not come before assisting poor Bahamians.
PLP Deputy Leader Chester Cooper also said he "categorically" does not support a raise for MPs and vowed to "vote no" when the matter is brought to the House of Assembly for debate.
In a statement, Mr Davis said if Prime Minister Dr Hubert Minnis believes parliamentarians cannot live on the salaries they are currently making, "he should place himself in the shoes of the thousands of Bahamians who live from hand to mouth, including those fired by his government."
But last week, following Dr Minnis' announcement, Mr Davis told The Tribune a salary increase for MPs is "overdue." He said Dr Minnis should consider recommendations the former administration made rather than establish an entirely new committee to consider the matter.
And during the Christie administration's last term, Mr Davis, then deputy prime minister was on board with a pay increase for politicians, insinuating it would curtail corruption.
In May 2014, when the former administration considered the matter, Mr Davis said: "(It would) remove the temptation for politicians to do things that are not right. Because if they (MPs) are earning a living by doing this, then there would be no need for them to do anything else, I think that's what the Bahamian public has to understand."
The issue was shelved after significant public outcry but was resurrected last week after Dr Minnis said his administration will increase MPs' salaries in the next fiscal year – three years after he chided the PLP for speaking about doing the same thing.
Dr Minnis' position is a turnabout from 2014, when he said: "As long as I am leader of this country the FNM would not support any pay increase with all the pain and suffering that is going on in this country."
Since 2014, economic growth remains slow and the Minnis administration has frequently lamented the state of the country's finances.
"This FNM government continues to produce the wrong remedies for the wrong time, and now it proposes to look after its own while many Bahamian families are hurting," Mr Davis noted in a statement.
"This is, after all, a government whose minister of tourism fired tourism personnel in Grand Bahama, an island with the highest unemployment rate. If Hubert Minnis believes members of Parliament cannot live on the salaries they are currently making, he should place himself in the shoes of the thousands of Bahamians who live from hand to mouth, including those fired by his government.
"The government should focus its efforts on improving the economic livelihoods of the Bahamian people before enhancing their own, announce a strategic plan for sustainable economic growth, and reduce the pain of Bahamian families caused by their short-term fiscal consolidation policies," Mr Davis continued. "The prime minister calls himself a man with a heart - where was that heart when children across this country struggled because their parents were made redundant?"
Meanwhile, while speaking to Progressive Young Liberals on Sunday night, Mr Cooper admitted a review of pay raises for MPs is "warranted," however he said given the pressing issues the nation faces "this is not a priority and now is not the time."
The Exuma and Ragged Island MP said: "After spending the last six months telling everyone how broke the country is, how damaged our finances were, supposedly because of how badly the PLP managed the economy, after freezing hiring in government, after stalling for months on paying contracts, after mandating that every ministry take a 10 percent budget cut, now the prime minister's big idea is to give MPs a salary hike?
"I categorically don't support a raise for MPs at this time, and I'm unlikely to support it during the next budget exercise if it is included, and let me explain why," Mr Cooper continued.
"MPs have not had a raise in over 25 years and a review is warranted. However, given the pressing issues our nation faces this is not a priority! Now is not the time. Not to mention nearly ninety percent of the MPs now in Parliament are new to Parliament, they knew what the salary was for the job when they accepted it less than six months ago....
"Until the prime minister can explain how he plans to fulfil his campaign promises – including your free tuition at the University of the Bahamas – until he can tell us how he plans to lift the tide for the Bahamian people as a whole, including the reconstruction of Ragged Island, he does not have the support on the Progressive Liberal Party on this matter.
"This is not a pressing issue, it can and must wait. I will vote no."
Mr Cooper said if it is decided that MPs' salaries will be raised, he will "put the extra money into programmes for Exuma and Ragged Island, as I'm doing now."
He also chastised Bains and Grants Town MP Travis Robinson for his comments on the issue and demanded Mr Robinson apologise to the Bahamian people.
Last Thursday, Mr Robinson, the youngest parliamentarian, told The Tribune a salary increase would help deter corruption.
"I think that $28,000 a year is highly ridiculous. Members of Parliament are being given janitorial salaries. It is no easy task out there and if we are serious about stemming this tide of corruption then we must have a balanced approach to it and I think this increase would give that balanced approach," Mr Robinson said.
Asked to recommend a salary, he said: "I would say about $60,000 to $70,000 a year."
In response, Mr Cooper said: "The people of Bain and Grants Town should be insulted.
"I suggest the prime minister counsel his young MP, have him apologise to the people he represents among whom there are many hardworking janitors, worthy of respect, who only wish they made what MPs do now. And maybe the prime minister can have a talk with Mr Robinson about how even the richest of people can still be corrupt. Corruption is an issue of character, not of compensation."
Last week, PLP Englerston MP Glenys Hanna Martin also weighed in on the issue and called Dr Minnis' plans a "crass contradiction."
In a post on Facebook on Thursday, Mrs Hanna Martin referenced recent job cuts and the government's statements concerning the state of the country's economy.
In 2014, the Christie administration's establishment of a parliamentary select committee to consider a salary increase for parliamentarians was widely criticised.
In opposition at the time, Dr Minnis said the FNM would not agree to an increase due to economic hardship faced by Bahamians, adding that a politician's position was one of service.
In the Lower House on Thursday, Dr Minnis painted the intended increase as a sensible development, especially in light of the substantial salaries the former Christie administration paid some contract workers in the past five years.
"I want to put the country on notice that at the next budget I will come forward with a pay increase for the members of Parliament," Dr Minnis said.
"I will establish an independent committee who will look at the members' salaries, who will look at salaries for these half-a-million, these $800,000 and these contracts signed a few hours before election, all of that will be reviewed. (The committee will) review all salary structures for government entitles."
• An earlier version of this story said: "The report from the former parliamentary select committee, which was headed by Dr Bernard Nottage, now deceased was never disclosed to the public." The Tribune would like to clarify that the report was read in Parliament by Dr Nottage in 2014.