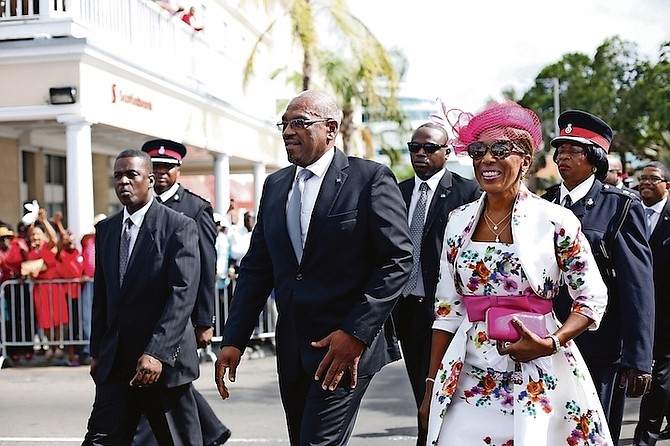 By KHRISNA VIRGIL
Deputy Chief Reporter
kvirgil@tribunemedia.net
THE Minnis administration will seek the consent of the electorate by way of a referendum on instituting term limits for the prime minister, a recall system for non-performing members of Parliament and an independent Constituencies Commission and Electoral Commission, the Speech from The Throne revealed yesterday.
The speech, which revealed the government's intended plans over the next five years, was read by Governor General Dame Marguerite Pindling.
The government also intends to create an Office of the Ombudsman to provide a direct source of relief. It is hoped that people who have legitimate grievances due to the actions or inaction of the government or any public agency will have a form of recourse through this mechanism, the Speech from The Throne noted.
The last two referenda held in this country were not successful as both votes – the gaming referendum of 2013 and the constitutional referendum of 2016 - under the former Progressive Liberal Party  government failed.
The Christie administration spent $1.2m on the 2013 gaming referendum. It was also estimated that the constitutional referendum cost the public purse around $1.57m.
The four bills touted to bring gender equality to the country's Constitution were overwhelmingly rejected by voters at the polls on June 7, 2016.
Only three constituencies across the country voted by consensus to approve any of the four gender equality bills proposed.
And fewer than half of eligible voters, 46.66 per cent of them, participated in this constitutional referendum.
In New Providence this was eclipsed only by Bain and Grants Town, represented by former Minister of National Security Dr Bernard Nottage, where turnout was 34.01 per cent, and Englerston, represented by former Transport and Aviation Minister Glenys Hanna Martin, where turnout was 37.01 per cent.
In the Family Islands, turnout was generally lower than in New Providence. Only 26.92 per cent of eligible Long Island voters participated in the referendum, the lowest in the country. Former leader of the Official Opposition Loretta Butler-Turner represented this area at the time.
In the gaming referendum held on January 28, 2013, out of 38 constituencies in the Bahamas only three returned a majority "yes" vote.
Nationally there were 48,012 "no" votes for the question on regulating web shops and 30,767 "yes" votes and 46,961 "no" votes for the creation of a national lottery question and 32,170 "yes" votes.
Officials said voter turnout was extremely low also in this process as well.
A date has not been announced for the referendum proposed by the Minnis administration.