Audio clip
Politicole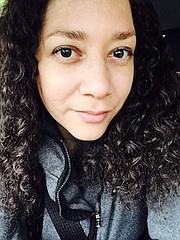 By NICOLE BURROWS
My grandmother passed away in January, 2004. In the 2002 general election, she chose not to vote.
I asked her, "Nana, why aren't you voting this time?" Her response was, "Das for y'all young people to decide now. Me, I soon be dead and gone."
Nana read all the newspapers every single day, papers she bought with money she could ill-afford to spend. And she walked a good mile or more to buy those newspapers every day.
I recall with clarity, and nostalgia, how she would sit in the chair by the front door, bent over her own lap, looking down at the floor where the newspapers were spread open in front of her. She could - and usually did - tell everyone what was going on in the country.

Nana had an inquiring mind. She often said she was supposed to be a detective, and eventually I believed her. It's amazing what you inherit from your ancestors ... things that can't pass through your blood.
If anyone saw me with Nana, no one would believe we were so closely related. She had a chocolate complexion and a hard Exuma accent; I was a yellowy-beige with a private school standard English accent. Nevertheless, as though it was in her blood, I carried in mine her desire to know things, her thirst for information, and requirement for details. She wasn't college-educated, but she taught herself important things. Politics ... Bahamian politics ... was one of many such things.

Nana was a lifelong supporter of the Free National Movement (FNM), at least for as long as I can remember myself and for as long as I can remember her voting or expressing her political opinion. She loved Hubert Ingraham, Cecil Wallace-Whitfield and Kendal Isaacs. She was a bit of an anomaly, because back in the day you would find most older Bahamian people supported the Progressive Liberal Party (PLP).

Not my Nana. She was never one to follow the beaten path - something else she passed on to me. It was always clear where she stood, no matter who thought it contrary, and she was never shy about it.

But, at the end of her political leanings, Nana said she was not voting. She said it was for young people to decide, but she also clarified, "Dey [FNM and PLP] all jus alike any how."
As I was deciding what I would write here for the eve of Election Day 2017, I got a letter from a 16-year-old Bahamian student, outlining her views on politics from a youth perspective, focusing mostly on the purpose of and need for clear thinking in an election season.

Still too young to vote, this high school student is paying close attention to what those of you over 18 will decide for her future in her country when you vote tomorrow. To summarise her message, the young people of The Bahamas want you to know that they care deeply about their futures as citizens of The Bahamas.
I happen to have known this young lady from the time her mum carried her in her belly, almost 17 years ago. It's so hard to believe she is now a young woman, just one year away from voting rights of her own. At her age, I - and two of my high school friends - worked the polls in 1992, when, like this young lady, we were just shy of voting age. It was wonderful to be around and be a part of such a changing political landscape in the Bahamas ... when an underdog opposition became the governing party.
I have not had a chance to see this young letter writer or talk to her in a long time, and I had no idea that she took such an interest in government and politics. But it goes to show that you cannot discount the potential and the yearnings of young Bahamians. They have been indoctrinated in and exposed to political party affiliations since early childhood, but they can plainly see it - the status quo - has not benefitted this country or their fellow Bahamians, certainly not for the long term.
They want to know that you, every Bahamian 18 years of age and over with voting rights and the power to change their futures for the better, care enough to provide them with an environment in which they can thrive, long after you are gone. They hope for their people to show maturity leading up to and during the time they vote.

The young people hope that you, their parents and guardians, will show a maturity that reflects your concern for their wellbeing, and that doesn't depend on election eve rallies and rum and ranting to rile up the people in order to get them to go out and vote half-cut or hungover on Election Day.
The young people of The Bahamas care about real issues, not rallies, but we often assume they don't or aren't paying attention, especially when we the adults don't care or aren't paying attention.

Bahamian youth want leaders of substance, who provide a sound plan for the way ahead, leaders who incorporate them - young people of The Bahamas - into the plan for their own futures in The Bahamas. Young Bahamians want leaders who have shown a genuine interest in and support for young people, visibly demonstrating their commitment by including young people front and center in the voting choices at the polls on Election Day.
It is all well and good to say you want the best for your children, but are you actually showing/ proving that you do, by throwing the power of your vote behind the candidate who most represents your children ... their youth, their innovation, their potential as future leaders of The Bahamas?
If you are saying that you care about your children, but voting for people who don't represent them, be it in youthful appearance or youthful agenda, then what are you voting for? You yourself will only live another 30-odd years, if you're lucky, but your children have a lifetime to suffer the repercussions of the decision you make tomorrow on their behalf. And most often, what your children need, or what must be done for them, is something that is completely opposite to what you would do for yourself.
When you go to cast your vote tomorrow, I beg you, think of your children ... and not of yourself.

• You can watch and listen to Nicole Burrows talking through this article and other thoughts on fb.me/PolitiColeTV. Comments and responses to nburrows@tribunemedia.net