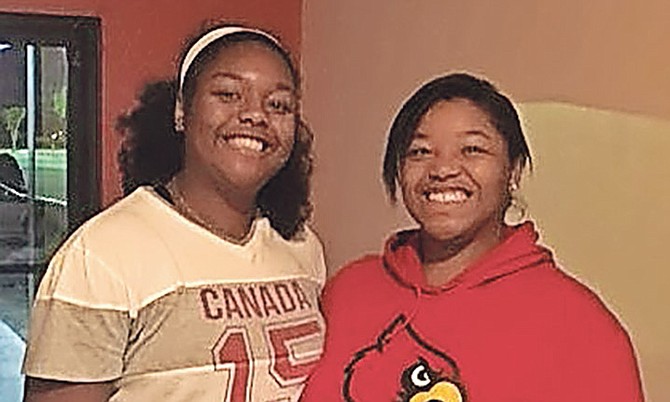 By BRENT STUBBS
Senior Sports Reporter
bstubbs@tribunemedia.net
It wasn't the type of happy ending that she anticipated, but now that she has completed her freshman year at Texas A&M, women's national discus record holder Serena Brown is excited about being back home and competing before the local crowd again.
This weekend, Brown will be one of the elite athletes showcased as the Bahamas Association of Athletic Associations hosts its Aliv Junior National Championships at the Thomas A Robinson Track and Field Stadium before she heads to Grand Bahama next weekend for the BAAA National Open Track and Field Championships at the Grand Bahama Sports Complex.
At Texas A&M, Brown established herself as one of the top throwers in the collegiate circuit, but she was a little disappointed about not getting in a legal throw in the finals of her specialty at the NCAA Championships in Eugene, Oregon, a week ago.
"At Nationals, me and my coach concluded that I was trying too hard because in warm-ups, I looked really well," said Brown in an interview with The Tribune on her return home yesterday, one day after she returned home from Texas. "But overall, I had a really good freshman year.
"I finished as one of the top 10 or 15 throwers in the nation as a freshman and right now I'm still third in the world as a junior and I finished second in the all-time performance list at Texas A&M, so overall my freshman year was pretty good."
At the SEC Relays in Baton Rouge, Louisiana, on April 8, Brown increased her national record in the discus to 56.84 metres or 186-feet, 6-inches to trail senior Shelbi Vaughan, who had Texas A&M's 10 best throws, including a season's best of 64.52m (211-8) at the SEC Conference on May 15.
But for Brown, her season has inspired her to come home and put on a show as she attempts to qualify for the 2017 Pan American/NACAC Under-20 Games, scheduled for July 21-23 in Trujillo, Peru. "I don't know what it is (qualifying standard), but I'm going to do it," she projected.
The 2016 St Augustine's College graduate said she will also go to the BAAAs Nationals in Grand Bahama next weekend and try her hands at qualifying for any of the senior meets, including the IAAF World Championships in London, England, August 5-13.
"I'm not sure which meets they have that I can qualify for, but I'm going there to see what I can do," she said.
In the meantime, Brown said there's no place like home and she's going to enjoy every day before she returns to Texas A&M in August.
"I just arrived last night (Wednesday) and I feel so much better," she pointed out. "The heat hit me hard, but that's okay. It's so much better than being in the cold. I'm looking forward to competing this weekend and qualifying for Jr Pan Am."
When she returns to the United States, Brown will have some company as her older sister, Selina Brown, is also scheduled to depart for school having signed to attend Valley State University in North Dakota.
"I'm very proud of her," said Serena about Selina, who also throws the discus and shot put. "I've seen how she's worked so hard and now it has all paid off for her."
Brown's only advice to her sister is to stack up on all of the curry powder and seasoning that she can get because once she gets to school, she won't be able to find them to cook her favourite dishes of curry chicken or mutton.