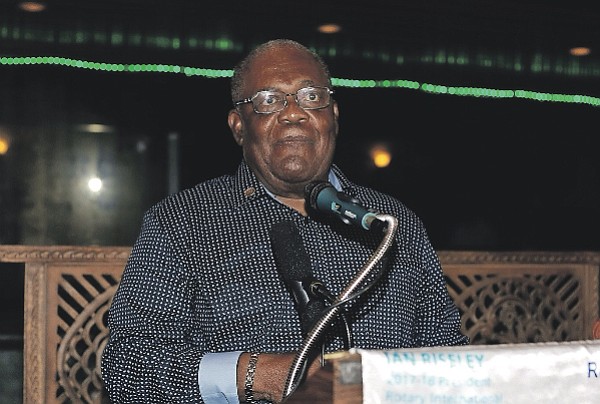 By RASHAD ROLLE
Tribune Staff Reporter
rrolle@tribunemedia.net
PAYING $8m to a contractor engaged in hurricane clean-up does not pass the smell test, former Prime Minister Hubert Ingraham said.
"In and of itself, it doesn't demonstrate criminality but it does not meet the smell test to have that kind of contractual work for solid waste collection over a five or six-month period," he said.
"There have been many allegations relating to construction contracts, garbage collections, supplies to the government and all matters of things. I suspect police will be following up these because some of them on the face of it are credible. But the state ought not to pursue a witch hunt because they don't like decisions that were made (by the former administration)."
"That is not a crime in and of itself. Where you exercise power and the state lost money because of your misfeasance, that's an option that they have and it's a civil matter," Mr Ingraham said.
Prime Minister Dr Hubert Minnis revealed the litany of payments to the contractor, Johnathan Ash, during his contribution to the budget communication last month. He said he was shocked at the high payouts and the speed at which Mr Ash was able to collect cheques.
It is one of several cases officials in the Minnis administration have highlighted as troubling decisions made by the Christie administration.
The Minnis administration's apparent determination to go after politicians it believes engaged in misfeasance is a departure from the way previous administrations dealt with their political opponents.
Mr Ingraham was asked to react to this following a Rotary Club of Southeast Nassau meeting Wednesday. He said that he long believed elections rather than a short time in prison settled "scores between populations and politicians."
He said: "If crimes are committed, criminal activities committed and police have evidence then police ought to proceed with it against whosoever, politicians or non-politicians. But there ought not be a witch hunt against people. If there's evidence somebody abused their authority in office or evidence of misfeasance then that's possible but not to do otherwise. I come from the school of thought that generally speaking elections settle scores between the populations and politicians and sometimes a loss is a bigger punishment for them than six months in prison because he spends the rest of his life with this thing that he regards as humiliation."
Last month, Dr Minnis revealed that Mr Ash submitted claims through the Ministry of Works and the National Recovery Unit (NRU) in the Office of the Prime Minister.
Officials in the government, past and present, have been cagey about the payments to Mr Ash, however.
Officials in the NRU point fingers at senior civil servants in the Ministry of Works, suggesting they had jurisdiction to authorise the payments and should take responsibility for what happened. On the other hand, sources at the ministry have told The Tribune that some of the ministry's staff were transferred to the NRU in the aftermath of Hurricane Matthew and they reported not to the permanent secretary of the Ministry of Works but to Jack Thompson, then permanent secretary of NEMA, hurricane czar Shane Gibson and, occasionally, former Prime Minister Perry Christie.
Until at least mid-December last year, work by Mr Ash was certified by Leyton Rahman, chief engineer at the Ministry of Works and one of the people said to be transferred to the NRU. Mr Rahman certified work for Mr Ash to the tune of hundreds of thousands of dollars and he played a role in choosing Mr Ash to maintain the three dump sites on New Providence that were created following Hurricane Matthew. In addition to his work cleaning up Centreville, Mr Ash was responsible for separating bulk waste from green waste at the dump sites and for transporting the bulk waste to the main dump site.
Mr Rahman denies certifying work for Mr Ash worth millions of dollars and was shocked to learn from Dr Minnis' speech how much money the contractor received, sources told The Tribune.
Mr Ash was among five contractors the former prime minister selected to clean-up Centreville in the wake of the hurricane.