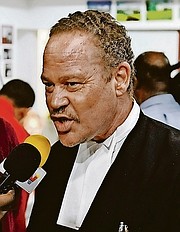 By RICARDO WELLS
Tribune Staff Reporter
rwells@tribunemedia.net
DESPITE the firm deadline it imposed following the May 10 general election to have all outstanding disclosures filed by June 30, the Minnis administration remains unable to give a clear timeline on when it expects to move forward with plans to prosecute or penalise those public officials still refusing to file.
When contacted on this yesterday, Attorney General Carl Bethel sidestepped questions on the matter.
He would only repeat earlier comments related to the completion of appointments to government boards as the factor that would result in this ongoing process being "worked out".
"Again, as I have said, we have worked on our board appointments, and as we conclude with that, you can expect this matter to be worked out," Mr Bethel said.
When asked about the deadlines imposed by the government, he said: "We are taking the steps necessary, there is a board in place so it will be dealt with in short order."
However when asked further questions, Mr Bethel said he had no more comment on the issue, leaving many concerns unaddressed.
It is unclear if the government has reappointed the Public Disclosure Commission (PDC) as constituted prior to June 30, or appointed an entirely new commission.
On Sunday, former PDC Chairman Myles Laroda told The Tribune the expiration of his appointment and those of others on the commission left aspects of the declaration process "up in the air" and at risk of not being finalised in time for a list of delinquent politicians to be submitted to Mr Bethel on Monday.
However, in response to those claims, Mr Bethel insisted the commission could fully operate despite the status of appointments.
Mr Bethel's comments Tuesday also did little to clarify whether the Minnis administration still intended to prosecute those not meeting the imposed deadline.
On June 6, Press Secretary Anthony Newbold said delinquent former and sitting members of Parliament were given three weeks to file disclosures or face the court for breaking the law.
The deadline affected more than 20 MPs and followed a report in The Tribune last month that revealed that a handful of parliamentarians did not make a single disclosure last term.
Failure to file disclosures can result in a fine of $10,000, or two years in prison, or both, or confiscation of land if land is involved, Mr Newbold has said.
In the Speech from the Throne, legislation was promised to amend the Public Disclosure Act to include a campaign finance component and allow for a matter to be referred to an independent prosecutor.