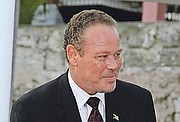 By RICARDO WELLS
Tribune Staff Reporter
rwells@tribunemedia.net
ATTORNEY General Carl Bethel suggested yesterday that the expiration of Myles Laroda's appointment as chairman of the Public Disclosure Commission does not affect the government's ongoing process to have delinquent parliamentarians and senators file their outstanding disclosures or face prosecution.
In a move to clarify the status of the government's June 30 deadline for delinquent officials, Mr Bethel said that persons who would have attempted to disclose would have had ample opportunity to do so despite the status of Mr Laroda's appointment.
According to Mr Bethel, disclosures are not made exclusively to the PDC's chairman, but rather to the commission.
This comes as Mr Laroda, on Sunday in an interview with The Tribune suggested that the expiration of his appointment left aspects of the declaration process "up in the air," and at risk of not being finalised in time for it to be submitted to Mr Bethel on Monday as mandated by the deadlines imposed by Prime Minister Dr Hubert Minnis.
Mr Laroda also maintained that no resolution was achieved as of Friday, and due to the end of his appointment as chairman, he was unaware how those matters were concluded.
"Limbo," he told The Tribune when asked for an update. "These disclosures will be in limbo until a new commission is appointed, whether that is me or someone else."
He added that his appointment, and the appointments of every other PDC member ended Friday, however, that claim could not be substantiated.
Reacting to this on Monday, Mr Bethel said: "The obligation is to disclose to the commission not to commissioner, that has to be made clear."
He added: "(The government) worked this weekend to finalise (its) boards that had to be appointed. As those appointments become clear, all of the uncertainly and ongoing questions surrounding this process will become clear."
In a follow-up interview with The Tribune on Monday, Mr Laroda said he was unsure of the direction the Minnis administration intended to take the commission in.
He later indicated that he would be "good" with the government opting to leave him off the commission when it is reappointed.
"I am good with whatever decision the government makes," he told The Tribune.
On June 6, Press Secretary Anthony Newbold said delinquent former and sitting members of Parliament were given three weeks to file disclosures or face the court for breaking the law.
The deadline was imposed by Dr Minnis and affects more than 20 MPs. It followed a report in The Tribune earlier this month that revealed that a handful of parliamentarians did not make a single disclosure last term.
Failure to file disclosures can result in a fine of $10,000, or two years in prison, or both, or confiscation of land if land is involved, Mr Newbold said.