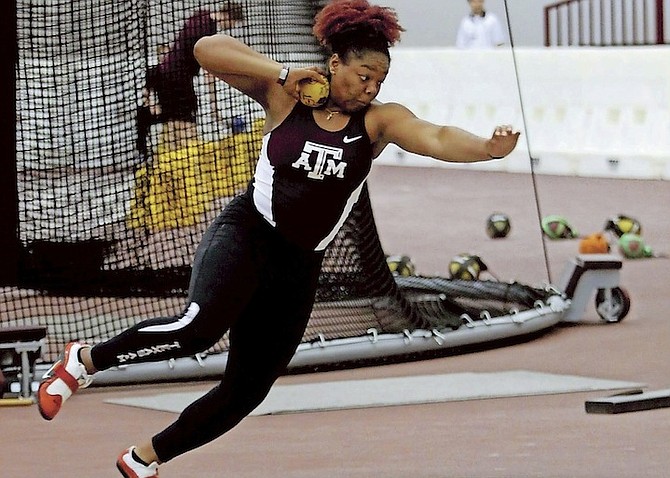 By BRENT STUBBS
Senior Sports Reporter
bstubbs@tribunemedia.net
After turning in two impressive national record-breaking performances in the women's discus at the IAAF World Junior (Under-20) Championships, Serena Brown is now looking forward to soaring to new heights as a collegian in her freshman year at Texas A&M.
Brown, who specialises in the discus, has competed so far for the Aggies in the women's shot put. But while she admitted that it has not been all that she expected, she's coming around.
"The indoor season has been interesting so far," said Brown in making the transition from high school where she dominated at St Augustine's College to getting her feet wet in the competitive Southeastern Conference. "I'm focusing more on the shot put right now, even though discus is my primary event.
"So I have to get adjusted to that. I've only competed in two meets so far. It's not been up to the standard that I wanted, but technically I've been getting so much better. This weekend coming up, I'm hoping to perform like everybody knows I'm capable of performing."
While this is considered a learning experience for her, Brown said she would definitely like to make it to the SEC Championships and hopefully propel her in the outdoor season where she will turn her concentration on the discus.
"I feel like this year is going to be extremely good for me because I have a training partner now and she's been pushing me as we train together," Brown said. "My technical aspect has improved, I'm getting stronger and so I feel that this year is going to be extremely strong for me."
She's coming of a particularly strong year in 2016 when she competed as a junior.
Her heave of 52.73 metres for fourth place in the final of the women's discus at the World's Jr Championships in Bydgoszcz, Poland on July 21, erased the Bahamian national record of that was previously held by Lavern Eve.
In the qualifying round, Brown finished fifth in her flight and eighth overall to advance to the final with a toss of 50.94m that replaced Chafree Bain's national junior record two days earlier.
"I just want to thank God for it. Everyone knew that I had the potential to do it and I was able to accomplish it, but I'm very humble by the performances," Brown said. "I'm not boasting about it, even though I know I did it because I know there is just so much more than I can achieve.
"I know they were great accomplishments, but I pay my respect to both Chafree and Lavern. I know Lavern has set the standard and I'm just so happy that I had someone like that to emulate. So it was a very great feeling to be able to surpass their performances."
Brown, who turned 18 in September, will be back this year to complete her junior career. She's hoping to go to the Carifta Games in Curacao and improve on her bronze medal performance in the discus and fourth in the shot put last year in Grenada.
But in the meanwhile, she's working on gualifying for the SEC Indoor Championships, scheduled for February 24-25 in Nashville, Tennessee and the NCAA Nationals, which will be held at their home Gilliam Indoor Stadium in College Station, Texas from March 10-11.
As for the outdoors, Brown said her goal is to duplicate the same feats as indoors and if possible to go all the way to London, England in August to represent the Bahamas at the IAAF World Championships.
"If God's will, I want to qualify and make finals for World Champs," Brown projected. "And in the junior meets, I want to make Carifta and Jr Pan Am and win gold in those."
So far, Brown has also been holding her own in the classroom. She made the honor roll and was just honored by the Aggies' Athletic Department on Tuesday night. This summer, she's looking to improve on her performance in the class as well.
This weekend, Brown will be back in action as she competes in the Texas A&M Aggie Invitational at home.
The Aggies' outdoor season will begin over the weekend at the Baldy Castillo Invitational at the Joe Selleh Track at the Sun Angel Stadium in Tempe, Arizona.
The SEC Outdoor Championships is set for May 11-13 at the Weems Baskin Track in Columbia, South Carolina. The NCAA West Preliminary Rounds is May 25-25 at the Mike A Myers Stadium in Austin, Texas and the NCAA Championships is June 7-10 at the Hayward Field in Eugene, Oregon.