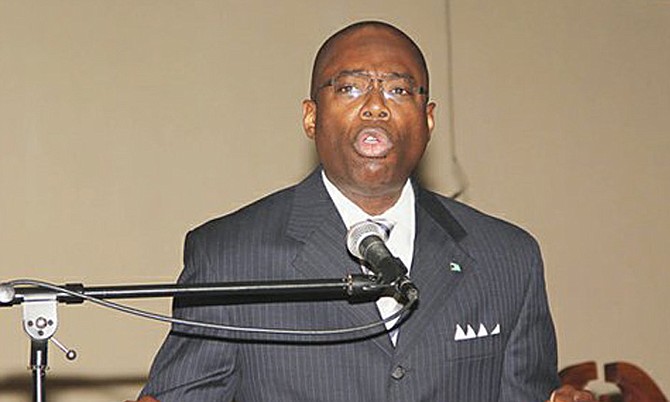 By AVA TURNQUEST
Tribune Chief Reporter
aturnquest@tribunemedia.net
THE Constituencies Commission has stalled the release of its boundaries report in the hope that the sluggish voter registration will pick up considerably over the next few weeks.
House Speaker Dr Kendal Major, who is also the commission's chair, told reporters yesterday that he was confident that members will be in a position to table the report "within two weeks or very shortly".
The House of Assembly was adjourned until February 5 yesterday.
"There was an argument put forth that we would allow a little bit more time to increase and beef up the voter registration because there is more access, more opportunities to register," he said.
"Opposition members also expressed some concern, and the question goes to whether constitutionally the prime minister should make a decision with the voter registration being as low as it is, and I think all of us can agree that we would rather not, or wait until its increased to the extent that it's a reasonable amount that speaks to the aspirations of the Bahamian people.
"At some point we will have to make a decision, make a cut off point. The argument was put forth, it's a cogent argument to wait a few more weeks and see what happens."
Earlier this month, the Parliamentary Registration Department announced 26 new voter registration stations in New Providence and Grand Bahama.
However, voter registration numbers are still trailing behind the last election cycle's pace as less than 50 per cent of eligible voters have been registered.
According to Parliamentary Commissioner Sherlyn Hall, just over 80,000 persons have registered to vote to date.
At the last sitting of the House, Dr Major expressed disappointment that the group has not completed its report, underscoring several contributing factors, including low voter registration numbers and "contention" among members, that delayed its progress.
The contention among the rank and file of the commission was reportedly sparked by the leak of information concerning deliberations to create a new constituency in New Providence.
It is understood that portions of Englerston, Centreville, Bain and Grants Town and Fort Charlotte will be redrawn to reconstitute St Cecelia - a seat eliminated ahead of the 2012 general election.
The commission used data from the 2010 census that had been extrapolated in a 2016 report prepared by the Department of Statistics, to guide recommendations.
Last month, then-Commission member and East Grand Bahama MP Peter Turnquest maintained that there was not enough information to make a scientific decision on any boundary changes due to low voter registration.
However, St Anne's MP Hubert Chipman replaced Mr Turnquest on the committee after Long Island MP Loretta Butler-Turner was voted as the new leader of the Official Opposition in Parliament.
Yesterday, Dr Major said that the report was "pretty much done" with the only outstanding action to present it to the commission and have an internal debate, before it's released publicly.
The Constituencies Commission is comprised of Dr Major, Senior Justice Stephen Isaacs, vice-chair, government members, Deputy Prime Minister Philip Davis and Jerome Fitzgerald, Mr Chipman and House clerks Maurice Tynes and David Forbes.