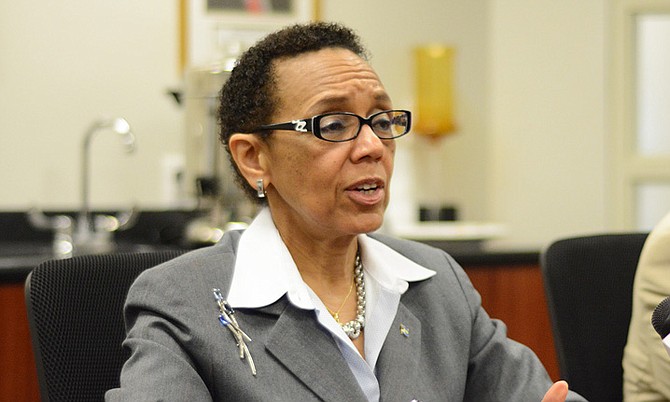 By SANCHESKA DORSETT
Tribune Staff Reporter
sdorsett@tribunemedia.net
ATTORNEY General Allyson Maynard-Gibson said that while the Freedom of Information Act (FOIA) will be debated in the Senate on Monday and passed by Thursday, she is unsure what will happen to the legislation should there be a change of government at the election.
In an interview with The Tribune on Friday, Mrs Maynard-Gibson said the Progressive Liberal Party (PLP) is determined to see the bill through to the end but admitted that "it will take time to implement" even after it is passed in the Senate.
The House of Assembly passed the revamped FOIA last week.
"The first reading in the Senate will be on Monday and is likely to finish on Thursday," Mrs Maynard Gibson said. "I cannot speak for what will happen in the unlikely event that another government is elected.
"I can say with complete confidence that the Progressive Liberal Party does not believe in alternative facts. You have already heard it said in the House of Assembly in consultation and I was a part of the early consultative exercise with Minister Fitzgerald and entire team since we took over. Everyone, civil society, the media and all stakeholders have been involved in this and so it is a very reasonable bill.
"The fact is, it will move ahead after it is passed in the Senate and it will take time to implement because it's heavily resource intensive. There's no question about this, none."
Mrs Maynard-Gibson also said she is unsure how long it will take for the bill to be enacted after it is passed in the Senate.
"What happens is that once a bill is passed by the Senate, there's a recommendation that a deed of assent can be signed and the relevant minister makes the recommendation to the Governor General to sign it. The bill is then gazetted and that is when it becomes enacted."
An FOIA was passed by the Ingraham administration shortly before the 2012 general election but did not have an enforcement date. When the PLP assumed office, the government said the legislation would need significant changes.
In December, 2016, Minister of Education Jerome Fitzgerald tabled another version of FOI legislation.
However, the bill that was passed earlier this month presented several "big changes" when compared to its predecessors, according to Mr Fitzgerald, the minister with responsibility for FOIA.
The Marathon MP asserted that this incarnation of FOI is vastly better than the "woefully short" aspirations of the legislation passed in 2012 - a piece of legislation he said the former administration "rushed" through Parliament to gain political points.