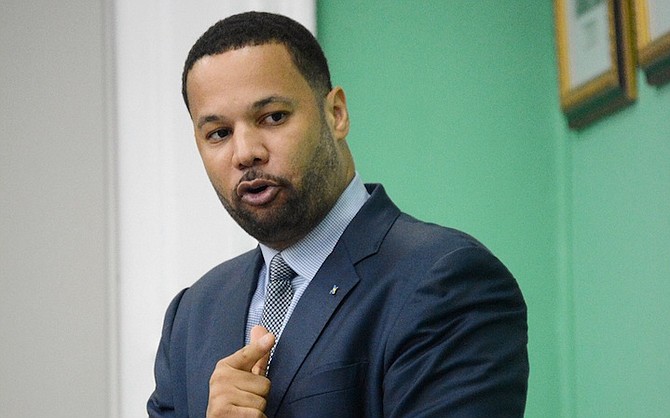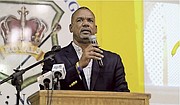 By RASHAD ROLLE
Tribune staff Reporter
rrolle@tribunemedia.net
EDUCATION Minister Jerome Fitzgerald has "sold his soul to the Devil", Fort Charlotte MP Dr Andre Rollins said yesterday, adding that the "bumps" on his "big nose" are "devil horns".
Dr Rollins' remarks to reporters came outside court after a Supreme Court justice rejected his application for judicial review of a House of Assembly draft order on constituency boundaries.
His comments also came a day after Mr Fitzgerald told reporters that he would not be surprised to see the MP on "Dowdeswell Street" waiting to be picked up by a political party.
Mr Fitzgerald also called Dr Rollins a "political prostitute extraordinaire".
They two men frequently clash in the House of Assembly and sparred verbally in Parliament last week. They were once colleagues in the Progressive Liberal Party (PLP) before Dr Rollins quit the organisation in 2015.
Dr Rollins said yesterday: "Of all people, of all the politicians in this country to say (I'm a political prostitute), he's the last one that should utter that type of accusation. Mr Fitzgerald, and notice I never put the word honourable in front of his name, he is not an honourable man; if there is any of us in that Parliament that is guilty of prostitution it is one Jerome Kennedy Fitzgerald.
"He has sold his soul to the Devil. He has sold his soul on the altar of political and financial greed and he and his family should be ashamed of him. Jerome Fitzgerald won't be ashamed of himself because he has no shame. If he did, he wouldn't have allowed the poor innocent people he claims to represent to wallow in contaminated water filled with toxins that can cause cancer and death."
Dr Rollins was referring to the Rubis fuel leak in the Marathon constituency, which Mr Fitzgerald represents.
The leak of some 30,000 barrels from a Rubis station was first reported in October 2012. Area residents and activists accused the Marathon MP of being silent in the face of health fears over the issue.
An independent report was prepared into the fuel leak and completed in February, 2014, but was not released until more than a year later, prompting some to accuse the government of suppressing the document.
Dr Rollins also hit out at Mr Fitzgerald for signing a controversial nolle prosequi, which discontinues a prosecution, in 2012. In December that year, Mr Fitzgerald entered the nolle in the case of George and Janice Hayes, who were charged with possession of an illegal firearm and ammunition. Before she was appointed Attorney General in 2012, Allyson Maynard-Gibson represented the couple.
"He would not have become mysteriously an acting Attorney General for all of 24 hours and found a stack of cases in the Office of the Attorney General and pulled out one belonging to the former clients of the substantive Attorney General and decided to enter a nolle prosequi on behalf of the Attorney General's former clients," Dr Rollins said.
"Mr Fitzgerald is not the kind of man or politician that we need in our House of Assembly and the people of Marathon know it. That big nose you see Mr Fitzgerald have, those bumps on that nose, those are not acne bumps, those are devil horns coming out of that big nose of his. Nothing wrong with having a big nose but the devil horns, that's the problem. And so, I understand y'all laughing but I'm serious with this.
"He has sold his soul to the Devil many times over and he will do anything to try and survive in this country," Dr Rollins said. "You see me, I don't need to stay in politics. I am in politics because I love this country and I want to see it improve. He is in politics simply to promote his own selfish self-interest. That is why he stayed silent while his people suffered with all the gas leaking under their homes. Mr Fitzgerald should be ashamed of himself but alas, the man has no shame."
In an interview on Monday, Mr Fitzgerald also said Dr Rollins has squandered his opportunity as a member of Parliament.