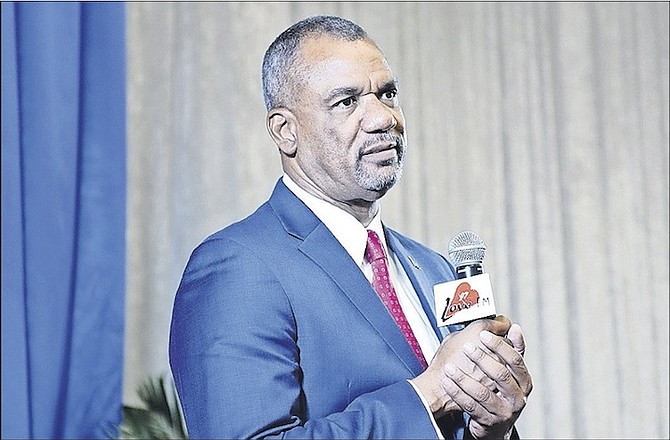 By RICARDO WELLS
Tribune Staff Reporter
rwells@tribunemedia.net
MARATHON MP Jerome Fitzgerald said he is "disappointed" in St Anne's MP Hubert Chipman's claims that the boundaries report he signed as the Official Opposition's representative on the Constituencies Commission was different from the one Prime Minister Perry Christie presented to Parliament.
In an attempt yesterday to make sense of what he categorised as a "surprising" ordeal, the Marathon MP suggested that he is shocked that Mr Chipman, whom he called a lifelong friend, would put his personal credibility on the line for what he sees as a baseless legal challenge that ultimately serves no purpose.
Mr Chipman made the claims in a letter to House of Assembly Speaker Dr Kendal Major last week. The letter has been used by Official Opposition MPs Richard Lightbourn and Dr Andre Rollins as part of a court challenge against the legality of the boundaries report.
Mr Fitzgerald, commenting in response to Mr Chipman telling The Nassau Guardian on Sunday that the letter was "misinterpreted," said he firmly believes that the St Anne's MP initially mounted this campaign under some form of political duress.
Mr Fitzgerald is also a member of the Constituencies Commission.
"Well if you listen to what I said in Parliament, I was very careful in what I said, I made it quite clear that I am not sure what pressure Mr Chipman was under to sign that letter; what level of duress he was under because I have known Mr Chipman almost all of my life and I have always known him to be a straight forward person," said the Marathon MP.
He added: "I said I was very disappointed that he would put his signature to such a letter which, in and of itself, did not reflect the truth of what happened during our deliberations and in fact, I know personally because of conversations he and I had throughout the process with regards to questions he raised and every question he raised was answered to his satisfaction."
The Constituencies Commission was comprised of Dr Major; Senior Justice Stephen Isaacs, vice-chair; government members, Deputy Prime Minister Philip Davis and Mr Fitzgerald; Mr Chipman; and House clerks Maurice Tynes and David Forbes.
Mr Fitzgerald claimed that at no point during the commission's deliberation was Mr Chipman urged to sign off on the report, instead being instructed in several instances to question everything he wanted until he was satisfied with the answers offered by those accompanying him on the commission.
Mr Fitzgerald added that it was in one of these instances that Mr Davis informed Mr Chipman personally that again, he didn't have to sign off on the report before it was presented to Parliament.
"(Mr Davis) didn't sign the last report in 2011 (when he was a member of the commission)," stated Mr Fitzgerald. "And so, at the end of the day (Mr Chipman) was fully aware of what his constitutional rights were and again I am disappointed... that someone who is so well respected, particularly by me, would succumb to whatever pressure, and there is no doubt in my mind whatsoever for someone to make a 180 (degree) turn the way he did, that he must have been under tremendous pressure to sign a letter like that."
Last Friday, Prime Minister Christie also criticised Mr Chipman for his claims.
"The report that he signed came to Parliament as is," Mr Christie said last week at the JCN Person of the Year awards. "I made a communication indicating that whenever a debate is finished, as prime minister under the constitutional powers that I have, I was going to recommend one change that was agreed to when we did the resolution, and that was a name change from Montagu to Freetown."
Dr Rollins and Mr Lightbourn, who are represented in court by attorney Michael Scott, in documents filed are arguing that the draft order was tabled too late to be legal, that it represents egregious gerrymandering and that it seeks to add an additional constituency despite a nationwide pace of voter registration that is well below that of 2012.
When asked directly about the efforts of the two MPs, Mr Fitzgerald said he was surprised that an Official Opposition so eager to get to an election would attempt to slow the process, adding that silliness of an election cycle can bring with it all sorts of surprises and unplanned moves.
He said: "The reasons that they gave for challenging, when you look at the three reasons, none of them are really valid or to me have any legal merit whatsoever."
He continued: "I don't know how the courts are going to rule . . . I am just saying that the arguments they put forward don't see any legal merit in any of their arguments whatsoever."
Justice Ian Winder is expected to deliver his ruling on the matter today.
The government is represented by attorney Loren Klein.