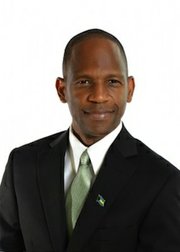 By AVA TURNQUEST
Tribune Chief Reporter
aturnquest@tribunemedia.net
AMID increased calls from activists to "kill the bill," Democratic National Alliance Deputy Leader Chris Mortimer yesterday pledged that if the Interception of Communication Bill (ICB) 2017 is passed, his party would immediately move to repeal it if elected to government.
Mr Mortimer challenged that the high crime environment has emboldened legislators to give officials blanket authority to strip Bahamians of their civil liberties, adding that the country should be outraged by the introduction of the bill when there is still no legal oversight of the National Intelligence Agency (NIA).
He urged Prime Minister Perry Christie and senior Cabinet ministers to recall the new legislation that would replace the Listening Devices Act and allow for the interception of all communications networks regardless of whether they are licensed as public or not.
ICB 2017 will allow the commissioner of police, or a person acting on his behalf, to obtain a warrant from a judge to intercept and examine a person's communications from telecommunications operators, internet providers and postal services for a period of three months, unless renewed.
The bill also states that the attorney general can make an application to a judge for such a warrant.
Mr Mortimer said: "They've promised now for years to provide legislation that legalised the National Intelligence Agency and we have yet to see the government bring this legislation. We have an unauthorised intelligence gathering agency operating in the Bahamas with no legal oversight, and now we have a government that is putting on the table the ability to record the private lives of every single Bahamian?
"The challenge is where are the civil liberties of the Bahamian people? Who gives them the right to produce legislation that intrudes into the lives of every single Bahamian and are we going to give this government or any government access into our private lives? This piece of legislation cannot be allowed to pass in this country, it cannot."
The Interception Bill states that in order to obtain an interception warrant, the commissioner of police, or someone acting on his behalf, would have to petition the attorney general to make an "ex parte" application to a judge in chambers. To receive such a warrant, it must be proven that the information to be inspected cannot be acquired by any other means, the bill notes.
The attorney general would also have to be satisfied that the warrant is needed in the "public interest or interest of justice".
At the DNA's press conference yesterday, Mr Mortimer argued that if the bill was intended to simply strengthen the Listening Devices Act, then it should have been amended. He underscored that the Listening Devices Act already empowered police to obtain a court order to intercept information, and questioned the need for a "blanket licence".
Mr Mortimer suggested that the new bill evidenced a different intent, and cautioned that the legislation was vulnerable to abuse.
"If these legislators believe that they're going to get it through because we are so afraid and we need to give the police every single tool to track down criminals in our midst, we're going to make sure that this legislation doesn't pass," he said, "and if it does pass we can make sure let every single government member knows we are going to repeal this legislation. This legislation cannot be allowed to stand in a modern Bahamas. I don't know about the FNM or anybody else this here is dangerous. This is the beginning of slavery in this country.
"This is a crying shame, this is not what we expect, is this how you believe in Bahamians, that all of our private lives are going to be scrutinised? Your private emails, your private conversations with your lawyer are going to be recorded, for some of those out there their private lives with their sweetheart too. That's Russia, that's Iran, China, that is not the Bahamas. We expect better from our government," Mr Mortimer said.
The bill's tabling last Wednesday has led to considerable pushback from two Free National Movement candidates, former Bahamas Bar Association president Elsworth Johnson, Yamacraw, and Adrian Gibson, Long Island.
Activist groups, like the Grand Bahama Human Rights Association and environmental group Re-Earth, have advocated heavily on social media to "kill the bill".