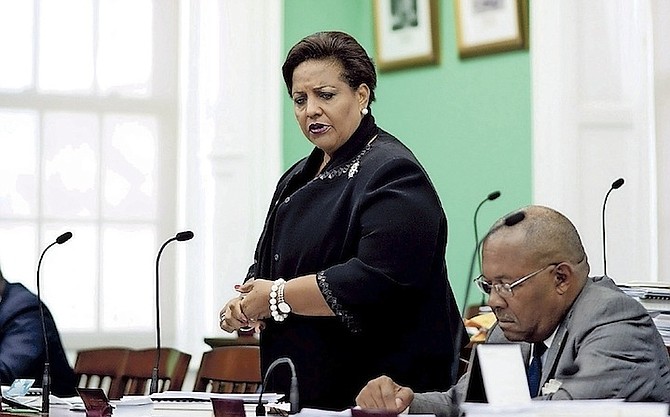 By KHRISNA VIRGIL
Deputy Chief Reporter
kvirgil@tribunemedia.net
OFFICIAL Opposition Leader Loretta Butler-Turner yesterday suggested that the government's newly tabled Interception of Communications Bill, 2017 could be used by the Progressive Liberal Party led government to give it an advantage during this election season, as she rejected the timing of the legislation.
Speaking to The Tribune yesterday, Mrs Butler-Turner said that the bill raised far too many questions and also sparked concerns that it might be in direct conflict of the human rights of Bahamians.
The legislation would allow police to intercept and examine a person's communications from telecommunications operators, internet providers and postal services.
She is the latest public figure to reject the passage of this bill following former Bahamas Bar Association President Elsworth Johnson who joined activist calls for Bahamians to organise protests and public resistance to the bill, which he called "dangerous" spying legislation. Mr Johnson was ratified last week as the Free National Movement's candidate for Yamacraw.
Mrs Butler-Turner said: "I don't think that anywhere in this legislation term should we even be entertaining such a thing especially in this crucial time when political organisations are preparing to launch an attack on a government, which is already suspect to give them greater autonomy to spy on us and to listen in on us.
"Does it in fact remove the privilege of privacy for citizens and those persons who are in fact exempted under the legislation (Freedom of Information) we just passed? I don't know. It just seems to be at odds to what they are trying to do, but in the bigger scheme of things I am convinced that the government has in fact been spying on the Bahamian people because I have no idea of what the National Intelligence Agency is all about."
She continued: "My first question is does this enhance the capacity of this National Intelligence Agency of which we have no idea how they are operating and on whose behalf they are operating?
"Obviously they are operating on behalf of the government. Is the government essentially so insecure in its position that it is now prying and spying on the affairs of Bahamians everywhere? Is this a modality for the government to get the upper hand as we move into the election season?
"I think many of us feel that even with the challenges that we have with BTC as it stands, we wonder if we are not already being tapped into. So there are a lot of concerns there.
"The government needs to realise that they are bringing this new piece of legislation in the absence of very important legislation in regard to the spy agency that they are currently running."
On Sunday, Mr Johnson questioned the level of public consultation on the bill, underscoring that it affected deeply entrenched constitutional rights to privacy and as such should have been previewed by the legal community and civil society.
His call to protest was echoed by another FNM candidate, attorney and former Tribune columnist Adrian Gibson, and follows outrage levelled by outspoken QC Fred Smith, president of the Grand Bahama Human Rights Association (GBHRA).
The bill will allow the commissioner of police, or a person acting on his behalf, to obtain a warrant from a judge to intercept and examine a person's communications from telecommunications operators, internet providers and postal services; providing for the "interception of all communications networks regardless of whether they are licensed as public or not" for a period of three months, unless renewed. The bill also states that the attorney general can make an application to a judge for such a warrant.
This would be done in the interest of "national security," the bill notes.
The bill, tabled in Parliament on Wednesday night, would repeal the Listening Devices Act.