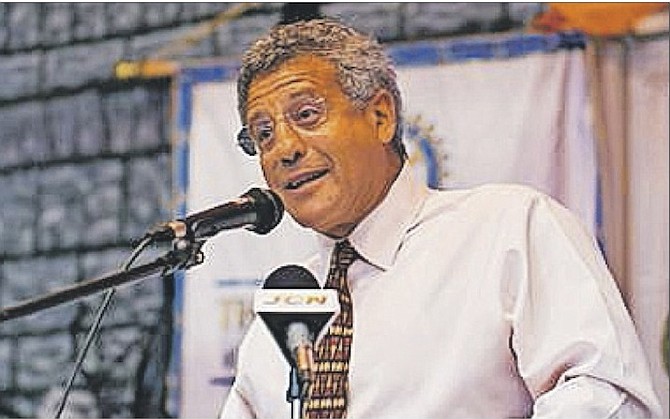 By AVA TURNQUEST
Tribune Chief Reporter
aturnquest@tribunemedia.net
GRAND Bahama Human Rights Association president Fred Smith on Friday railed against a bill tabled by the government that would allow police to intercept and examine a person's communications from telecommunications operators, internet providers and postal services.
Mr Smith condemned the bill, which would streamline the process in which the Commissioner of Police can obtain a warrant from a judge, as an "unconstitutional and draconian" abuse of power.
Expressing grave concern that it was tabled so close to a general election, and as the government is engaged in a constitutional battle over parliamentary privilege and the rights of citizens, he urged all Bahamians to protest the legislation.
According to the Interception of Communications Bill, 2017, which was tabled on Wednesday night, this would be done in the "interest of national security," which is defined as protecting the country from "threats of sabotage, espionage, terrorist acts, terrorism or subversion".
The legislation will provide for the "interception of all communications networks regardless of whether they are licensed as public or not" for a period of three months, unless renewed.
The bill says this will include public telecommunications operators, internet providers and postal services.
"This is a completely unconstitutional anti-privacy spy act by the government," Mr Smith told The Tribune. "It is shocking that this government would have proposed this after they just passed the Freedom of Information Act. It is unbelievable that they should go 180 degrees the other way and pass a law that is going to savage everybody's privacy in the Bahamas.
Mr Smith said: "The Bahamas already has the Listening Devices Act. If you want to reform that act so police can conduct clandestine surveillance more effectively then do that. But to give the government through the Commissioner of Police, a political post, such power? Unfortunately there is no independent Director of Criminal Prosecutions; that is run by the Attorney General and that's a political position under any government. It is extremely dangerous to invest this kind of intrusive spying power to the government.
He continued: "If we were to create an independent Department of Public Prosecutions, an independent office of Attorney General, then you could start talking about legislation to help protect national security. But this spying act can be used by the government of the day to go into the emails, telephone calls secretly of opposition candidates, every journalist, it takes away client-attorney privilege. This means there will be no more banking privacy."
Last August, Justice Indra Charles ruled that Marathon MP Jerome Fitzgerald infringed on constitutional rights when he tabled the private emails of Save The Bays in Parliament, and therefore could not be protected by parliamentary privilege. Mr Fitzgerald has appealed that ruling, and the case is ongoing.
The Interception bill states that in order to obtain an interception warrant, the Commissioner of Police, or someone acting on his behalf, would have to petition the Attorney General to make an "ex parte" application to a judge in chambers.
To receive such a warrant, it must be proven that the information to be inspected cannot be acquired by any other means, the bill notes.
The Attorney General would also have to be satisfied that the warrant is needed in the "public interest or interest of justice".
The bill also states that a person who unlawfully intentionally intercepts a communication is liable upon conviction to a fine not exceeding $50,000 or a prison term of up to four years.
Mr Smith said: "The parliamentarians did this in late hours of a parliamentary session, didn't circulate a draft bill as to why it's necessary. It takes the whole nation by surprise, and it's done on the eve of a general election. This must terrify every opposition candidate.
He added: "I encourage everyone to condemn it, to resist it and to protest against it. The mischief behind this act is that it is secret spying by a political directorate with no supervision, no scrutiny. It is an attempt to get around the constitutional protection to have your privacy and my privacy respected."
Under the new bill, the Attorney General will be mandated to table a report in both houses of Parliament outlining the number of warrants applied for to intercept communications, the number of warrants granted by the court, the average period of the warrants, the number of warrants refused/revoked by the court, the number of criminal proceedings started from evidence gleaned from communication interception and those that resulted in a conviction, among other provisions.
This must be done annually, within three months after the end of each year.