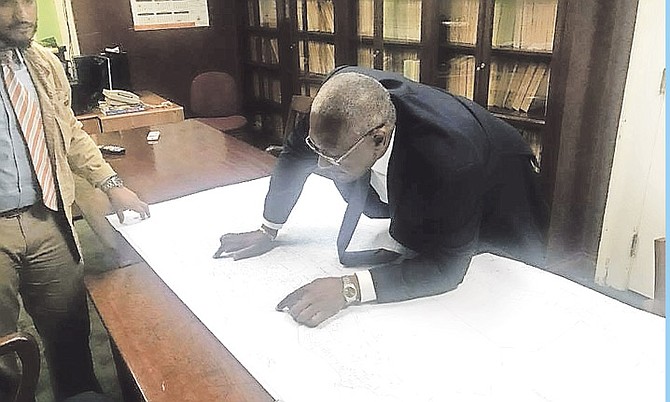 By AVA TURNQUEST
Tribune Chief Reporter
aturnquest@tribunemedia.net
VOTERS can expect a new constituency named St Barnabas and the renaming of the Montagu seat to "Freetown", according to the draft order tabled by Prime Minister Perry Christie last night.
Mr Christie tabled the House of Assembly Revision of Boundaries and Re-distribution of Seats Order 2017 during the evening session of the Lower House, but only six copies were distributed to parliamentarians due to a copying error.
The report did not include any information on voter registration numbers, or the average number of voters per constituency to provide justification for the boundary changes.
The order, once made by Governor General Dame Marguerite Pindling, will give effect to the recommendations outlined by the Constituencies Commission in its boundary report.
The new seat, St Barnabas, consists of two polling stations from Centreville, two from Bain and Grants Town, three from Englerston, one from Fort Charlotte, and three from Mt Moriah. It is bordered by Farrington Road, inclusive of Lightbourne Ave, Maxwell Ave, and Haven Ave, Wulff Road, East Street and Thompson Blvd.
Mr Christie explained that the Montagu seat name was changed to reflect the ancestral history of a major part of the constituency, pointing out that the Freetown seat was included in the 1968 and 1972 elections.
The number of seats in the House of Assembly, as previously reported, has increased from 38 to 39, and are divided as such: 24 constituencies in New Providence; five constituencies in Grand Bahama and Bimini; and ten constituencies in the Family Islands.
At the end of last month, the number of registered voters was around 88,000, lower than it was at this same time last election season. Due to the low figures, House Speaker Dr Kendal Major told The Tribune recently that the commission used data from the 2010 census that had been extrapolated in a 2016 report prepared by the Department of Statistics, to guide recommendations.
That report, prepared by the Census Section, projected a population increase of 6.9 per cent on New Providence.
Meanwhile, according to the draft boundaries report, Centreville and Bain and Grants Town were projected to have the largest constituencies, and of those figures, there were 12,849 and 12,337 persons aged 18 and older respectively.
According to the order, Bain and Grants Town was cut down from 14 polling stations to ten, with one polling station added from Fort Charlotte. The constituency was formerly bordered along Nassau Street to the west, but the additional polling station is bordered by Boyd Road, Tyler Street and Infant View Road.
Centreville went from 14 polling stations to 12, taking three polling stations from Bain and Grants Town that are bordered by Wulff Road, Market Street, and Taylor Street.
The Constituencies Commission is comprised of Dr Major; Senior Justice Stephen Isaacs, vice-chair; government members, Deputy Prime Minister Philip Davis and Jerome Fitzgerald; Mr Chipman; and House clerks Maurice Tynes and David Forbes.